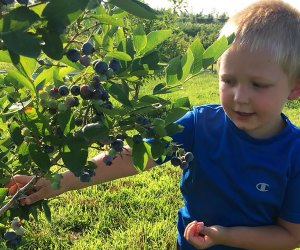 Berry Farms on Long Island for Pick Your Own Blueberries, Blackberries, and More
Berry picking is a fruitful summer pastime on Long Island. Bushes are low to the ground, and berries are small enough for little fingers to grasp. It's a great activity for kids of all ages, and, who can resist a bowl of fresh berries and cream?
Late July is the peak season for blueberries and raspberries, while blackberries ripen in August. If you're in the market for some farm-fresh berries, call the farms before heading out to confirm picking hours and berry availability. Don't forget to check out our Pick-Your-Own Guide for more fruit-picking options and farm fun in the tri-state area.
Some farms charge an entry fee while others charge by the ounce, so take note, bring cash, and be prepared. Don't forget sunscreen as the sun can shine brightly on these open fields. Dress appropriately; kids can get a bit dirty, and for health and safety reasons, pets are not permitted on farms.
The East End is the prime destination for summer berry picking on Long Island. While you're there, consult our guide to the Hamptons and North Fork, and make a day of it. For more farm fun, check out our list of LI's top animal farms and petting zoos.
While outdoor activities are generally considered lower risk, COVID-19 safety precautions should be followed while visiting farms: Wear a mask, maintain a distance of six feet from other guests, and note that many farms are requiring patrons to use farm-provided packaging instead of containers from home. In many cases, extra hand-washing and hand-sanitizing stations have been installed. Always call before heading out to any farm as their availability varies and they sometimes close if they are picked out.
Pick-Your-Own Berry Farms on Long Island Open for Berry Picking in Summer 2020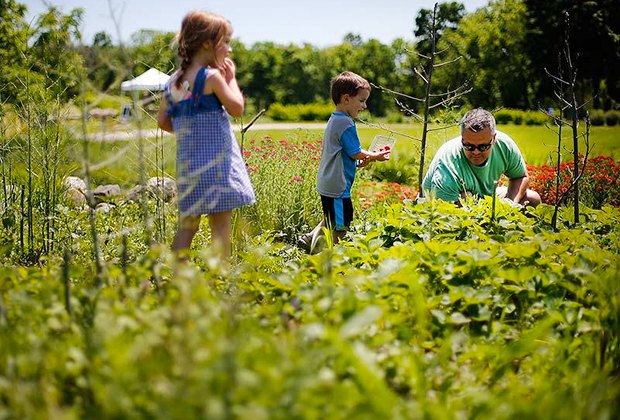 Bushes at Bhavana Berries in Southold are low to the ground and easy to reach for little hands.
4395 Hortons Lane
This Southold farm grows six different varieties of organic blueberries, including the sweetheart, an early growing berry ideal for baking and eating fresh. Bhavana Berries also has u-pick melons available in July in addition to large, bright sunflowers. The farm is open for u-pick Thursday-Sunday from 10am-4pm, beginning in July. There is no entrance fee for guests, pick-your-own berries cost $11.50/lb with no minimum or maximum amount of berries guests can pick.
RELATED: Kid-Friendly Wineries on Long Island's East End
812 Sound Avenue
Lewin Farms was the first pick-your-own farm on Long Island, and it continues the tradition with blueberries, raspberries, blackberries, and strawberries. Berries are available throughout the summer beginning with strawberries in June. The farm stand offers more local fruits and vegetables picked at peak freshness. The farm is open daily except Tuesdays during picking season from 9am-5pm. Call before your visit for availability. U-pick is cash-only, but there is an ATM on the premises.
410 Sound Avenue
Knowledgeable on all things berry-related, Patty DiVello comes from a family of Long Island farmers. Her farm offers strawberries, blueberries, blackberries, and raspberries from June to September. Strawberry picking ends in late June, but raspberries are available shortly thereafter. Not to be missed is the ice cream patch with ice cream made from the farm's produce in unique flavors such as sugar snap pea, lemon basil, and chipotle raspberry. The farm is open for pick-your-own berries daily June through August from 9am-5:30pm. Call before visiting for availability.
RELATED: Pick-Your-Own Apple Farms on Long Island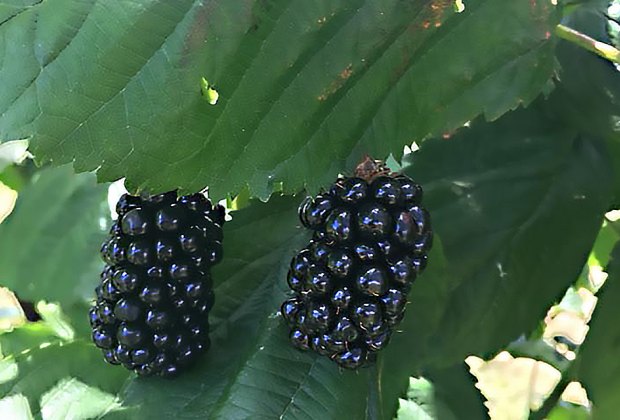 Plump, juicy berries are ready for picking at Seven Ponds Orchards Farm in Water Mill.
65 Seven Ponds Road
Ripe raspberries, blueberries, and blackberries can be picked at Seven Ponds Orchards and are sold by the pint. The farm stand sells fresh pies and pastries baked using the farm's berries. Apple picking starts the last week in August. The farm is open daily from 9am-6pm during the growing season.
28700 Main Road
One of the largest farms on the North Fork, Wickham's Fruit Farm offers pick-your-own strawberries, blueberries, blackberries, and cherries in addition to other fruits. U-pick berries begin in June with strawberries and end in August to early September. Stop by the farm stand for apple cider and fresh apple cider donuts. The farm is open for u-pick Monday to Saturday from 10am-3pm.
RELATED: Nature Centers Sure to Delight Long Island Kids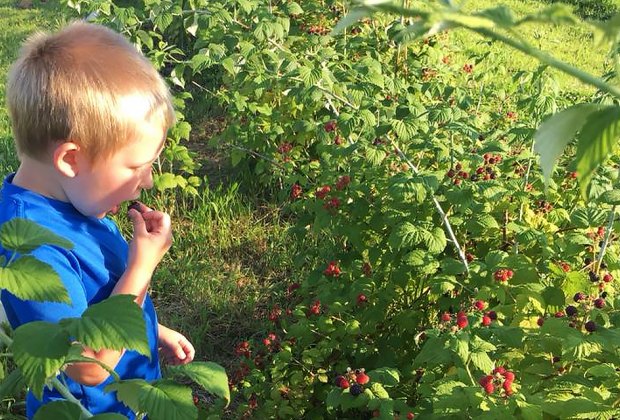 Enjoy delightfully fresh raspberries right off the branches at Windy Acres Farm.
3810 Middle Country Road
Fresh, red raspberries can be picked off the brambles at Windy Acres Farm starting in July along with raspberries and blueberries. Strawberries are available for u-pick earlier in the season, and the farm offers a variety of peaches, apples, pumpkins, and even vegetables for u-pick during the season. Pick your own is based on availability, so call before your visit or check the farm's Facebook page for times.
Pick-Your-Own Berry Farms on Long Island Not Reopening for Summer 2020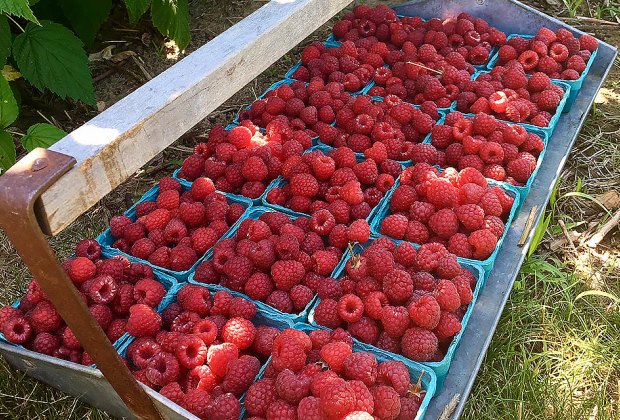 2020 update: Pick your own berries season has been canceled at Hank's Pumpkintown, but it is selling its fresh produce at its farm stand.
324 County Road 39A
Stock up on delicious fresh berries, Hank's famous sweet corn, tomatoes, peaches, and pies at the farmstand. If you're already fretting about Halloween, Hank's Pumpkintown is hoping to open in the fall. Hank's Farmstand is open daily from 9:30am-5:45pm.
Photos courtesy of the farms
This article was originally published in 2013 and is updated annually.