Artificial Intelligence with Scratch Online Camp
Young Gates - Kids Online Personalized Classes

Online Robotics Camp
Young Gates - Kids Online Personalized Classes

Spark Math: Free Trial Class
Virtual
Sign up for our free newsletters.
Sippy Cups Cafe: A New Play Space with Snacktime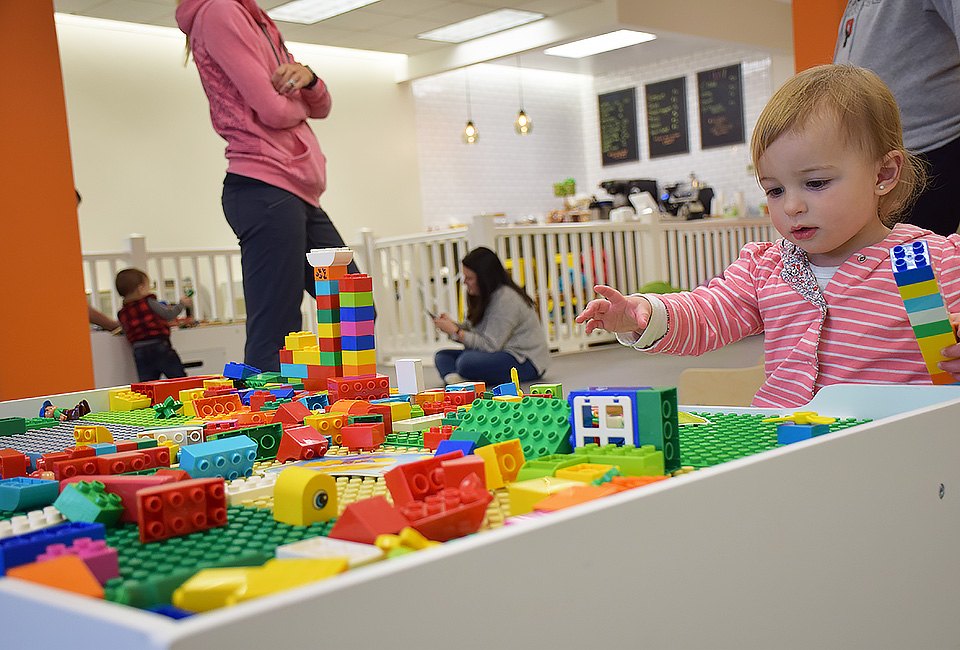 12/7/17
- By
Jaime Sumersille
A play space where parents can grab a cup of joe— and drink it while it's still hot—with the kiddies exploring in plain sight? That's the setup at Sippy Cups Cafe in Seaford, a play space plus cafe for adults with children ages 6 and younger.
Looking for more inside fun this season? Check out our guide to Long Island's top indoor play spaces. If you have a younger child, you might want to see our list of the best indoor play spaces for LI toddlers. Enjoy.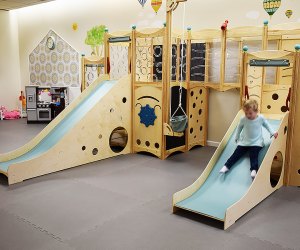 Kids can burn off energy in Sippy Cup's expansive play space.
A mom of young twins, owner Danielle Bracco wanted to create a space that fostered a "coffee for parentkind' environment. Sippy Cups Cafe boasts a bright, open, and modern play space specifically designed for children 6 and younger.
It's filled with toys that inspire pretend play, socialization, and more. It's socks only on the play space side, which is fenced in by a PVC gate for safety. Crawlers and tumblers will appreciate the cushioned floor, and parents can enjoy a relaxing cafe treat from but a few feet away.
RELATED: 50 indoor activities for a rainy day on LI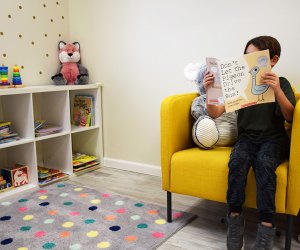 They also can cozy up with a book in the reading nook.
There's a pretend kitchen and market, a Lego table—Duplos for tiny hands—a train table for budding engineers, a puppet theater for future thespians, and an indoor playground equipped with two slides. There's even a hidden "clubhouse" for important kiddie conferences. Is your child in need of some quiet time? There's a cozy reading nook filled with books and puzzles. Pull up a pillowy chair or a piece of rug and have at it.
RELATED: 25 indoor activities sure to get kids moving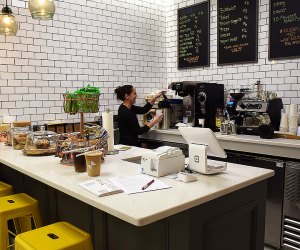 Sippy Cup's cafe is stocked with snacks and drinks for parents, caregivers, and kids.
Parents can enjoy a piping hot beverage, including Brooklyn Roasting Company coffees and espressos drinks, plus a selection of SerendipiTea teas. The usual water, juice, and milk are also on hand, as is a variety of breakfast, lunch, and snack offerings. The daily menu consists of sandwiches, salads, pizza, chicken nuggets, yogurt parfaits, and an assortment of yummy baked goods
Jack or Janie having a birthday? Sippy Cups Cafe can handle the details. Pick from four party plans plus various add-ons, including a bouncy house, pinata, balloon animals, and more. Parties are between 90 minutes and 2 hours and can include between 15 to 20 children.
Sippy Cups offers baby ballet for all those looking to get on their tippy toes, and future plans include more class offerings.
Open-play hours are weekdays 9 am to 4:30pm and on weekends from 10am to 5pm. Be sure to check its Facebook page for private party closures.
Sippy Cups Cafe is located on Merrick Road in Seaford, south of the Sunrise Highway and east of the Seaford-Oyster Bay Expressway.
Top photo: Little hands can get creative at Sippy Cup's Lego table. All photos by Jaime Sumersille