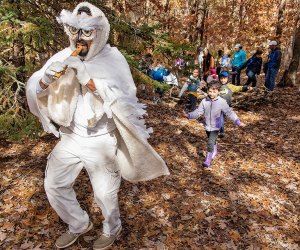 Not-So-Scary Halloween Haunts on Long Island for Kids
Looking to get spooked this Halloween?
Long Island is home to many haunted houses up to the task, ranging from child-friendly to downright creepy. We've rounded up places offering child-friendly haunted houses and events for your consideration. But keep in mind that even the tamest of these can sometimes be too much for a more sensitive child, so come prepared with a backup plan (or adult) if your child needs to leave quickly.
If you're looking for something more low-key, there is plenty of Halloween-themed fun to be had on farms across the Island. For more seasonal fun, check out our Long Island Halloween Guide and October GoList, and don't forget to sign up for our weekly newsletter.
Nassau
Otto's Special Pumpkin, an animated Story — Westbury
Hicks Nurseries
September 14-October 31
Otto the friendly ghost returns this year for an animated tale geared toward little ones. Admission is FREE, but nonperishable food donations for Long Island Cares are encouraged.
RELATED: Best fall fairs and festivals for LI families
Ghostly Gala — Garden City
Long Island Children's Museum
October 26
Kids can dress up, decorate their own goodie bags, get their faces painted and go gallery trick-or-treating all while spooky music plays throughout the museum. Stay for the Scaredy-Cat Scarecrow show that allows your little ghosts and goblins the chance to prepare for their Halloween adventures.
Halloween Glow in the Dark Party, Trick-or-Treat at Stew Leonard's & Halloween Hay Bale Theater— East Meadow, Farmingdale
Stew Leonard's East Meadow and Farmingdale
Various dates throughout October
At the party, costumed characters shake their stuff out on the dance floor. Pizza and juice are available. While trick-or-treating, children are invited to wear their costumes, pick up a map from customer service, and trick-or-treat throughout the stores. The Halloween Hay Bale Theater is located outside, and will show a special screening of a kid-friendly Halloween movie. Complimentary popcorn and juice will be served. Arrive early to secure a seat. Check Stew Leonard's calendar for exact dates and times.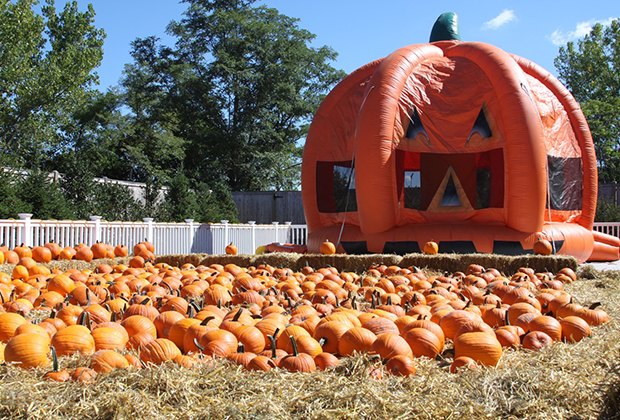 Enjoy pumpkins, bounce houses, and more at Kids "Not So Scary" Days at Bayville Adventure Park.
Kids "Not So Scary" Days — Bayville
Bayville Scream Park
Saturdays and Sundays, 11am-6pm, through November 3, and on Columbus Day
On Saturdays and Sundays, Bayville Adventure Park's annual scream park tones it down during daylight hours. The fun house, mirror maze, and "Temple of Terror" have fewer scary effects and no live actors. The park also has a pumpkin patch, Halloween arts and crafts, storytelling, hermit crab races and all its usual attractions, including rock climbing, miniature golf, and the bounce dome. There is a restaurant for snacks, as well as an arcade with other attractions.
RELATED: The best Halloween events on LI for kids of all ages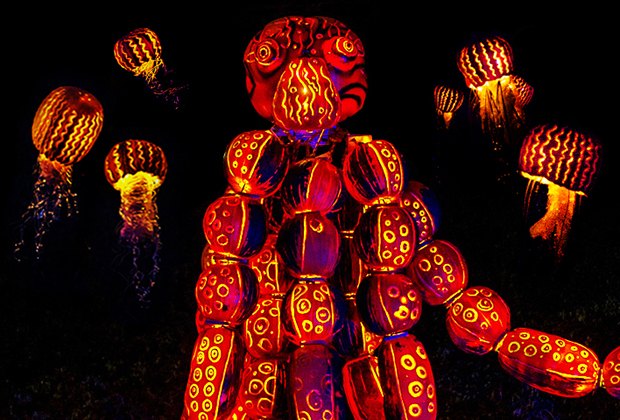 Thrill to incredible pumpkin displays at Rise of The Jack O' Lanterns at Old Westbury Gardens.
Rise Of The Jack O' Lanterns — Old Westbury
Old Westbury Gardens
Select evenings, October 4-28
Be amazed and inspired as 5,000 hand-carved jack-o-lanterns light up one of Long Island's most treasured Gold Coast mansions. While an evening stroll through the woods is somewhat spooky, there is nothing haunted about this walk, which is suitable for all ages. This unique experience features the work of dozens of local artists. Limited tickets are available per day and must be purchased in advance.
Spooky Fest — Rockville Centre
Center for Science Teaching & Learning
Various October evenings beginning October 18
Spooky Fest features a Halloween walk for younger kids, and a scary walk through the haunted woods for grownups. Admission price includes the walks, mystic den, maze of madness, a kids' craft area, live animal exhibits, and a new Halloween theater attraction.
Toy Story Breakfast and Glow in the Dark Character Skate— Seaford
United Skates of America
October 13, 27
At the no-skating Toy Story event, children can meet Buzz, Woody and Forky while enjoying tasty treats. Advance reservations required. The glow in the dark character skate encourages kids to dress up in their costumes and skate with the minions.
Halloween Village — Jericho
The Milleridge Inn
Weekends from October 4 through October 27
The village features a haunted house, pumpkin patch, tarot readings, and even a fire eater. Some events might be spookier than others, so use discretion when picking activities for the kids. The event is cash only.
Farmingdale Village Halloween Parade — Farmingdale
October 27
The parade starts at Northside School and travels along Main Street. A petting zoo and other fun awaits at the village green.
Halloween Family Fun Fest — Rockville Centre
The Madison Theater
October 26
Kids can make masks, decorate cupcakes, trick-or-treat, and much more at this annual Halloween fun fest.
RELATED: The best fall day trips for LI families
Family Halloween Party at Sands Point Preserve — Port Washington
Sands Point Preserve
October 20
Children will love visiting the Phil Dejana Learning Center, where plush animals on display celebrate Halloween. Fairy cottages are also a fun feature. Admission is FREE.
RELATED: Fall Fun Guide for LI families
Suffolk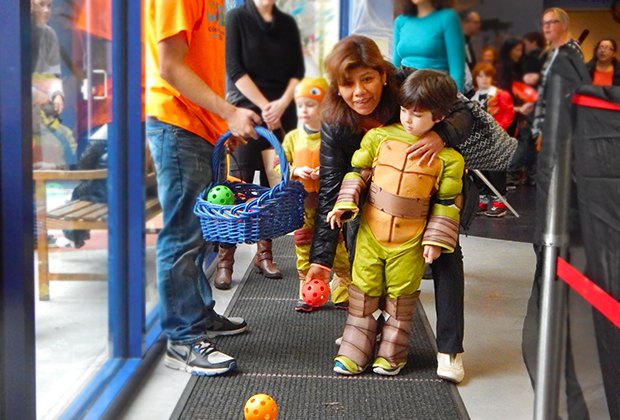 Come to CMEE's Halloween Bash dressed up for fun.
Pizza & Pajama Night, Halloween Bash & Baby's First Halloween Bash — Bridgehampton
Children's Museum of the East End
October 4, 25, 29
At Pizza & Pajama Night, children enjoy an interactive storytelling of "Room on the Broom" arts and crafts, activities, and pizza. During the museum's annual Halloween Bash on October 26, families enjoy Halloween games, trick-or-treating, crafts, a costume contest, and more. For those celebrating their first Halloween, there is a special party just for them on October 29. Babies up to 18 months can participate. Advance registration is required.
A Kooky Spooky Halloween — Port Jefferson
Theater Three
Saturdays in October, plus Sunday, October 20; sensory-sensitive performance October 6.
Geared to a younger crowd, this lively musical is about a ghost who is afraid of the dark.

Kids will be thrilled to play a game of life-size Candyland.
Life-Sized Candyland — Setauket
Emma Clark Memorial Library
October 11
Teen volunteers handing out goodies as children travel through the life-sized game board. Kids can dress up but it is not required. Games begin in 10-minute intervals starting at 6pm.
Halloween Spooktacular & Tales, Trails, and Treats — Smithtown
Sweetbriar Nature Center
October 18, 19 & October 26
Sweetbriar's Halloween Spooktacular takes place during the evening and features stories, eerie animals, and crafts on the 19th and 20th. Outdoor trails are geared toward kids ages 4-8 and those 8 and older. Everyone can enjoy the lighted jack-o-lantern trail. Children ages 2 to 5 will enjoy "Tales, Trails, and Treats," on October 26, featuring storytime, a trick-or-treat trail, animal encounters and more.
Halloween Family Day — Huntington Station
Walt Whitman Birthplace State Historic Site
October 21
Michael the Magician performs for youngsters. Kids can enjoy arts and crafts, face painting, and games. There is also a prize for best costume. Parents and chaperones are admitted FREE.
Halloween Fest — Riverhead
October 25-26
Riverhead's annual Halloween Fest boasts a full schedule, including coffin races, Bats, Barnacles and Broomsticks, and trick-or-treating along Main Street, which starts at 3pm on Saturday the 26th.
Haunted Hatchery — Cold Spring Harbor
Cold Spring Harbor Fish Hatchery and Aquarium
October 24
This not-so-scary event is fun for little ones who can trick-or-treat throughout the hatchery, and enjoy Halloween-themed crafts, games, and more.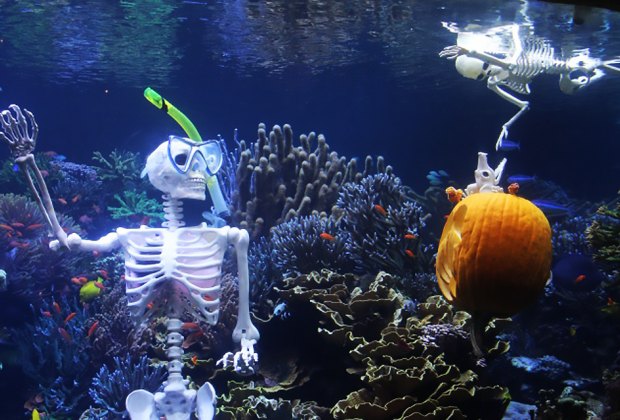 The Long Island Aquarium is filled with not-too-scary Halloween decorations and even has a penguin costume parade.
Bats, Barnacles & Broomsticks at Long Island Aquarium — Riverhead
October 26
This event features trick-or-treating, vendors and a penguin costume parade. Kids in costume receive reduced admission.
RELATED: The best pumpkin patches for LI kids to explore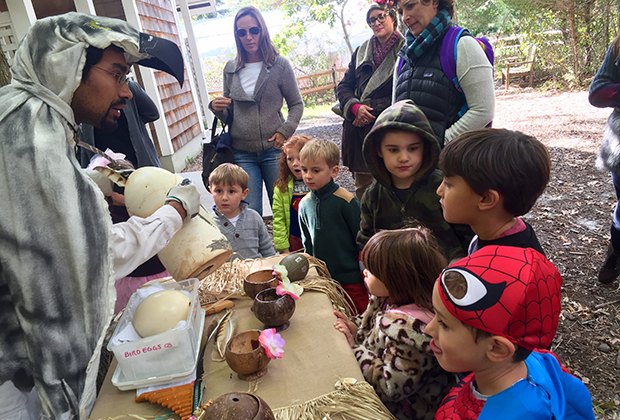 Whimsical characters and more delight along the Enchanted Forest Walk at the Quogue Wildlife Refuge. Photo by Lisa Mancuso
Enchanted Forest Trail — Quogue
Quogue Wildlife Refuge
October 26,27
This walk is suitable for children ages 2-7 when accompanied by an adult. Children are welcome to come dressed in costumes. Meander through the refuge trails with a guide and meet whimsical characters along the way. The parking lot is filled with kids' games and activities to enjoy before the hike. Fee is $10 per person. Reservations required.
Sleepy Hollow and the Great Jack-O-Lantern Pumpkin Blaze — Stony Brook
Long Island Museum
October 16
Fans of Sleepy Hollow will love this event. Meet at the museum and take a bus trip up to Hudson Valley, where you'll have a tour of Washington Irving's Sunnyside, where the author of Sleepy Hollow lived. After, enjoy lunch at a restaurant and finish out the festivities with The Great Jack-O-Lantern Pumpkin Blaze at Van Cortland Manor. Coach bus pickup and drop-off is available at the Museum, and Christopher Morley Park in Roslyn. Advanced tickets are required.
Halloween Hayride — Northport Village
October 27
The family-friendly event includes a petting zoo, pumpkin patch, and, of course, a hayride throughout the village.
A version of this post was originally published in 2012. It is updated annually.
Unless noted, photos are courtesy of the events.