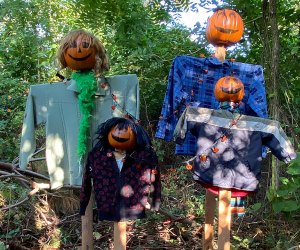 The Best Halloween Events for Long Island Families in 2020
Halloween in 2020 is bound to look a lot different than years past, but the good news is, Halloween is happening. While the CDC has put out its own Halloween guidelines, Governor Andrew Cuomo gave his approval for Halloween activities to go on as usual, as long as New Yorkers remember to take social distancing measures seriously. The bad news: Those safety measures mean many of our favorite Halloween activities and attractions are taking the year off.
If you're scratching your head wondering what you're going to do to keep the magic alive for your little one this year, have no fear. We've rounded up the best Halloween events for kids on Long Island in 2020. So, read on for all our picks, whether your brood is in the mood for spooky scarecrows , not-so-scary Spooky Fests, or something totally different, there is plenty of fun to be had this season.
Our list continues to evolve, so check back regularly for updates on in-person attractions and trick-or-treating opportunities for Long Island families, and be sure to bookmark our Halloween and Fall Fun Guides for all the best, family-friendly seasonal activities.