Old-Fashioned Ice Cream Parlors in Long Island That Kids Will Love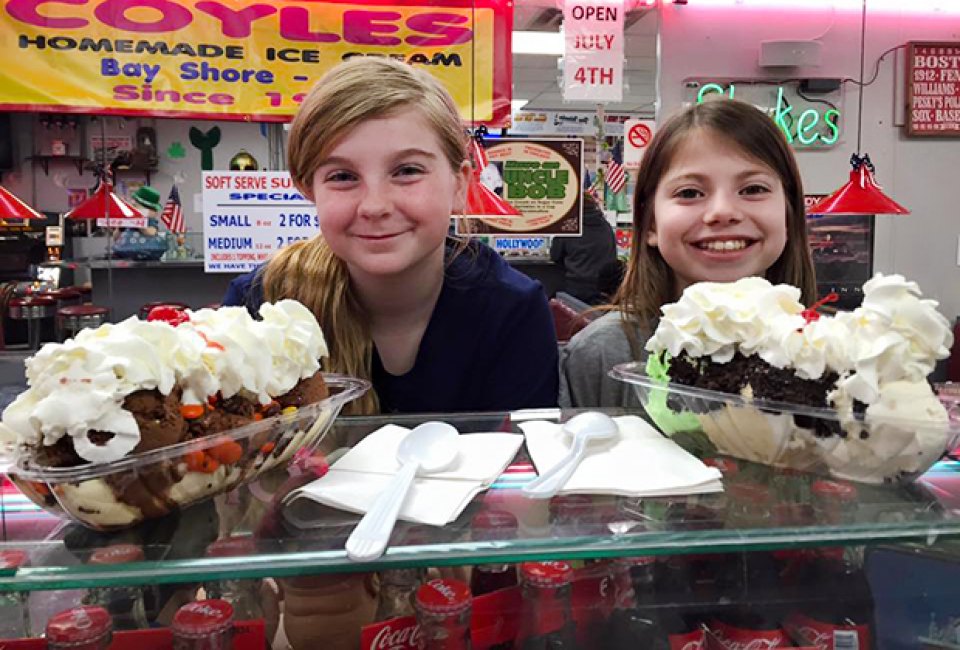 5/27/22
- By
Thien August
There's never a bad time to enjoy a creamy serving of ice cream and there are tons of ice cream parlors in Long Island where local families can enjoy a scoop—or two—of the sweet stuff.
We've rounded up some the best ice cream parlors in Long Island for a family-friendly treat. These destinations create yummy flavors from scratch and have a nostalgic feel that makes the experience extra special.
If ice cream is not your thing, check out our roundup of other decadent desserts on Long Island, and bookmark our Guide to Family-Friendly Restaurants on Long Island for more dining inspiration.
Subscribe to our newsletters to get stories like this delivered directly to your inbox.
Great Ice Cream Parlors in Long Island's Nassau County
This vintage-facade, neon-sign throwback opened on Hillside Avenue in the 1920s. Scooping up homemade ice cream and their flaming bananas foster, new owners recently resurrected this sweet spot and assured loyal patrons they're here to stay.
Open since 2010, owner Dan Levine thinks up all the flavors at this ice cream parlor on Long Island. Families can indulge in everything from a blue-hued Smurf's ice cream with marshmallows to classics like cookies and cream. All 130 flavors can be made into a milkshake, sundae, or banana split. The creamery also offers ice cream pies and custom ice cream cakes.
This restaurant opened in 1925 as an ice cream bar. These days, the owners make their own ice cream, sauces, syrups, and molded chocolates.
RELATED: The Top Candy Shops on Long Island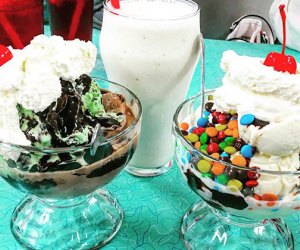 Indulge your sweet tooth at Krisch's in Massapequa. Photo by teriannxo via Instagram
This 1950s-style diner has 30 homemade ice cream flavors, so there's something to satisfy everyone's sweet tooth. Krisch's also serves breakfast, lunch, and dinner—its blueberry pancakes are amazing.
Itgen's – Valley Stream
Itgen's has been an LI fixture since 1967. It serves diner-style food, as well as classic candy and homemade ice cream. In fact, everything—from the whipped cream to the syrups—is made from scratch.
Ice cream, doughnuts, edible cookie dough—oh my!—this local chain of confectionary stores has something for every sweet tooth, sometimes all piled high into one over-the-top sweet treat.
RELATED: Enjoy These Kids' Play Cafes on Long Island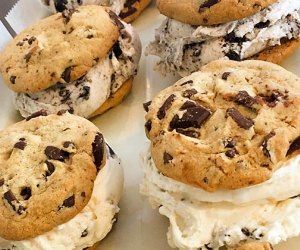 Sweet Treats' cookie ice cream sandwiches offer two treats in one. Photo courtesy of Sweet Treats
Enjoy a cone while taking in the water views in Port Washington. Sweet Treats on the Wharf offers ice cream made from scratch, frozen yogurt, and shaved ice. Many varieties of lactose-free, kosher, and gluten-free options are on the menu. Try one of its varied soft-serve flavors in a cookie cone for a decadent treat.
Ice Cream Parlors on Long Island in Suffolk County and the East End
This homemade ice cream shop, established in 1925, offers breakfast all day. But it is the sweet treats made from local, in-season fruit that really delight its customers.
Lics—"little ice cream shop"–has been a Northport staple for more than 25 years and serves not only homemade scoops of ice cream, but also gelato, ices, vegan scoops, and frozen yogurt. In short, there's something at this ice cream parlor in Long Island to please everyone in your crew on its menu.
Coyle's has been making 60 flavors of ice cream since 1985. Families come in to sit near the soda fountain and share a Brooklyn egg cream or relax in an old-fashioned booth while enjoying a sticky finger sundae.
Owner John Pastore has been making ice cream from scratch for more than 25 years and offers 48 flavors, including jelly ring fudge, pina colada, and cappuccino chip.
There is no shortage of flavors, nor inspiration, at this ice cream parlor on Long Island's North Fork. Flavors rotate, using local ingredients. Ever had coconut avocado or goat cheese ice cream? You can get them here.
Auntie Moe's serves ice cream's creamier cousin, frozen custard. Get the rich confection in rotating daily flavors, posted on its regularly updated Facebook page. Sundaes, cookies, cookie sandwiches, pies, and pints are also available.
RELATED: Kid-Friendly Wineries on LI's East End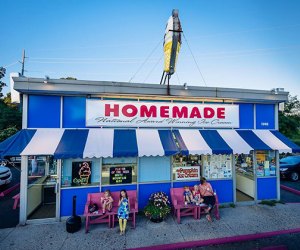 Snowflake is a Riverhead institution. Try the Peconic Swamp Thing, if you dare. Photo courtesy of Snowflake
Snowflake's hard ice creams are prepared in-house by master makers. Flavors include Black Magic Woman, Peconic Swamp Thing, and a no-sugar-added pistachio.
Open since 1991, McNulty's offers more than 40 homemade flavors of ice cream and Italian ices. Its ice cream sundae menu is wide-ranging from the Cinderella sundae with sprinkles, strawberries, and whipped cream to the baseball hat sundae that eats like a ballpark treat.
This shop serves more than 30 flavors of homemade ice cream as well as frozen yogurt and Italian ices. It has weekly and seasonal flavors, so call ahead to see if your favorite is being served that day.
This long-standing local shop invites visitors to "feel like a kid in a candy store," as they enjoy homemade hard ice cream, plus old-school treats like chocolate egg creams. Griddle classics are offered here if you want to pair your sweets with breakfast, lunch, or dinner.
James Beard Chef Rob McCue and his wife, Christine, are the talents behind this innovative ice cream parlor in Long Island. Choose from 64 flavors of handmade ice cream, plus soft-serve, including a Dole Whip flavor. Frozen yogurt, homemade chocolates, and spectacularly decorated cakes are also available.
Even Fido can get in on the fun at the seasonal Carla Marla's, which serves Frosty Paws for your four-legged friends. The parlor also serves ice cream, sorbet, and candy for Fido's humans.
This post was originally published in 2015.
Sign up for the Mommy Poppins Newsletter today!