Sundae Donuts Serves up Sweet Creations at New LI Location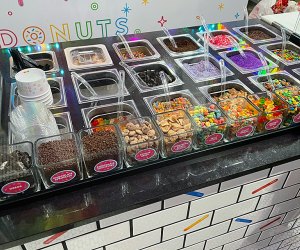 Raise your hand if you're a fan of doughnuts, ice cream, coffee, or cookie dough. Well, have we got a place for you. A dessert shop has opened in Huntington Village that allows customers to combine these sweet treats into mouth-watering creations. Sundae Donuts has something for everyone and is not to be missed.
For more sweet treats, see our rundown of LI's best ice cream parlors and candy stores.
Located on New York Avenue in the heart of Huntington Village, this new sweet shop is steps away from kid-friendly dining, shopping, and everything else the North Shore community has to offer.
Once inside, you are greeted by bright colors, neon signs, and fun decor. Kids will love the massive doughnuts and ice cream cones adorning the walls. You will want to take plenty of selfies with all of the Instagram-worthy eye candy.
There is something for everyone on this diverse menu. Guests can choose from doughnuts, doughnut-infused ice cream, and edible cookie dough, all of which can be combined for a mega treat. It's a great place to let your creativity fly while getting a sugar rush. A Froot Loops doughnut topped with chocolate chip cookie dough and ice cream can't be missed if you need inspiration.
Menu items frequently change, although you can almost always find the standard jelly and glazed varieties. If you want a different treat, milkshakes and coffee are also offered.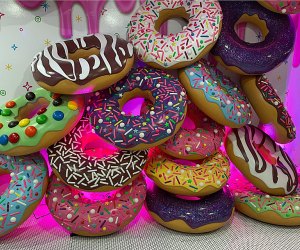 Once you've placed your order, snap a selfie with the cool decor at Sundae Donuts.
Check out the DIY doughnut kits, which have everything included to make your next get-together (or weeknight) one to remember. Kits are fully customizable but require 48 hours notice, so call ahead.
Sundae Donuts offers some seating in the rear of the store, but that space closes for private events. If seating is unavailable, you can always take your cone or cup and stroll through Huntington Village. Enjoy your creation while checking out the many retail outlets and sights the community offers.
Sundae Donuts is open from 11am-8pm every day but Mondays and has late-night hours until 10pm on Fridays and Saturdays. If Huntington is too far, check out its Montauk and Massapequa locations, which are currently open, or spots in Manhasset and Woodbury, which are coming soon.
To reach the Huntington location, take the Long Island Expressway or Northern State Parkway to the exit for Route 110 north. Follow about 7 miles north and the shop will be on your left.
All photos by author