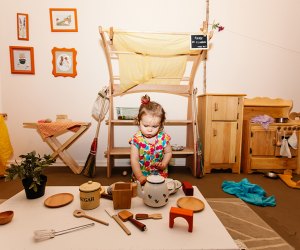 Long Island Cafes With Kids' Play Spaces
A place for children to play and parents to connect with other moms and dads.
That's exactly what Long Island cafes with kids' play spaces offer. Enjoy these fun, safe venues for your child's next play date: They'll have fun and explore, and you'll relax with a latte, catch up with your peers, or just relish some me time. Of course, parents are required to keep an eye on their children at all times.
For more seasonal fun ideas, check out our guide to indoor play spaces and our roundup of sensory play spaces on Long Island. And don't forget our Winter Fun Guide for a host of ideas sure to keep your kids happily occupied during the winter months.
Here are some more ways to meet other parents on Long Island.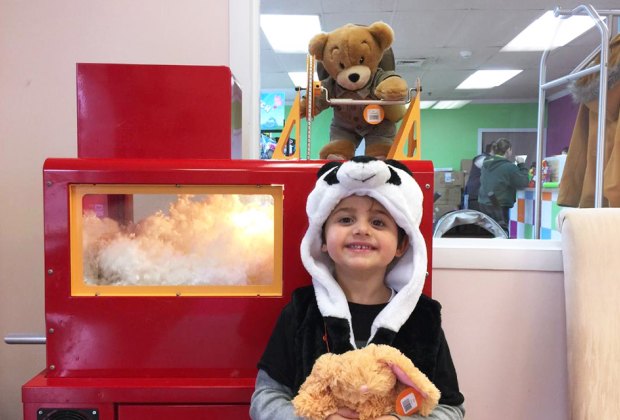 Unleash your imagination at Cup O' Fun Cafe in Valley Stream.
Recently opened, this venue is the perfect spot for kids and adults. Crawlers, toddlers, and older kids will enjoy the large, enclosed play area while parents will appreciate the full-service coffee bar. Light breakfast and lunch items are also available along with their 'not-so-hot' hot chocolate for kids. Open play hours available every day of the week except when a private party is in session.
From Legos to dress-up to rock climbing and a bounce castle, kids will find plenty to keep them entertained at this large play space (more than 8,000 square feet). Beam Experience, an interactive video game projected onto the floor that children must run around to play, is a popular attraction. Party packages, mini camps, mommy-and-me and other classes, and drop-off programs are available. The cafe offers healthy snacks, meals, and drinks.
RELATED: Top indoor play spaces for LI toddlers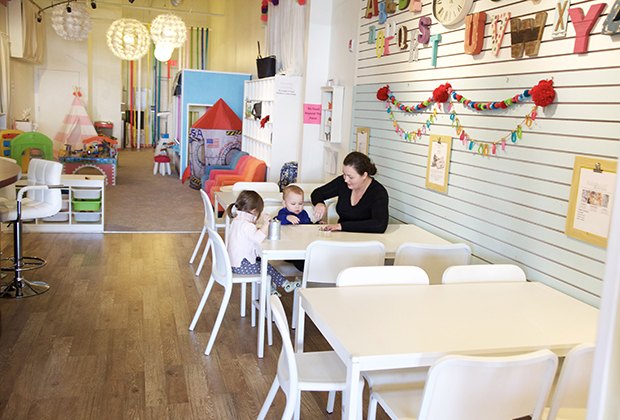 Enjoy active play and a bite to eat at Liddle Bites in Long Beach.
A life-sized doll house takes center stage at this Long Beach play cafe, and easily ignites the imagination of the kids who play in it. Kids can enjoy the venue's other play houses and shops during open-play sessions along with train tables, blocks, action figures, art supplies, and much more. Classes include storytimes, and music and dance programs; birthday party packages are available. Pre-packaged snacks and beverages are sold and can be enjoyed in the designated cafe area.
There is so much to do at this nearly 2,000-square-foot space. Babies will enjoy the crawl area while older kids have their choice of the Lego wall, a music section, American girl dolls, a rock climbing wall, a clubhouse with a slide, and more. Events, classes, and birthday party packages are available. The full-service cafe (which is certified kosher) serves healthy treats, including breakfast items, salads, sandwiches, pastas, rice bowls, tacos, smoothies, hot and cold drinks, and desserts. Parents will enjoy Lolli Bop's free Wi-Fi and magazine section.
RELATED: Free indoor play spaces for LI kids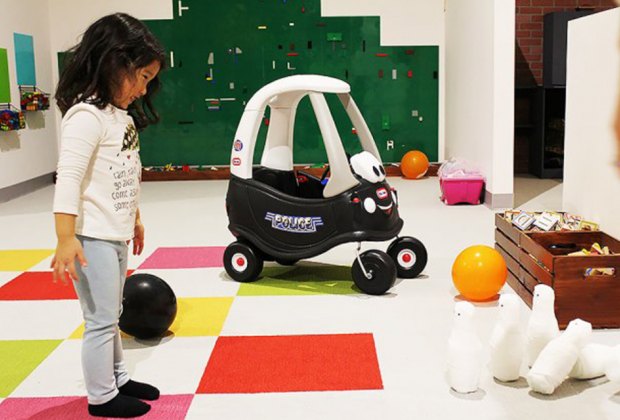 Sit back and have a coffee while your little one samples the games at Momo's Clubhouse.
Toddlers, preschoolers, and school-aged children will enjoy the large, open space that is sure to foster imagination and creativity. Enjoy tunnels, slides, rock climbing, and more, plus plenty of play structures. The cafe provides an ideal spot for adults to relax, and snacks, pastries, and drinks are available as well as a delivery service for items from a local caterer (outside food and drink are not allowed). Party packages and weekly classes are available.
Open play, birthday parties, mommy-and-me classes, and a spot for grown-ups to sit and chat ... this venue seems to have it all. It is recommended for children 5 and younger, but older siblings are welcome. Kids get to use their imaginations as they play with simple, hand-crafted toys made of natural materials such as wood and wool. Party packages are available as well as "Me & You Music" classes and parenting workshops. Outside food and drink are welcome and can be enjoyed at the venue's cafe tables; some snacks are available for purchase.
RELATED: Sports centers and fun zones for LI kids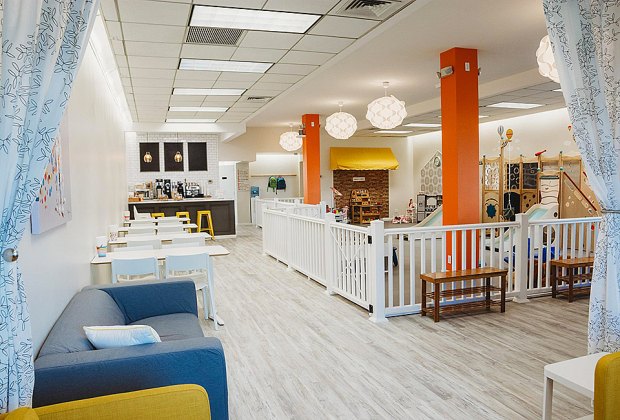 Keep an eye on your kids from a comfy couch or table at Sippy Cups Cafe.
The indoor play space for children 6 and younger features a clubhouse, two slides, Legos, a train table, puppet theater, play kitchen and grocery store, trucks, and a cozy nook with plenty of books and puzzles. It takes its coffee very seriously, and offers adults a selection of premium coffees, lattes, and cappuccinos. You'll also find sandwiches, salads, pizza, baked goods, and more. Birthday party packages are available.
Grab a latte and relax while the kids run and play. With a cafe, meditation room, and office space, Social Playhaus is as much a treat for parents to visit as it is for little ones. They also offer private events, making it a great option for those with a guest list of adults and children.
A version of this article was originally published in January 2018. It was updated in January 2020.
Photos courtesy of the cafes/play spaces