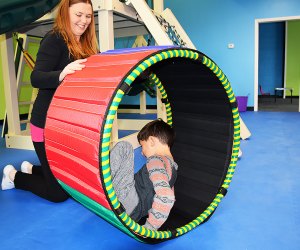 Sensory Play Spaces and Experiences for Kids on Long Island
New sensory experiences are great for kids' development, from digging their hands into Play-Doh to swinging in a hammock. For those children with a disability or sensory issue, such interactions can be even more rewarding. Several museums and play spaces on Long Island have recognized this and built in unique sensory rooms and encounters into their popular children's attractions.
If lights, sounds, and crowds become major obstacles for your family, these half dozen spots will offer a calming environment geared at soothing little souls.
Children's Museum of the East End — Bridgehampton
376 Bridgehampton/Sag Harbor Turnpike
While there's no dedicated sensory room here, you'll find plenty of sensory play at this children's museum. Step up to the gear table for a full tactile experience. Shift and lock the gears for a mesmerizing in view. Next up? Roll up your sleeves and head to the drop-in art studio to create a messy masterpiece. Fingerprinting is encouraged! Need some time to chill? The library offers a quiet respite and plenty to look at. The roof is an upside down book!
AHRC Suffolk's Sensory Garden — Shoreham
283 Route 25A
Tucked in the middle of the care facility, the garden beckons with its greenery, flora, and interactive installations. From the flowers in bloom and the colorful musical instruments to the giant checkerboard painted on the grass, it's difficult to choose where to begin. The garden offers different ways for visitors to interact with the installations and natural settings while inviting them to touch, smell, taste and play. The park is open to the public seven days a week from Memorial Day to the end of October. Admission is free!
Coe Hall Sensory Garden — Oyster Bay
Planting Fields Arboretum, 1395 Planting Fields Road
Aimed at providing an inspiring, yet relaxed outdoor setting, this sensory garden is an all-inclusive garden in the heart of the Planting Fields Arboretum. People of all abilities are welcome to visit, year-round and take in the sights and senses all around.
RELATED: 99 Sensory Experiences to Do at Home with Kids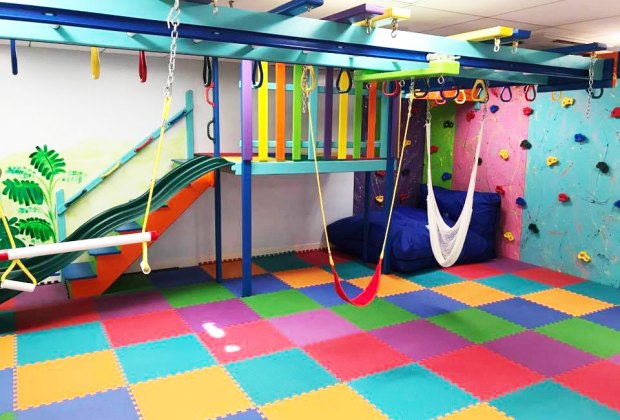 Swings that kids can curl-up in provide much needed vestibular input that kids with sensory integration challenges need. Photo courtesy of the Family Center for Autism
Family Center for Autism — Garden City
1517 Franklin Avenue
The Sensory Room at this welcoming center is a brightly colored haven where children ages 3-10 can bounce, jump, climb, and get all the sensory input they are seeking. The FCA offers opportunities for both open play and structured classes, as well as family support. Classes focus not only on gross motor skills, but also socialization. There's parent-and-me yoga, music and art, classes for teens, and a sensory gym class for different age groups. Since opening, the room has been a hit, so make sure you call to reserve your spot.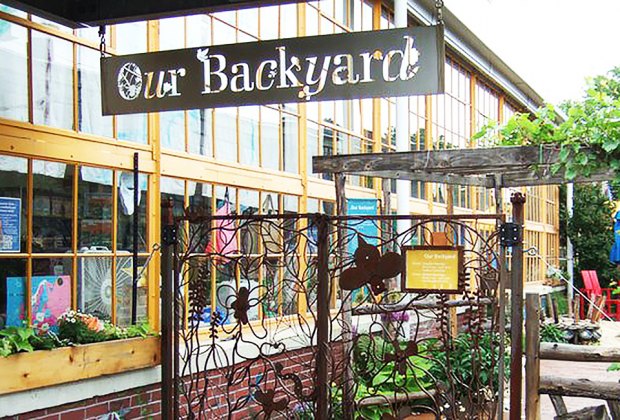 The outdoor sensory garden "The Backyard" provides water play, sand art and much more. Photo courtesy of LICM
Long Island Children's Museum — Garden City
11 Davis Avenue
This children's museum offers a dedicated and recently remodeled Sensory Room that is getting a great response from families. Located on the second floor, the room is a resource to assist children who are feeling overwhelmed during their visit. Lighting and sound modifications provide a welcoming environment. Visual, auditory, and tactile resources aim to help children self-regulate, so they can return to museum play.
Before your museum visit, families are encouraged to download its new (and free) LICM4all app, which aims to take the guesswork out of planning a visit to the museum, especially for those families with children facing neurodiversities and physical challenges. Build a customized schedule based on interests and needs. You might consider the theater, which offers several performances in a "relaxed setting," in which sounds are duller, lighting is dimmer and walking around is permitted. In the warmer months, an outdoor sensory garden provides water play, sand art, and more sensory fun.
RELATED: Inclusive Playgrounds on Long Island for Kids with Special Needs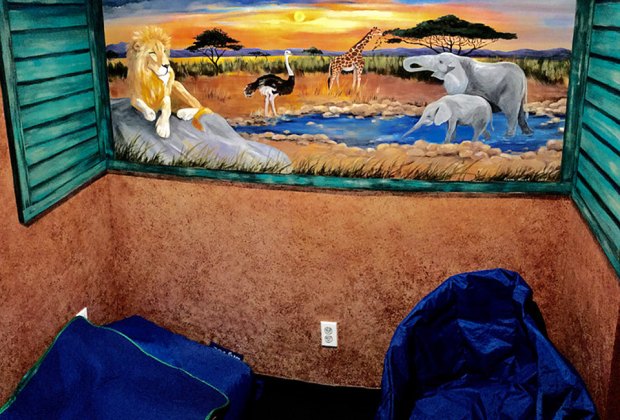 A small room with calming colors and beanbags is the perfect spot to take a break. Photo courtesy of Safari Adventure
Safari Adventure — Riverhead
1074 Pulaski Street
Although this indoor theme park is better known for its climbing ropes, bounces houses, and arcade games, there's also a more low-key sensory area for those overwhelmed by all the activity. A spacious hands-on sensory room located near the cafe offers various toys and interactive stations. Parents can sit and sip, while kiddies play within arm's reach. Kids can arrange colorful gear combinations on the shiny magnetic wall or enjoy the soothing feel of kinetic sand in the interactive iSandBOX. If the lights and sounds are still too much, take a break in the calming sensory spa. Soothing images, dim lighting, and calming colors offer the necessary environment to chill out and regroup.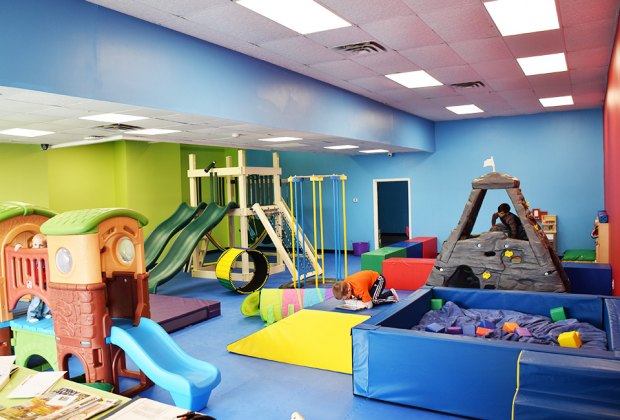 All kinds of therapeutic needs can be met in this sensory gym. Photo courtesy of Jaime Sumersille
Sensory Beans — Wantagh
3309 Merrick Road
Therapeutic meets functionality at the Sensory Beans children's gym in Wantagh, which opened last spring. Designed for children with sensory and special needs, the open play space offers a vibrant and engaging world of visual and tactile stimulation. Climb atop the mountain and plant a flag to show your accomplishment. Build a wall of large rubber blocks, and then slide into them from the jungle gym. Take a ride on the adaptive swing or baby bucket seat, or leap into the soft foam pit. Besides open play, the gym also offers occupational therapy-based playgroups and birthday parties.
Top photo courtesy of Jaime Sumersille