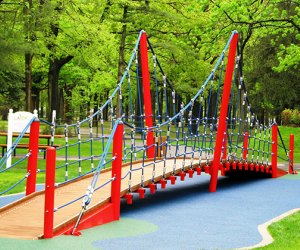 Inclusive Playgrounds for Long Island Kids with Special Needs
Inclusive playgrounds allow kids of all ages and abilities to come together in an environment that facilitates shared play. Long Island has so many great playgrounds where kids can just be kids, but here is our list of accessible playgrounds that also include equipment and/or layouts suitable for children with special needs or disabilities.
Looking for more playground fun? See our lists of the best playgrounds on Long Island and the top playgrounds for toddlers. For a complete overview of parks, playgrounds, and family fun hiking trails, check out our guide to Long Island parks and playgrounds.
Nassau
Andrew J. Parise Park — Cedarhurst
200 Cedarhurst Avenue
The Boundless Playground at Andrew J. Parise Park has an accessible sprinkler area, making it a one-stop play destination. The playground is well contained with a fence and good sight lines from the sitting and picnic areas. There are ramps onto the play structures, ground-level play features, a small rock climber, and interactive play features throughout. There is no barrier to the entrance of the sprinkler area so wheelchairs and those with limited mobility can enjoy access. There are also two barrier-free restrooms available. Kids might also enjoy watching the trains pull in and out of Cedarhurst LIRR station across the street.
Bay Park — East Rockaway
198 First Avenue
Originally destroyed in superstorm Sandy, this park was completely renovated in 2014 thanks to The Sandy Ground Project. Dedicated to six-year-old Sandy Hook school shooting victim Noah Pozner, this playground features multiple play structures, including one that has wheelchair accessible ramps, and a spray park. There are no lips or barriers to get into the spray park, making it easier for those in wheelchairs or with limited mobility to escape the summer heat.
RELATED: Sensory Gym on Long Island That Appeals to the Special-Needs Community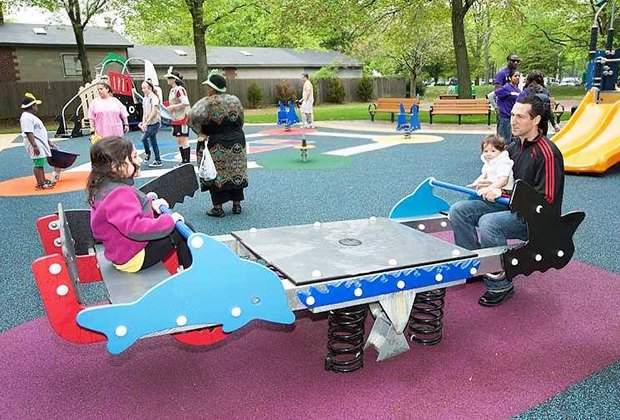 Accessible features abound in the LATCP playground at Field 4 of Eisenhower Park. Photo courtesy of Let All The Children Play
Let All The Children Play Accessible Playground
Eisenhower Park — East Meadow
Park Boulevard
The Let All The Children Play (LATCP) accessible playground is located at Field 4. This playground is large and includes several different areas where children can engage. There's a merry-go-round that accommodates wheelchairs; a bridge structure kids can climb, walk or wheel across; adaptive swings, multiple climbing structures; and ground-level play features perfect for toddlers. There are also plenty of benches with clear views of the play area, and trees provide a good amount of shade on hot summer days. With more than 2 acres of play area, the LATCP playground is a fun destination for all.
RELATED: 7 Great LI Programs for KIds With Special Needs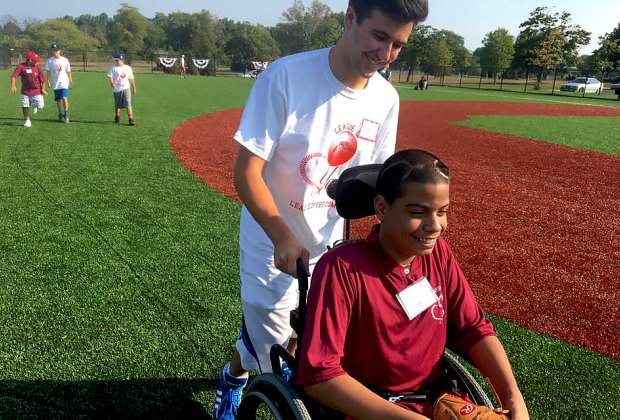 Enjoy the inclusive sports field at Field 8 at Eisenhower Park. Photo courtesy of the League of YES
Second Inclusive Playground
Eisenhower Park — East Meadow
Merrick Avenue
Eisenhower Park's second inclusive playground can be found at Field 8 near the entrance at Stewart and Merrick avenues. Completed in 2016, it is part of an accessible sports field built so children of all abilities can participate in sports side by side. The playground has a large climbing structure with ramps and wide pathways, as well as wobbling lily pads, chin-up bars, and a spiral ladder. There are full-support swings, toddler and big-kid swings. The layout is open with clear sight lines.
RELATED: Our Picks for the Top Sensory Play Spaces on LI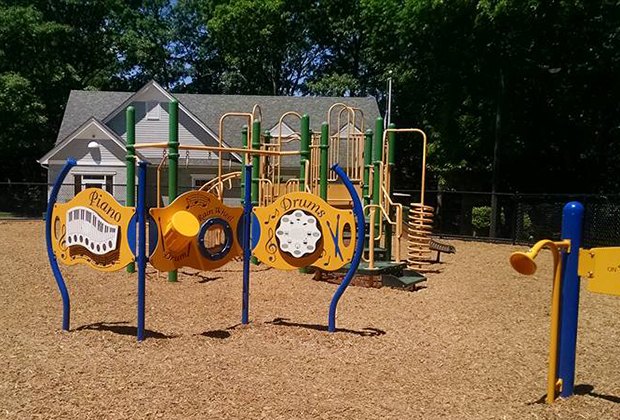 The sensory-based play equipment at Haypath Park is among the first of its kind on Long Island. Photo courtesy of Haypath.
Haypath Inclusive Playground – Old Bethpage
23 Oxford Road
The playground at Haypath Park was retrofitted with sensory-based equipment, some of the first of its kind on Long Island. Children can turn wheels and gears, push buttons to play musical instruments, and make rain fall. The new equipment is positioned low enough to be accessible to those in wheelchairs, and the Fibar surface of the play area cushions impact but is stable enough for those with limited mobility. The original play structure is still there and offers different types of sensory engagement, including running, climbing, and sliding.
Oceanside Park – Oceanside
3800 Mahlon Brower Drive
The only set of wheelchair-accessible swings on Long Island can be found at Oceanside Park. Unlike adaptive swings, these two swings allow the user to stay in the wheelchair. Ramps lock the wheelchair into place and the rider can engage a pull chain to propel the swing. The playground was also updated with a soft safety surface and new fencing.
Suffolk
Geiger Lake Memorial Park —Wyandanch
Grand Boulevard
The playground at Geiger Lake Memorial Park is completely fenced in, so parents with kids who tend to wander can feel safe. The main play structure is large with a treehouse theme and many ways to climb up the multiple levels and slide down quickly. The rock climber is a hit with older kids, and ground-level play offers easily accessible engagement. A bay of swings includes one adaptive swing, toddler swings, and big-kid swings. With no shade trees close by it can get hot, so remember the sunscreen and water bottles.
Hermann Griem Park — Wheatley Heights
Brown Boulevard
Ramps make much of the play structure accessible by wheelchair. Tic-tac-toe, steering wheels and other interactive features on the playground are just a couple of feet off the ground, making them accessible for kids of most heights, and they are conveniently located along the ramp. Picnic areas, a ball field, tennis courts, and restrooms are also at the park.
Lake Ronkonkoma County Park — Lake Ronkonkoma
Lake Shore Road
There is a lot to offer at this county park. In addition to handicapped-accessible fishing piers, there are two playgrounds; one for preschoolers, and one for school-age kids. Both structures are handicapped-accessible with ramps large enough for a wheelchair. Restrooms are located next to the playground. A picnic area and grills make Lake Ronkonkoma County Park an easy spot to spend the day. Note: There are no lifeguards on duty at the lake and swimming is prohibited.
Rocketship Park — Port Jefferson
Mill Creek Road
Rocketship Park features three play structures as well as smaller equipment for toddlers. The first is modeled after its namesake, a rocket ship. Climbing all the way to the top leads to a large slide. The pirate ship has ramps that are large enough for a wheelchair. Kids of most sizes can play with the music and sensory features of this structure. The last structure is a treehouse, perfect for climbers.
Shorefront Park – Patchogue
49 Smith Street
This accessible playground comes with beautiful views of Patchogue Bay. The play structure features double-wide ramps, interactive games, wheels to turn, slides, and bars that allow kids to pull themselves up onto the equipment. There are also two adaptive swings and a large play structure for older kids in a pirate-ship theme. There is adult exercise equipment next to the playground.
Sunken Meadow State Park – Kings Park
Route 25A and Sunken Meadow State Parkway
No matter the season, Sunken Meadow State Park makes for a great outing. There are multiple playgrounds throughout the 1,287-acre park, but the handicap accessible structure is located near parking field 1. Wide ramps allow access to interactive features along the play structure. The bathrooms are located in the large building to the left of the playground, which also leads to a wheelchair-accessible boardwalk. On the boardwalk you will find beautiful views of the Long Island Sound, as well as a concession stand open during the summer months.
Tanner Park – Copaigue
Kerrigan Road
Summer is the perfect time to visit Tanner Park, but be prepared with sunscreen since there isn't much shade here. The fanciful spray park features mushroom structures and a large tree with cascading water. The spray area has no borders, making it accessible for those in a wheelchair or with limited mobility. The playground is also wheelchair accessible, with ramps along the play structure. Beach access with swimming, a fishing pier, skate park, and ball fields are just some of the added features. It is restricted toTown of Babylon residents only from Memorial Day through Labor Day.
Veterans Park — East Northport
Bellerose Avenue
The Boundless Playground at Veterans Park, also known as Mr. P's Playground, was designed using Americans With Disabilities Act standards for accessibility. The facility features ground-level play, adaptive swings, and ramped play structures that allow kids to run or wheel through during a game of chase or tag, for example. Younger kids might enjoy the sand area. There is also a large play structure with a rock climbing wall, twisting ladders, monkey bars, and plenty of slides.
Photo courtesy of Let All The Children Play