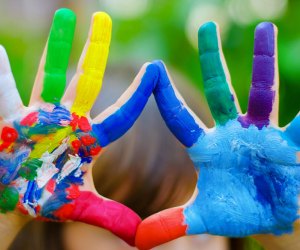 9 Great Programs for Long Island Kids With Special Needs
There is no doubt that people who are challenged with special needs can experience sadness, insecurity, isolation, and exclusion. With increased attention paid to autism, cerebral palsy, dyslexia, and other conditions, research and resources seem to be increasing.
Unfortunately, some of these programs are not publicized sufficiently, even though many families would benefit tremendously from easy access to them. There are, however, several great programs for Long Island kids with special needs. And we've compiled a list just for you.
For more educational and developmental programs for Long Island kids, see our classes and enrichment guide or our Long Island Special Needs Guide.
Programs for Children With Special Needs on Long Island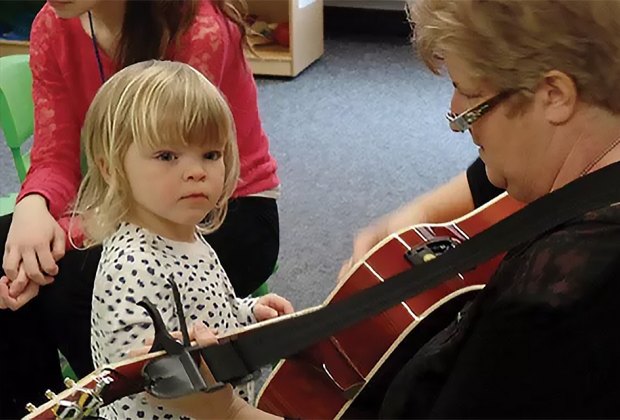 Children can thrill to music classes at the Adler Center in Plainview.
Adler Center for Special Needs — Plainview
Mid-Island Y JCC
45 Manetto Hill Road
The Adler Center provides comprehensive services for children through young adults (ages 3 to 21) with developmental disabilities, including learning issues, language delays, ADHD and autism spectrum disorders. It offers a range of quality programming seven days a week. Programs include inclusion opportunities during summer camp, vacations, and school holidays. All programs are open to the public and include art, cooking, fitness, sports, Saturday night bowling, Teens' Night Out, and more to help your child or teen to develop in a supportive and fun circle of influence.
Alternatives For Children on Long Island — Aquebogue, Dix Hills, East Setauket, Southampton
Alternatives For Children provides a rich, nurturing environment for meeting the developmental, physical, and social needs of all children. Occupational therapy, music therapy, vision services, or psychological services are available. Children can get a head start before they enter kindergarten with day care, early intervention programs, or preschool classes. Parents express their gratitude for children's remarkable progress on a daily basis.
Be The Best Sport — Port Washington
Various locations in the community
Socialization can be challenging for those with developmental disorders, especially in the area of sports. Whether the challenge includes impulsivity, hyperactivity, shyness, or distraction, getting your special-needs child involved in a sport does not have to be a dilemma. Be The Best Sport's mission is to create fun and exciting programs for special-needs kids ages 3 and older. Athletes of all language and physical abilities are accepted, and there's a FREE trial class for families. Sports include basketball, bike riding, fitness, kickboxing, karate, soccer, track and field, and more. Classes can be taken at various locations in Port Washington, and Be The Best Sport partners with the Mid Island Y JCC in Plainview. It can be a one-stop shop for those interested in programs offered by both organizations.
Family Center for Autism — Garden City
1517 Franklin Avenue
Housed in a state-of-the-art building in Garden City, the Family Center for Autism offers a variety of programs for children and adults with special needs. There are respite classes available seven days a week scheduled by age group. Your toddler, for example, can enjoy soccer, music and movement, sensory gym, and sensory art. Your older child can participate in those same classes in addition to art, yoga, baking, karate, multi-sports, hip hop, and more. Teens also can enjoy Minecraft, Super Girls, or even Glamour Girls, Culinary Connections, jewelry making, Zumba, cartooning, and more. The center is staffed by certified behavior analysts.
The Hagedorn Little Village School — Seaford
The Hagedorn Little Village School has been providing school services, after-school activities, and special events for children with special needs for the past 50 years. Speech-language therapy, occupational therapy, and social services are all incorporated into the curriculum. Family services include counseling, workshops, and support groups. The state-of-the-art facility comes equipped with a sensory gym, audiological suite, and two physical therapy centers.
RELATED: Indoor Swimming Classes for Long Island Kids

Holistically inclined Pop Earth offers classes in cooking, fitness, dance, and more.
Pop Earth — Dix Hills, Westbury
Various locations
Short for Population Earth, Pop Earth is a nonprofit focused on providing holistic health treatments and options to those with special needs, including autism and other developmental disorders, at little or no cost. Participants enjoy art, nutrition workshops, fitness, massage therapy, modern dance, music, and yoga in locations in both Nassau and Suffolk counties. The organization hosts a celebrity chef barbecue fundraiser each June at Oheka Castle in Huntington.
Spirit of Huntington Art Center — Huntington Station
2 Melville Road North
The Spirit of Huntington Art Center provides special-needs children and veterans the opportunity to develop art and creative expression skills that can transform their lives. Some regularly scheduled classes include "Artists Come Alive," sculpture, and adult art. If you're looking for a summer camp for your budding or blooming artist, Spirit of Huntington in conjunction with Noah's Ark hosts weeklong programs in Centerport and Huntington Station.
Theresa Academy of Performing Arts (TAPA) — Long Beach
250 Lido Boulevard
Professionally trained volunteer "buddies" greet you with a smile as you arrive at this facility. Participants are even embraced as they enter. TAPA aims to provide quality programming in the performing and fine arts for children and young adults with special needs, as well as their typically developed siblings and friends. From weekend respite classes to its After School in the Arts group and private lessons, and more, TAPA offers a range of classes including art, dance, drumming, music, yoga, Zumba, and more. It also offers a fun and creative summer camp with workshops in Creative Sign Language, Friday Night Social, or Daytime Early Education classes. Scholarships are available for families who can demonstrate need.
RELATED: Drop-In Art Locations for Long Island Kids

Variety Child Learning Center offers reading programs and more for special-needs children and their families in Nassau and Suffolk.
Variety Child Learning Center — Levittown, Syosset
Variety Child Learning Center is a state-approved special-needs school. Located in Syosset with an annex in Levittown, both locations are accessible to families in Nassau and Suffolk counties and extend some programs to children and families beyond their daytime hours. Programs include social skills development, fine motor groups (Fabulous Fingers), grandparents' groups and more. VCLC opens its arms to families who have been approved by the state Office for People with Developmental Disabilities. Whether it's an ongoing class or vacation respite, children receive quality care from experienced professionals.
Photos courtesy of the centers
Writer Rebekah Yahoves contributed additional reporting.