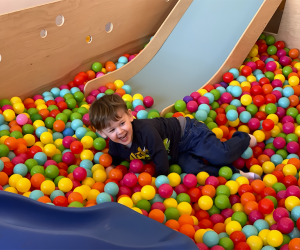 Inside The Children's Social Club: Rockville Centre's Newest Tot Spot
Playtime is the name of the game at Rockville Centre's new, wonderfully cozy play space dubbed The Children's Social Club. Here, children ages 5 and under can explore, play, and create, all while parents enjoy a light snack or cup of coffee as they socialize with one another. It's a perfect escape on a hot summer's day and a welcome addition to Long Island's growing selection of indoor play spaces.
OUR LATEST VIDEOS
Tables line the wall across from a small snack bar. Next to the snack bar is a creative space, which features books, puzzles, markers, and chalkboards. Two low sinks sit just outside the bathrooms, which promotes not only cleanliness but also independence since preschoolers can easily reach the sinks themselves. The play area is gated off, allowing parents to relax at one of the tables while supervising children playing.
RELATED: The Kiddie Clubhouse: Syosset's New Play Space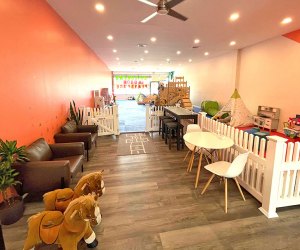 The Children's Social Club is a bright, colorful space that welcomes visitors of all ages.
There are two main sections in the play space. One is devoted to babies and small toddlers. A larger play area caters to older toddlers and preschoolers. There is no physical barrier to separate the different spaces, but the red padding and varied toy selection help the baby area feel separate. Toys in the baby area include soft blocks, a Fisher-Price learning table, a play kitchen, and a small ball pit.
RELATED: The Best Indoor Play Spaces for Long Island Toddlers

The Children's Social Club provides a safe spot for children to jump, climb, slide, and play.
For older kids, the highlight of The Children's Social Club is a much larger ball pit. It's situated next to the wooden play structure, and a slide leads kids into its midst. Kids absolutely love rolling, jumping, and sliding into the sea of balls. The CedarWorks play structure offers lots of opportunities for little ones to climb, hide, and slide. Meanwhile, the four-story dollhouse is any doll-lovers dream.
Another standout feature: This play space is well-stocked with bins full of small cars, dinosaurs, and animals, which helps promote imaginative play and isn't always a feature at other indoor play spots. There is a larger play kitchen and a Lego table for bigger kids, too.
In addition to its open play hours, The Children's Social Club also holds special events throughout the year. There are weekly mommy-and-me classes, including sessions focused on art, music, ballet, and science.
RELATED: Top Long Island Playgrounds for Toddlers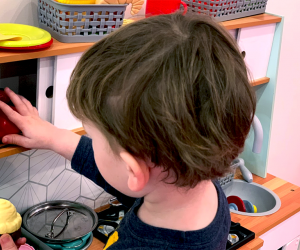 The Children's Social Club lets little ones cook up some fun. Photo by the author
Kung takes the business to heart. Her mission was to create a space where both children and parents could socialize comfortably. She listens closely to her clients' needs and updates the toy and activity selections frequently. Her enthusiasm for The Children's Social Club helps create a fun, inviting experience for all ages.
Hand sanitizers are located in each corner of the play space. Current COVID protocols include allowing an hour between open play sessions to clean and sanitize, plus requiring all adults to wear masks. Children must wash their hands at one of the small sinks before entering the play area.
Playtime is charged by the hour. It's $20 for the first hour or $30 for two hours of playtime. Siblings pay $15 for a 1-hour session or $25 for a 2-hour playtime. Babies 8 months and younger are FREE. Private play sessions are available for up to five families with a 12-guest max and cost $175 for 90 minutes. Socks are a must. Check its Facebook page for up-to-date event listings and open play hours.
Unless noted, photos courtesy of The Children's Social Club