CLOSED: The Kiddie Clubhouse: Syosset's New Play Space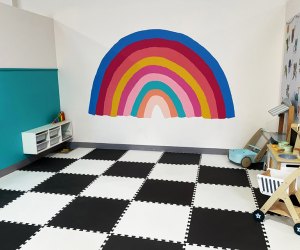 6/21/21
- By
Gina Massaro
*Updated December 2022: This play space is now closed.*
Whether your kid loves to build, climb, or create, there is plenty for them to explore at The Kiddie Clubhouse in Syosset. The roughly six-month-old play space lets little Long Islanders chalk a masterpiece, scale the rock wall, toss a bean bag into a cityscape, and so much more. Parents are always close by, whether they're watching from the comfortable lounge area or getting in on the fun in the play space.
Read on for more details on this new addition to the toddler play space scene, and check out our Guide to Indoor Play Spaces on Long Island for more fun places to play.
Subscribe to our newsletters to get stories like this delivered directly to your inbox.
The Kiddie Clubhouse is separated into two main sections: the lounge area and the play area. In the lounge, find picnic tables, cubbies for shoes, the reception desk, and the kid-friendly bathrooms, equipped with changing tables, stools, toddler potty seats, and even a stash of emergency baby wipes, diapers, and pull-ups. You are welcome to bring snacks and drinks to enjoy and fuel your playtime adventures, but leave the nuts at home. The facility tries to avoid the common allergen.
The play area is large and open, with separate sections lined up along the walls, leaving the middle free for running or toddling. The floor is soft foam, making it comfortable for crawlers and new walkers prone to tumbles. A section in the back corner houses an activity table and a few baby toys, as well as a small coaster ride-on; it's the safest section for babies when the play area is crowded.
RELATED: 12 Things to Do With Your Long Island Baby Before They Turn 1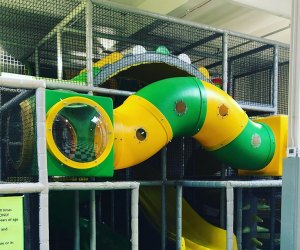 Kids love climbing and crawling in the large play structure. Photo courtesy of the clubhouse
The main attraction is its large climbing structure, which features multiple stories. The ground floor has a small rock wall, foam stepping stones, and various entry points. As kids make their way up, they'll delight in crawling through the tube tunnel and gliding down the swirling tube slide. There are many different paths and opportunities to climb, making it great for a game of tag or hide-and-seek.
A school bus along the back wall is perfect for pretend play, while the large cityscape next to it features a truly unique feature: There are various sized holes along the skyline, with a pile of small bean bags below. Kids and adults can try their hand at pitching the bean bags into the holes; sets of chutes hide behind the wall, leading the bean bags back to the floor.
RELATED: Kids' Sports Centers and Fun Zones on Long Island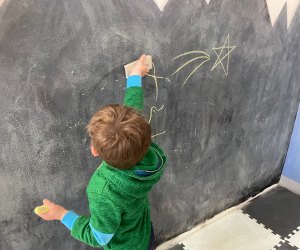 The Kiddie Clubhouse encourages drawing on its chalk walls.
Kiddie Clubhouse also has two chalk walls, making scribblers' and artists' dreams come true. Draw on the walls and erase them as many times as you please. On the other side of the chalk walls are the Lego bins and a Lego table. Other toys available at the play space include a train table, puzzles, balls, and even a wooden see-saw.
Open play sessions—currently limited to 15 kids who must pre-register—are offered on weekdays only. On weekends, The Kiddie Clubhouse hosts private events and birthday parties, which start at $500, and themes can be customized according to the birthday kid's interests. Add-ons such as favors, adult catering, and additional playtime are available.
RELATED: Private Playtime: 9 Long Island Venues to Rent for Play Dates or Pods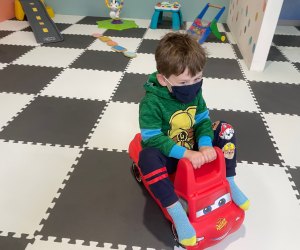 A baby-friendly section includes a ride-on kiddie coaster and plenty of age-appropriate toys.
Know Before You Go to The Kiddie Clubhouse
Open play sessions can be purchased for 1- or 2-hour slots.
Socks are required to enter the play area.
Crawlers are $12 per session; walkers are $16. One adult is included in the price; additional adults are $5.
Memberships are $100 a month, with a two-month commitment required, and include two open play sessions a week.
Private pod play is also available for $100 for five kids.
Unless noted, photos by the author