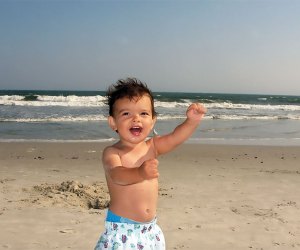 12 Things To Do with Your Long Island Baby Before They Turn 1
Those long nine months finally are over and it's time to enjoy all the moments you dreamed about. Baby is here, which means there are many memorable firsts ahead.
No matter the season, there is always something new to experience with your little one on Long Island. Whether it's a trip to the ocean, or a visit to the pumpkin patch, the first year is full of milestones. Get your camera (or phone) ready, because this list is full of Kodak moments.
1. First beach trip. Small things parents take for granted, like the feeling of sand between our toes, are mind-blowing experiences for babies. My son was amazed as he grabbed the sand in his hand. He lifted it to his face, but by the time it got there the sand had vanished, as if by magic. Of course, living on an island surrounded by water, there are plenty of family-friendly beaches from which to choose. If you plan on taking baby in the water, don't forget to invest in a life vest. Remember sunscreen.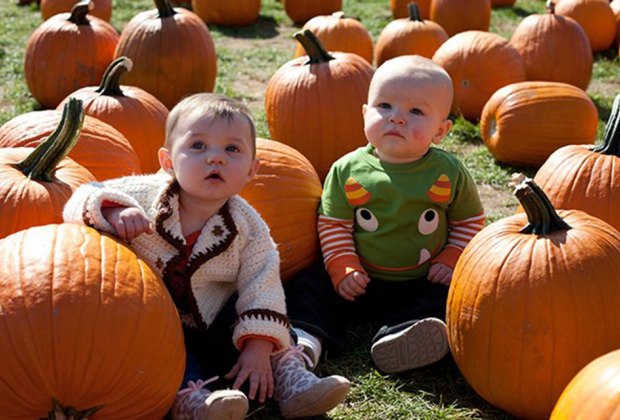 An autumn tradition: Finding baby the perfect pumpkin. Photo courtesy of F & W Schmitt farm in Melville
2. Develop holiday traditions. No matter what month your baby is born, it's never too early to develop traditions. Choosing the right pumpkin patch, for example, can be as difficult as picking baby's going-home outfit. Winter opportunities are nearly endless; meeting Santa, shopping for decorations, and, of course, holiday light shows. Bright light displays and bursting fireworks are especially exciting for baby. There are plenty of noise-free spots to watch fireworks; if you can't access purchase a pair of baby headphones.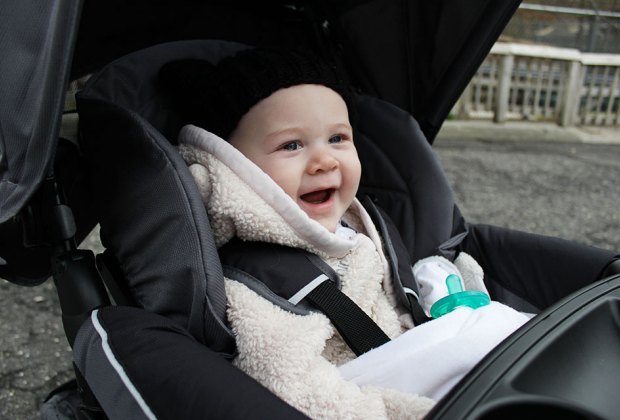 Pack up your little one for a stroller-friendly hike. Long Island has a number of four-season trails.
3. Enjoy nature. Fresh air is not only good for baby but for you as well. Long Island is home to some of the most beautiful parks in New York State. They're perfect for taking in the sights and sounds of nature. Not only that, but a few of them are also stroller-friendly. It's time to get out and explore.
4. Read something new: Check out your local library. Not only does it get you and baby out for a bit, it gives you the chance to uncover new literary favorites. Many libraries also have fun events such as storytime sessions and other perks for you and baby to enjoy.
5. Revisit local favorites: Just because you have a baby, doesn't mean you can't visit Long Island communities you used to enjoy. Experiencing old favorites with your baby will bring you new perspective. See our guides to family-friendly day trips to Port Washington, Port Jefferson, Glen Cove, Stony Brook, and more. Who knows, you might even learn something new about your old haunts.
RELATED: Long Island attractions for children 2 and younger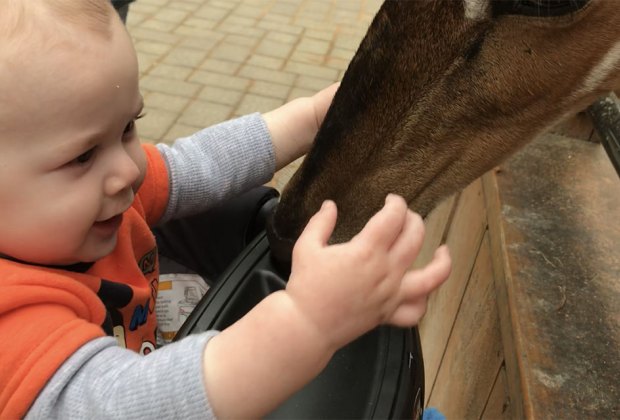 Your little one will treasure his or her first experience with animals.
6. Animal encounter: There will be a first time for everything your baby sees and experiences, including animals. When my son first saw a goat, his eyes nearly popped out of his head. Goats, giraffes, zebras: Your baby will have a first time for all of them. Long Island is home to some amazing petting zoos and a must-visit aquarium. Most petting zoos also offer goat feed, so bring plenty of quarters.

Kids and cars make for a great day at a Long Island play space.
7. Socializing: There are plenty of ways for you and baby to make new friends. Indoor play spaces and play cafes are especially good on rainy days. You can indulge in some hot coffee or tea while baby explores his or her surroundings. Or consider signing up for a mommy-and-me class. Mommy is a term used loosely: Dads, grandparents, and caregivers are also welcome at these classes. Many offer a free trial class, so there's nothing to lose. Classes are a fun way to meet other parents while baby develops new skills.
8. Visit a museum: The Long Island Children's Museum has interactive exhibits even the littlest ones can enjoy. There is also a tot spot—a small indoor play space equipped with a play supermarket, where toddlers and crawlers can explore. If you're on the East End, make a day trip to the Children's Museum of the East End. Babies' senses are ready to absorb everything, so any museum that is visually or audibly stimulating will be a worthwhile trip.
9. Get wet: Not everyone loves the beach, but there are still plenty of places for baby to keep cool in summer. Spray parks can be especially delightful for little ones, and some Long Island pools are open to anyone regardless of residency. Be sure to check with your community's recreation department for information on local pools and pass prices. Don't forget the sunscreen.
RELATED: Ways to meet other parents on Long Island

A trip to a Long Island playground will make your baby's eyes light up.
10. A trip to the playground: The first trip to the playground is an exciting one. How will baby react to the swings? The slide? Playgrounds are a chance for you and baby to expend some energy. Some playgrounds, like one at Eisenhower Park, are good for crawlers. Most parks have baby swings, almost always a favorite.
11. Photoshoot: A must for many parents, baby photos are a keepsake you will treasure. Babies grow so much in their first year, you will be glad you captured part of it on camera. Professional photographers can set up a shoot in-studio or go on location. Some parks and public spaces might require a photography permit. Your photographer should be able to handle details such as that. Newborn shoots are particularly popular, but there's no bad age for a photography session.
12. First birthday: It's finally here. Baby has made it to the ultimate first-year milestone—his or her birthday. Whether you want a small, inspired party at home, or a big get-together at a party venue, this day will be one you won't forget. It's been a tough, yet rewarding year. It's not just a celebration of baby, but all you have accomplished as a parent. Don't be afraid to reward yourself with an extra slice of cake.
Photos by the author except where noted