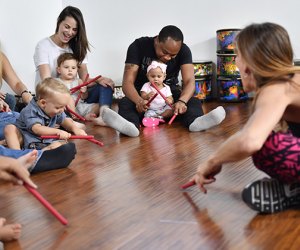 Top Mommy-and-Me Baby Classes on Long Island
We've rounded up some of the best mommy-and-me classes on Long Island, ideal if you want to to stay fit or learn a new craft. You and your baby will have fun, meet other moms and tots, and, most importantly, spend precious time together.
From Zumba to yoga, cooking and art, there are plenty of ways to nurture your baby's mind, body, and creative spirit. Not to mention your own. Of course, classes are open to dads, grandparents, and other caregivers. Be sure to check class websites for times, costs, and registration details.
For more suggestions on inexpensive ways to entertain your kids, check out our guide to FREE activities on Long Island. Our classes and enrichment guide offers a host of ideas to stimulate your child's learning.
Mommy-and-Me Baby Classes Across Long Island
AR Workshop — Bellmore, Port Washington, Smithtown
This instructor-led DIY project space offers up parent/child and family-centric workshops geared at learning new skills and creating unique art pieces.
Libraries — Various Locations
You can visit any library in Nassau or Suffolk County if you have a library card. There are plenty of recurring monthly caregiver/tots classes from which to choose.
Little Gym — Huntington, Levittown, Merrick, Rockville Centre, Roslyn, Smithtown
Classes focus on foundational skills for tots ages 4 months-3 years. Parent/child classes develop muscle control, color recognition, and language development. Your little one also can work on social skills such as independence, sharing, and cooperation.
Mommy Moves — Various Locations
What could be more fun than grooving to your favorite tunes while cuddling a baby on your belly? It's a great way to exercise without searching for a babysitter. Choose from Mommy Moves or Baby Weights classes.
My Gym — Stony Brook, Huntington Station, West Babylon
Babies and toddlers can enjoy class with mom or dad at one of three My Gym locations on Long Island. Classes are separated by ages, such as Tiny Tykes for those ages 4 months to 13 months, and Gymsters for those ages 1 year and 11 months to 2½ years old. Gym-based play, exercises, and stretches in these baby classes get kids ready for taking the big kid gymnastics, karate, and ninja courses that await at My Gym. Expect songs, games, agility exercises, and even fun with rides during class. There are also mommy-and-me music and mommy-and-me art classes available. Stick around after class for open playtime with a caregiver in the gym.
RELATED: Great STEM and STEAM Classes for Kids on LI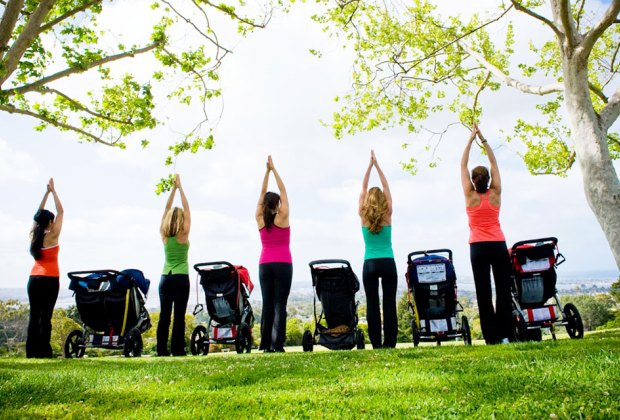 Stroller Strides/Fit4Mom offers pre- and postnatal fitness classes across Long Island.
Stroller Strides/Fit4Mom — Various locations
Stroller Strides Fit4Mom incorporates a number of mommy-and-me workout programs. Pre- and post-natal fitness classes are geared toward all levels and stages of motherhood. Infants, toddlers, and preschoolers are welcome. Indoor and outdoor classes are held in malls and parks throughout Nassau and Suffolk counties.
RELATED: Indoor Swimming Classes for Long Island Kids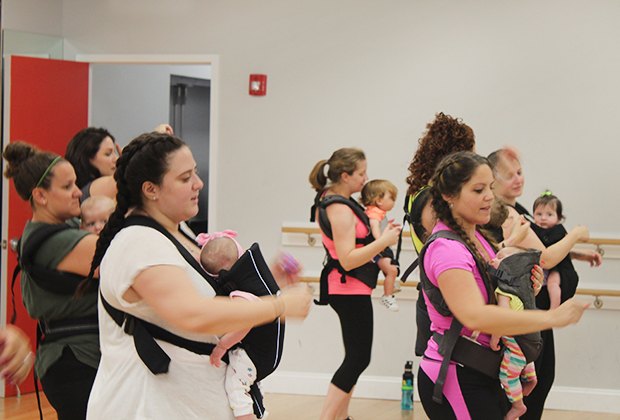 "Wear" you little one to these fitness classes at Mommy Moves Long Island.
Saf-T Swim — 6 Nasssau locations, 7 in Suffolk
Baby and Me classes are geared for parents of children ages 2 months to 3 years and help develop muscle strength and coordination. Individual swim lessons are available for babies as young as 2 months. Lessons focus on developing muscle strength and coordination.
Zumbini — Various locations
Whether you have taken a Zumba class before or not, why not try a Zumbini class with your baby or toddler? Created by Zumba and designed for newborns and kids up to 4 years old, it uses original music, movement, and instruments for high-energy fun. Instructor Jessica Caputo holds classes at a number of Long Island locations.
Mommy-and-Me Baby Classes in Nassau County
Just Wee Two — Manhasset, Plainview
Teeny tumblers get 90 minutes of play time that includes music, crafts, snack time, and story time. The goal is for children to develop confidence, creativity, and social skills.
Long Island Fit Moms — Long Beach and other locations
From prenatal yoga to mommy-and-me boot camp, there are many ways this team can help you and your baby have fun with fitness. Onsite and virtual classes in fitness, wellness, nutrition, and lifestyle are available.
Moms & Tots — Merrick
Established more than 30 years ago, classes here combine music and movement, art, story time, and free play. It is recommended for children ages 6 months to 3 years and their parents or caregivers. A "gentle separation" program for 2-year-olds is also offered.
Once Upon A Treetop — Plainview
The Little Learners program combines imagination and fun at this indoor play space. Classes are separate for beginners and walkers, and include circle time, parachute play, arts and crafts, letter recognition, and free play.
RELATED: Places Where LI Kids Can Learn to Cook and Bake

Musician Darlene Graham hosts rolling music classes for moms and tots at Rockin' Tots. Photo courtesy of Darlene Graham
Rockin' Tots — Plainview
On rolling Mondays, Wednesdays, and Fridays, musician Darlene Graham hosts mommy-and-me music and dance classes at Carolyn's Dancenter. Swing and sway to folksy sounds.
Mommy-and-Me Baby Classes in Suffolk County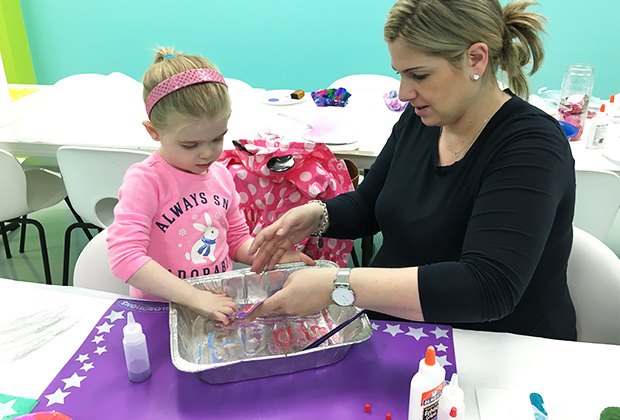 Discover the inner artist in both of you at Art & Soul Studio.
Art & Soul Studio — Nesconset
Bring out the inner artist in you and your child at this studio. Programs are geared toward 2- and 3-year-olds and each class explores new art materials, textures, and skills.
The Original Mommy and Me — Patchogue
Baby play groups, separation classes, and mommy-and-me programs are offered here Mondays through Saturdays in 90-minute sessions.
RELATED: Foreign-Language Classes for Kids on Long Island

Bond with your little one through music and song at the Sandbox Playspace.
The Sandbox Playspace — Huntington
Take home ideas for connecting with your little ones through seasonal nursery rhymes, verse, and song at the Sandbox Playspace. Open play and drop-ins are allowed. This venue is best for newborns through 4-year-olds.
A version of this post was originally published in 2012.
Unless noted, photos courtesy of the venues