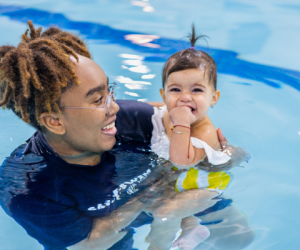 For over 35 years, Saf-T-Swim Swim School has been teaching lifesaving swimming skills throughout Nassau County, Suffolk County, and now Little Neck. The school is proud to be one of Long Island's top swim schools and a leader in water safety education. With swim programs for infants as young as 4 months, beginners, and advanced swimmers, Saf-T-Swim offers swimming lessons for every age and skill level. The progressive curriculum allows swimmers to learn at their own pace in a comfortable warm-water environment. Saf-T-Swim's lessons are a great way to empower children and adults to learn life-saving skills that allow them to make lasting memories in and around water safely. Discover why generations of Long Islanders have trusted Saf-T-Swim time and time again with learning how to swim. 
Saf-T-Swim offers multiple swimming programs to fit your lifestyle. New to Saf-T-Swim? Enroll in a free trial lesson.
Located in Bellmore, Bohemia, Coram, Commack, Deer Park, Garden City, Levittown, Little Neck, Melville New Hyde Park, Oceanside, Riverhead and Smithtown.
ParentTot (10:1) - Group class for ages 4 months - 3 years. Both parent and child work together to develop the foundational skills crucial for learning to swim and promote safety in the water. A parent or guardian is required to participate in this lesson. 
Group (4:1) - Small group classes are available for beginner to advanced swimmers. Swimmers are grouped with similar ages and swim skills.  
Adult Group (3:1) - Designed for adults (16+) with no swim experience or have fear of the water. 
Semi-Private (2:1) - A great option for siblings or friends to be in the same class. Swimmers are required to book with their semi-private class partner. 
Private (1:1) - Lessons are taught on an individual 1:1 basis using a progressive swim curriculum. This program is for all abilities and starts as young as 4 months.  
Adaptive Aquatics - Our three adapted swim levels are 1:1 and utilize a specific framework and structure that helps swimmers with special abilities achieve milestones while still allowing for flexibility and adaptation for individualized lesson plans and goals.  
Saf-T-Swim also offers pool parties, SwimJams, water safety presentations, and more!   
Reviews