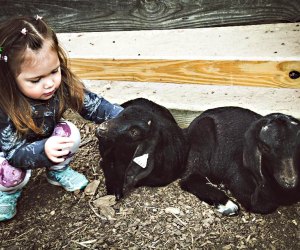 The Best Animal Farms and Petting Zoos on Long Island
Whether you are looking for a low-key petting zoo near you or a more exotic experience with wild animals, there's no shortage of places on Long Island where children can interact with nature's noble creatures. If they want to, Long Island kids can do everything from feed a giraffe to visit with an alpaca, and even ride a safari train.
Be sure to check our directory of zoos and gardens on Long Island, and peruse our pick-your-own guide for more local farm fun.
Many outdoor petting zoos operate on a seasonal schedule, opening in spring or summer, and closing in fall before the snow arrives. Call ahead or double-check websites for operating hours, but we have done our best to check who has reopened in 2021 and with what types of COVID-19 restrictions in place.
Nassau Petting Zoos and Animal Farms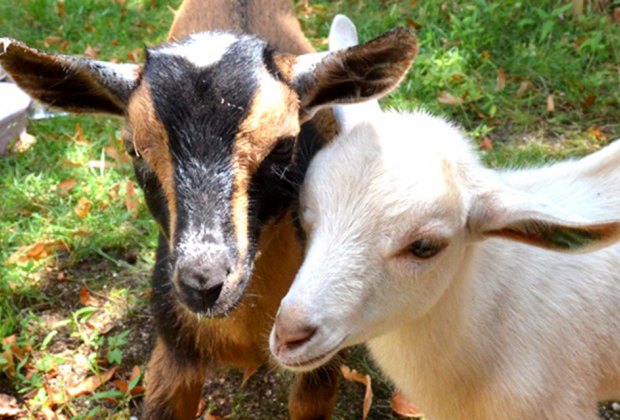 Say hello to the "residents" at the Center for Science Teaching and Learning in Rockville Centre.
Center for Science Teaching and Learning — Rockville Centre
2021 update: Reservations are required to visit live exhibits and dinosaur exhibit.
Many of the animals in the live animal exhibit were illegally smuggled and seized by government officials. These include a variety of reptiles, amphibians, invertebrates, birds, and mammals. More traditional animals on display include goats, parrots, owls, and even a working honeybee hive. Check its website for updated information.
Norman J. Levy Park — Merrick
2021 update: All tours, jitney rides, and ranger-guided kayak tours are suspended. Ranger station is closed.
At this Town of Hempstead preserve and wildlife sanctuary, visitors can interact with a herd of Nigerian dwarf goats and a flock of Guinea fowl. Both species were brought to the facility as ecologically responsible alternatives to insecticides. Kayaking, a popular activity here, is available from June through August.
Suffolk Petting Zoos and Animal Farms
Animal Farm Petting Zoo and Park — Manorville
2021 update: Reopens mid-April. In-person reservations or ticket sales only.
Most of the animals here can fed by hand, including Clyde the camel. In addition, get up close and personal with monkeys, wallabies, and large-shell tortoises. Make sure to stop by the baby barn, take a ride on the safari train, and enjoy the pony ride that is included with every admission. Open April through November.
Benner's Farm — Setauket
2021 update: Hand-washing stations and alcohol-based hand sanitizers are placed throughout all areas of the farm. Small, private family tours available by reservation.
This 15-acre family farm dates to the 18th century. The Benners are the seventh family to farm the location. Visitors can interact with goats, sheep, roosters, hens. chicks, small pigs, and more. The farm hosts regular workshops for kids, and even hosts a chicken workshop to teach adults how to harvest their own eggs. A "Barnyard Babies" program introduces kids ages 3 and older to the new animals on the farm.
Garden of Eve
— Riverhead
At this organic farm on the East End, kids can interact with chickens, sheep, and other animals. Friendly farmhands often take animals out for kids to pet and help feed. Also, there is a large children's play area with a wooden castle and a giant spider web. Many special events are hosted here, including children's birthday parties, baby animal weekends, an annual tulip festival, and a Mother's Day brunch. Be sure to stop by the organic market for delicious groceries. Open daily April 1 through Halloween.
RELATED: Outdoor Museums for Long Island Kids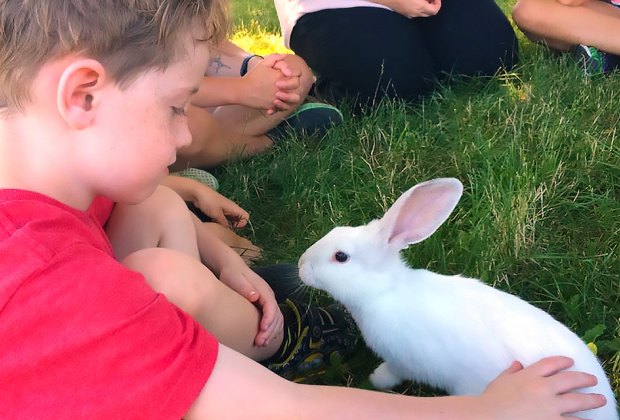 Meet the bunnies in their natural environment at Hallockville Museum Farm.
Hallockville Museum Farm — Riverhead
2021 update: Reopens May 26.
Explore this original farmstead to learn what farming life was like 250 years ago. Visitors to the 19-building facility can experience cooking in the historic kitchen or even grinding corn to feed the resident animals. In addition, kids can interact with cows and chickens to learn about their importance to the farm. Building entry is by guided tour only. Check the website for tour availability.
RELATED: Outdoor Classrooms Where LI Kids Will Love to Learn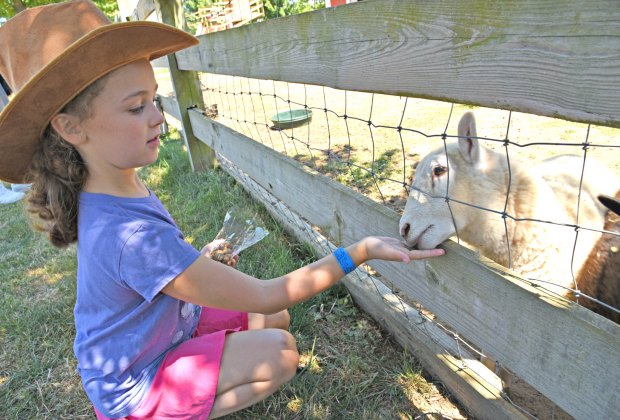 Kids can interact (and feed) the goats at Mattituck's popular Harbes Family Farm.
Harbes Family Farm and Vineyard — Mattituck
Known for its array of animals and family-friendly activities, there is always plenty going on at this family-run farm. Interact with sheep, pot-bellied pigs, and goats, plus the Jumbo Jumpers exhibit with inflatable bouncing pillows. Also enjoy Lil Farmers Playland, the popular pig race and potato sack competitions, the Hedge Maze, and much more. Season passes are available.
Holtsville Park Ecology and Wildlife Center — Holtsville
2021 update: Reopens May 1.
This Town of Brookhaven facility houses more than 100 injured or nonreleasable animals, including buffalo, bobcats, eagles, horses, and goats, Celebrity groundhog Holtsville Hal makes an appearance each Groundhog Day. There is a small fee to feed the goats.
RELATED: The Best Family-Friendly Museums on Long Island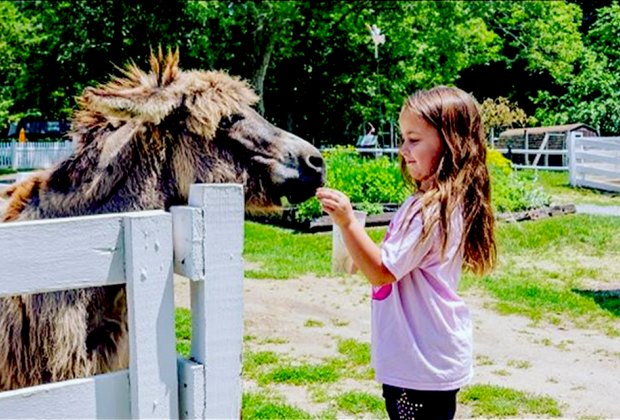 The animals at the Long Island Game Farm are sure to put a smile on your child's face.
Long Island Game Farm — Manorville
2021 update: Reopens for weekends on April 17.
This farm takes petting zoo to another level. From lemurs to bison and wallabies, you can travel the world through its animals. Kids can feed the giraffe (after mid-May), enter Bambiland—the majestic forest—to feed the deer, and even see an alligator show. This farm offers an excursion to see and learn about the animal kingdom; it's an international experience that doesn't require you to leave Long Island. Stop by the nursery and bottle-feed new additions to the farm, and don't miss the carousel, tea cups, and train. Check the website before your visit as some exhibits depend on outdoor conditions.
Suffolk County Farm and Education Center — Yaphank
Get up close and personal with your favorite farm animals at this friendly spot. The butterfly house is a unique way to learn about insects and see their beauty first hand. This is a real working farm, where you can interact with sheep, goats, pigs, alpacas, turkeys, and cows, among other animals. Don't miss the colorful peacocks, and make sure to visit the children's garden, where kids grow their own food. A variety of educational programs is offered at this year-round facility.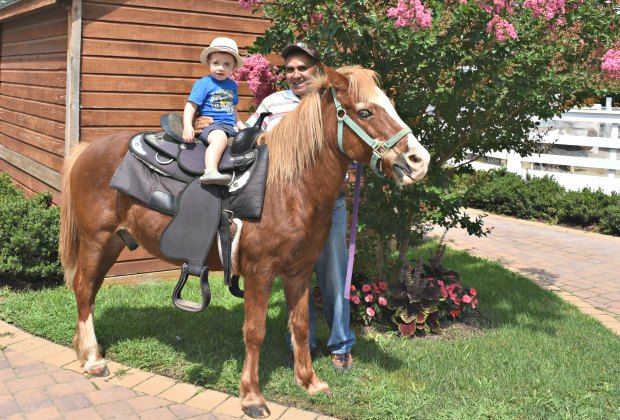 Pony rides at White Post Animal Farm in Melville are sure to delight.
White Post Animal Farm — Melville
2021 update: All tickets must be purchased in advance online to guarantee entry. Limited amount of walk-in tickets available.
This farm and petting zoo offers everything an animal lover could imagine. Begin at the giant, free-flight aviary, where a cascading waterfall flows and birds eat out of your hand. Then, head over to the recently updated primates section to see lemurs and squirrel monkeys climbing on their new playground. Goats, sheep, llamas, and alpacas are available to feed. Don't miss favorites such as the Singing Chicken Show, Animal Jamboree Band, and the old-fashioned train ride. The wet and dry bouncers are also a popular attraction. Open fall, spring, and summer.
A version of this article was originally posted in 2012.