12 Things To Love About Garden of Eve Organic Farm & Market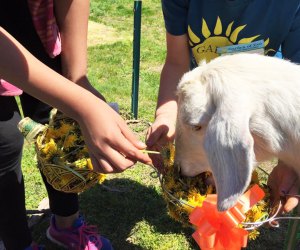 4/12/21
- By
Lisa Mancuso
Garden of Eve Organic Farm & Market is a family-friendly, pick-your-own farm that is a cornucopia of flowers and produce, which hosts a bevy of kids' programs, and amazing seasonal festivals for year-round fun.
Located in the East End town of Riverhead, this 50-acre certified organic farm was founded in 2001 by Chris and Eve Kaplan-Walbrecht, two experienced farmers and passionate environmentalists who have worked hard to create a haven for Long Island families looking to experience the wonder of farming and learn about the importance of sustainability.
Garden of Eve is a place where kids can experience nature and get their hands dirty while learning more about where their food and flowers come from. Adults will enjoy sampling the farm's craft beers and buying fresh, organic produce from its market or through its CSA programs. The whole family can attend one of Garden of Eve's many fun festivals and creative, educational, kid-friendly events.
Here's a closer look at 12 things we love about this magical Long Island farm. Find more farm fun spanning from strawberry season to pumpkin picking in our Guide to Farms and U-Pick Produce.
Editor's note: While we are trying to promote safer activities that occur outdoors or with social distancing guidelines in place, please keep your family and others safe by always wearing a mask and maintaining appropriate social distancing. Some of the photos in this post were taken before the pandemic.
Open now and running through Sunday, April 25, kids can meet and pet the many baby animals on the farm, including lambs, goats, and chicks. Admission also includes access to the Family Fun Fields, Pedal Kart Track, Bounce Town, and Hay Tower.
Each brunch basket includes enough food for 2-4 people (choice of sandwich or quiche, salad, cookies, pie, and beverages). You can take it to go or enjoy it at the farm at socially distanced picnic tables. The $45 price tag includes admission to the farm's Family Fun Fields.
RELATED: The Best Locations for a Family Picnic on Long Island

Kids will have fun getting caught in the giant spiderweb in the Family Fun Fields.
From mid-April through Halloween, you can purchase either a daily or season pass to the farm's family-friendly play area. Enjoy access to the barnyard's many animals, including chickens, turkeys, ducks, sheep, goats, and pigs. There are free hayrides on the weekends and plenty of fun play spaces, like the Bounce Pad, Hay Tower, Pedal Kart Track, Bouncy Town, and much more.
RELATED: The Best Animal Farms and Petting Zoos on Long Island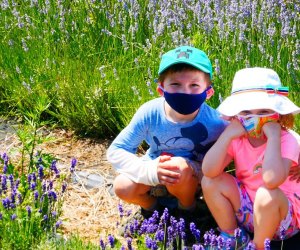 Wander through a fragrant field of lavender at Garden of Eve in Riverhead.
4. Lavender Picking
Starting around the first week of June (weather permitting) and running through mid-July, visitors to the farm can pick their own fragrant lavender bunches for $6 (admission to U-pick fields is $8.95). For bloom reports and updates on picking conditions, call the U-Pick Hotline at 631-722-8777, ext. 2.
RELATED: Botanical Gardens and Arboretums on Long Island for a Family Day Trip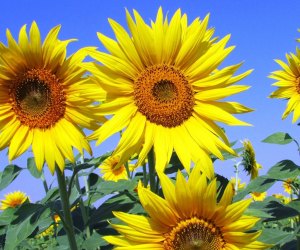 Don't miss Garden of Eve's annual Sunflower Festival in the summer months.
Around mid-July (again, weather permitting) through September, organic sunflowers are blooming and available for picking. A bundle of these bright flowers with stem is five for $5 or a dozen for $10 (plus admission fee). The farm's annual Sunflower Festival runs weekends from late July through late August and features sunflower field viewing areas and "prop stops" for photos, as well as live music.
In addition to the Sunflower Festival, Garden of Eve also hosts a Tulip Festival in May; a Strawberry Festival, from late May-late June; A Tractor Fest in late June; the Honey Bee Festival in July; and the farm's 18th Annual Long Island Garlic Festival in September. Each event promises loads of fun, including u-pick and photo-ops, hayrides, and much more. Check our Events Calendar for more upcoming festivities.

Tots Cooking Classes teach kids ages 2-10 the basics of farm-to-table eating.
Special programs tailored to kids of all ages are held throughout the summer, including Little Farmer Explorers for ages 4-10 on Saturdays in July-August and Tots Cooking Classes for ages 2-10 Thursdays in July and August. Themes for the cooking classes include Pasta Party, Wild & Wonderful Watermelons, and We Be Jammin.
RELATED: Strawberry Picking Farms on Long Island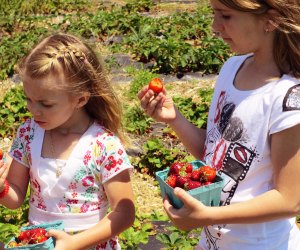 Families can have their pick of organic strawberries early in the season, while Berry Weekends follow when blueberries ripen.
Held the first three weekends in July, visitors can pick their own blueberries. Admission also includes access to the Family Fun Fields, Pedal Kart Track, Hay Tower, and more. Plus, families can also visit the farm's animals. Be sure to stop by the café for some delicious blueberry-themed foods.
Several party packages are available for birthdays and other special events. Hayrides, admission to playfields, a personal host, and a 30-minute educational session about the farm's animals and plants are just some of what's included. Lots of optional add-ons, such as catering and pony rides, are also available.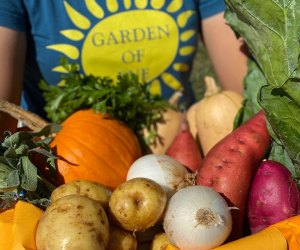 Get fresh organic produce through Garden of Eve's CSA.
When you become a member of the CSA Program at Garden of Eve, you purchase advanced shares of the farm's fresh, organic produce, as well as its flowers and other products, like its cheese and beer. The subscription service is available for the summer/fall and winter/spring seasons. You can pick up your boxes of just-harvested produce at the farm each week (some of the specialty products are only available bi-weekly or monthly). Members also receive delicious recipes and up-to-date news on farm happenings.
Looking for a beautiful background for a holiday photo or family portrait? For a fee of $300, you and your entire family (up to 50 guests) have access to a designated site on the farm where professional photographers snap away for one hour as you all strike a pose, or two, or three.
You'll find lots of delicious foods here, most made using the farm's organic produce. From hot menu items on the weekends to self-service coffee, beverages, and sandwiches during the week, items are available to take out or enjoy on the farm. If the adults are looking for something stronger than a smoothie, head over to the brewery's tasting room, where you'll find a lineup of craft beers and hard ciders.
Know Before You Go to Garden of Eve
COVID-19 Protocols: All staff wears masks, and all customers are encouraged to do the same. Gloves are available upon request, and there are multiple hand-washing stations. There is contact-less checkout and timed-entry admission; visitors are encouraged to pre-book online.
Garden of Eve is open daily through Saturday, October 31; hours are 9am-6pm daily.
Garden of Eve is located in Riverhead (at the intersection of Sound Avenue and Northville Turnpike) on the North Fork of Long Island, about 80 miles from NYC. Visit the website for directions.
Prices vary depending on the event and activity. Visit the Garden of Eve website for more information.