Botanical Gardens and Arboretums on Long Island for a Family Day Trip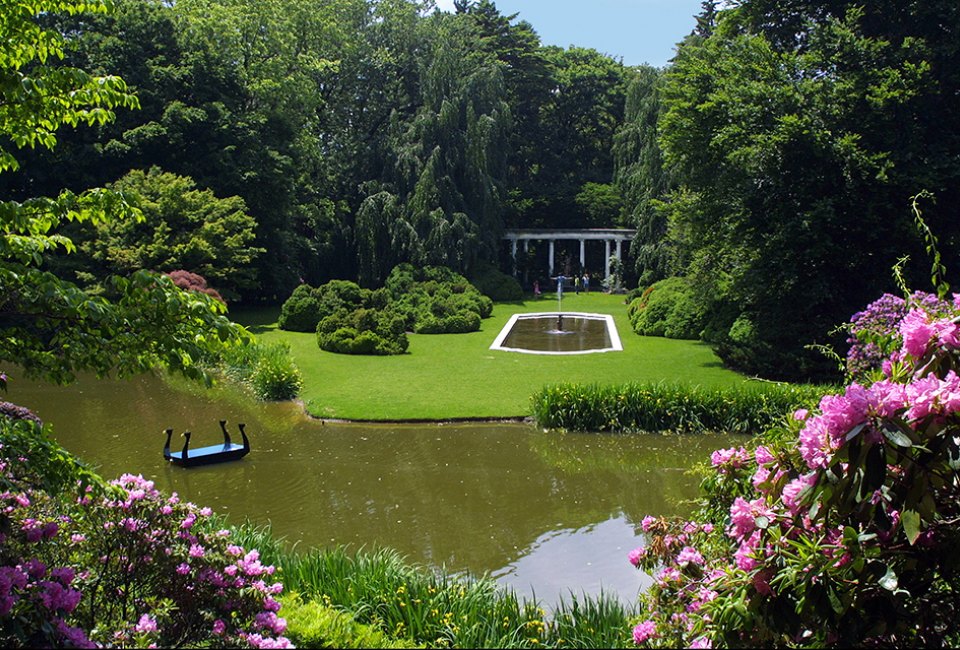 3/22/21
- By
Lisa Mancuso
With the weather turning warmer and the flowers blooming, Long Island's beautiful botanical gardens are ready to welcome you on your next outdoor excursion. These gorgeous spots are perfect venues to enjoy a picnic, admire the landscape, and learn a thing or two about the flora around us. The best part is that, unless noted, admission to most of these sites is FREE.
For more warm-weather fun, check out our Spring Fun Guide and Event Calendar.
Editor's note: While we are trying to promote safer activities that occur outdoors or with social distancing guidelines in place, please keep your family and others safe by always wearing a mask and maintaining an appropriate distance.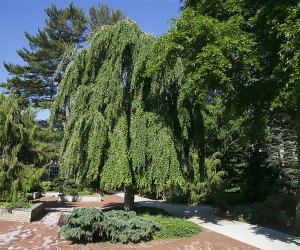 Stroll through Hofstra's unique campus and view more than 12,000 trees. Photo courtesy of the university.
Botanical Gardens and Arboretums in Nassau County
In 1985, Hofstra University's 240-acre campus received official recognition as an arboretum. There are more than 12,000 trees representing 625 species and varieties. Tours and fee-based family-friendly programs are available throughout the year.
2021 update: All buildings are closed, including the restrooms. Masks must be worn when proper social distancing can't be maintained, including in the Children's Habitat.
Perfect for kids of all ages, this 42-acre botanical garden has adventurous and engaging activities centered around kid-friendly learning. The enchanting Children's Habitat is a true outdoor playland, where children are encouraged to touch, dig, collect, build, hide, climb, and explore all there is in this backyard paradise. Self-guided tours let you learn about Long Island history as well as experience the quiet and serene surroundings of animal and plant life in the woods and ponds. Price is $5 per vehicle, $2 per walk-in. Members are FREE.
2021 update: The Clark House is closed with the exception of the restrooms.
Established in 1969, Clark Botanic Garden is a 12-acre living museum and educational facility. Collections include native spring wildflowers, conifers, roses, perennials, daylilies, wetland plants, rock garden plants, herbs, butterfly plants, medicinal plants, and more than a dozen collections of particular plant families. Educational programs include fun workshops for kids. There's also a gift shop on-site. Donations are appreciated. There are fees for educational programs.
RELATED: Great Bike Trails for LI Families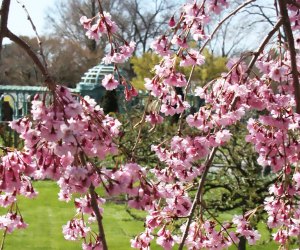 Kids will delight in the cherry blossoms at Old Westbury Gardens.
2021 update: Reopens Thursday, April 1. Tickets must be purchased online in advance. Members and library ticket holders do not need a reservation.
John S. Phipps, the former owner of Old Westbury Gardens, knew that the way to his wife's heart was to build her a house with an elaborate garden. Margarita Phipps loved the beauty of gardens and requested to have her own as part of the construction of their Charles II-style mansion. This mansion has more than 200 acres of formal gardens, ponds, and lakes. Take a guided tour of the house and gardens, and check out its calendar of family-friendly events. General admission for the house and gardens is $14; seniors older than 62, $12; children 7-17, $8; children 6 and younger, FREE.
Purchased by the North Shore Land Alliance in 2017, this beautiful, meditative garden includes a collection of North American and Asian plants, a stepping stone path, and a pond-side teahouse. Recently, the preserve added exercise stations.
Nassau County's largest preserve, Muttontown has 550 acres of fields, woodlands, ponds, and estate grounds. Self-guided tours take visitors along marked nature trails, where local wildflowers, trees, birds, reptiles, and amphibians can be spotted. Buildings on the preserve include the Chelsea Estate and Nassau Hall. It's open daily from dawn to dusk.
RELATED: 15 Long Island State Parks Worth a Visit

Admire the gorgeous blooms at Planting Fields Arboretum State Historic Park.
2021 update: A maximum of 10 people are allowed in greenhouses at one time. Parking lot capacity is reduced to 50% to limit the number of visitors.
Bring a picnic lunch or eat at the Magnolia Café, and take a self-guided tour through the formal gardens. Many of the plants and trees are marked with handy identification plates. There are two greenhouses; the main greenhouse contains many rainforest plants while another houses the largest collection of camellias under glass in the Northeast. Admission is $8 per car from Thursday, April 1-Monday, November 22, collected on weekends and holidays only; admission is FREE for Empire Pass holders. All visitors enter for FREE in winter. There is a separate fee for a tour of Coe Hall.
2021 update: Advanced tickets/registration required to enter the Center for Science, Teaching and Learning.
Enjoy this 11-acre preserve with a nature trail, newly renovated brick walkway, and a pond where fishing is allowed. It is also the home of the Center for Science Teaching & Learning, which offers science and technology programs for children.
RELATED: Outdoor Art Day Trips Near NYC

Stroll the kid-friendly paths at Bayard Cutting Arboretum.
Botanic Gardens and Arboretums in Suffolk County
2021 update: Parking capacity is limited to 50%. The Manor House is closed, but the restrooms and Hidden Oak Cafe are open. No guided tours are available.
The 690 acres of sprawling horticultural beauty in Bayard Cutting Arboretum were a gift of love. The arboretum was donated to the Long Island State Park Region by Mrs. William Bayard Cutting and her daughter, Mrs. Olivia James, in memory of William Bayard Cutting. It is the largest botanical garden on Long Island and houses an extensive conifer collection and five nature walks. The sights and sounds of spring are evident in the ponds and wildlife. Admission is $8 per vehicle. Mansion and gardens tours are $10 per adult; $5 for children 11 and younger. Admission is FREE for Empire Pass holders.
RELATED: Nature Centers Sure to Delight LI Kids

Enjoy family-friendly gardening at Bridge Gardens on the East End. Photo courtesy of the gardens.
This 5-acre botanical garden has a collection of hedgerows, perennial and annual beds, and a four-quadrant herb garden with medicinal, ornamental, textile, and dye plants. The garden hosts many educational and family-friendly events. Entry is FREE.
2021 update: The Madoo Conservancy is open seasonally from May-October. In 2020, it was open by appointment only for groups of 10 or less.
Established by artist, writer, and gardener Robert Dash, this conservancy is a registered historic site and mixes together the worlds of flowers, trees, plants, and unique art. Private tours are available for a fee, though general admission is FREE.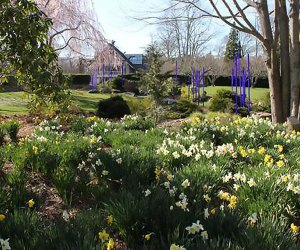 Wander peacefully through the beautiful grounds at Longhouse Reserve.
2021 update: The restrooms and water fountains are closed. Appointments to visit must be made by calling the office, 631-329-3568.
The landscape features gardens, a pond with water lilies, lotus plants and bullfrogs, and life-sized garden sculptures. Educational and family-friendly events happen throughout the year. Admission is $15 for adults; $10 for seniors; high school and college students are FREE with ID. Members and children younger than 12 accompanied by an adult are FREE.
A version of this article was posted in 2016. It was updated in March 2021.