Outdoor Art Day Trips Near NYC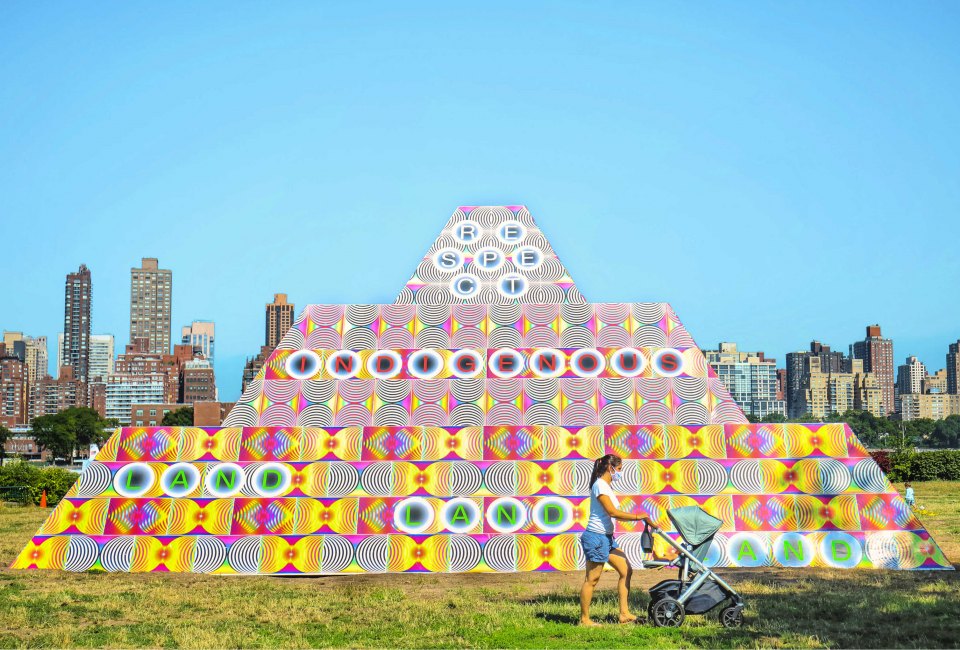 9/7/20
- By
Katie Nave
If you're looking for an escape and craving a little culture, outdoor sculpture gardens are the perfect destination for the entire family. While New York features some of the world's most famous art museums, many of which have reopened or are doing so soon, the metro area is also home to a diverse array of sculpture exhibits by international contemporary artists. At these outdoor art destinations in the city and nearby, you'll be enchanted by forests, meticulous gardens, and even a labyrinth of stone.
From Midtown Manhattan to the sprawling Hudson River Valley and Long Island's majestic Gold Coast, we've found 11 sculpture gardens and destinations to see outdoor art near New York City. So, spend the day strolling through wide-open spaces, gazing at stunning, larger-than-life sculptures, and breathing the fresh fall air. Pack a picnic and head out to one of these destinations for the perfect fall family day trip.
Find more seasonal fun in our Fall Fun Guide and consider these 30 fall family day trips nearby, too.
Sign up for our newsletters to get stories like this delivered to your inbox.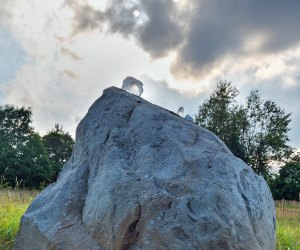 Be one of the first to view Martha Tuttle's exhibition, Outlooks, with a fall visit to Storm King. Photo by Jeffrey Jenkins/courtesy the artist and Storm King Art Center
New Windsor's Storm King Art Center is a 500-acre outdoor museum featuring more than 100 large-scale modern and contemporary sculptures and site-specific pieces throughout its wide-open green space. Since opening in 1960, Storm King is one of the largest open-air museums of its type in the country. At a little over an hour north of the city, we recommend packing a picnic basket and making a day of it. It's particularly stunning in the fall as an ocean of reds, oranges, and yellows takes over the treetop canopy. Reserve your tickets before you go.
Art Omi is home to more than 300 acres of farmland, marshes, and wooded forests, which are punctuated by more than 60 large-scale pieces from international artists. You'll find both permanent collections and seasonal exhibits. Admission is FREE, and the park is open daily from dawn to dusk. Check the website before you go, as the park is sometimes closed for special exhibits and events.
RELATED: 16 Pieces of Public Art to See During Summer 2020

You don't even have to leave the city to explore the pieces in the Abby Aldrich Rockefeller Sculpture Garden at MoMA. Photo courtesy of the museum
Part of the Museum of Modern Art, the Abby Aldrich Rockefeller Sculpture Garden, is a dynamic outdoor space in the heart of Midtown Manhattan. Opened in 1953, the sculpture garden features midcentury modern design and a tranquil central pool. For the time being, tickets to the museum and garden must be booked in advance online, and capacity is limited. One bright spot: Admission is FREE through Sunday, September 27.
Located in Saugerties, the Opus 40 Sculpture Park features more than 60 acres of walkable trails, a gallery, museum, and sitting areas. The main installation, Opus 40, was created over a 37-year timeline by the artist Harvey Fite. Often compared to Stonehenge, the walkable sculpture is a labyrinth of bluestone dug from the abandoned quarry on-site. The design curls around beautiful pools, fountains, and trees.
RELATED: NYC Museums Reopen With Admission Deals and New Exhibitions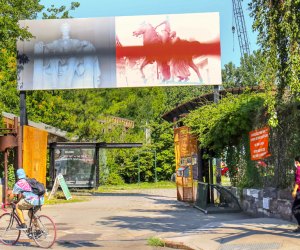 You never know what art awaits behind the gates of the FREE Socrates Sculpture Park in Long Island City, Queens. Photo of Nona Faustine's In Praise of Famous Men No More by Scott Lynch/courtesy the artist and Socrates Sculpture Park
If you're looking for a local, outdoor activity, Socrates Sculpture Park is the perfect spot to take in cool sculptures, lounge in nature, or stroll impressive gardens. Located in Long Island City, the 5-acre park is FREE and open year-round from 9am to sunset. The spot was an abandoned landfill until 1986 when a group of community members and artists gave it a complete overhaul. The artwork changes regularly, but the spectacular views of the East River and Manhattan are always on view.
Overlooking the Taconic State Parkway, sculptor Roy Kanwit created this sculpture park. You'll come away with gorgeous photos of marble and limestone forms, many influenced by Greek and Roman mythology, in a sprawling pasture. The park is FREE and open seasonally on weekends.
RELATED: Family-Friendly Hiking Trails in NYC to Tackle This Fall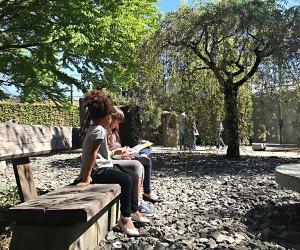 The Noguchi Museum in LIC has a beautiful inside/outside flow between its galleries and on-site garden, which displays some of Isamu Noguchi's larger pieces. Photo by Jody Mercier
Located in Long Island City, The Noguchi Museum is dedicated to the work of Japanese-American artist Isamu Noguchi. Reopening Wednesday, September 23, it was designed by the artist and landscape architect himself. The museum features a gorgeous outdoor sculpture garden, which is particularly stunning in the springtime. Plan your visit in advance because timed-entry tickets are required.
This Long Island museum features 40 outdoor works of art by contemporary artists situated on 145 acres of protected land in the heart of Long Island's Gold Coast. In addition to stunning sculptures, you can take in the museum's living collection throughout its arboretum, which is crisscrossed by nature trails. Just a 40-minute train ride from Penn Station, the sculpture garden is FREE for visitors, and open daily from 9am-dusk.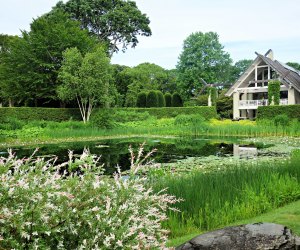 Peter's Pond is a peaceful retreat in the middle of LongHouse Reserve. Photo courtesy of the venue
This destination is the creation of noted textile designer, author, and collector Jack Lenor Larsen. LongHouse Reserve features more than 60 works of art, some are in the permanent collection, and others are on seasonal loan from the artists. The 17-acre property is smaller than many of the sculpture parks featured on this list, but it is full of wonderful and wacky works by contemporary artists like Dale Chihuly, Yoko Ono, Sol LeWitt, and Willem de Kooning. Visits are by timed-ticket reservations only, so book online before you go.
The Grounds for Sculpture boasts 42 acres of gardens and sculptures. Visitors can freely walk the grounds, built on the former site of the New Jersey State Fairgrounds, and take in the permanent collection of more than 300 sculptures. There are fun surprises hidden around seemingly every corner: a spray of mist, a lotus pond, little bridges, peacocks, and more. The garden and arboretum feature pergolas, natural woodlands, bamboo groves, and ponds. This spot is about an hour from the Philadelphia area and about 90 minutes from New York City. It's open year-round from Tuesday through Sunday. You must reserve a timed-entry ticket online before visiting the grounds.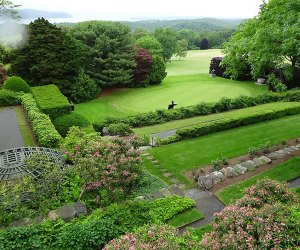 Visit Kykuit and tour the grand gardens. Photo by Susan Miele
Admission to Kykuit is by tours only, and tours for the remainder of 2020 have been canceled, but the historic home is worthy of a spot on this list for future visits. Kykuit was previously home to four generations of the Rockefeller family, beginning with oil tycoon John D. Rockefeller. The estate is located in Sleepy Hollow, near Tarrytown, on 250 acres of land and boasts 40 rooms. Guests can tour the terraced gardens while enjoying views of the Hudson River Valley. Bookmark the website for updates.
t Click Here to Sign Up!