Queens Art Crawl With Kids: Noguchi, MoMA PS1, Socrates Sculpture Park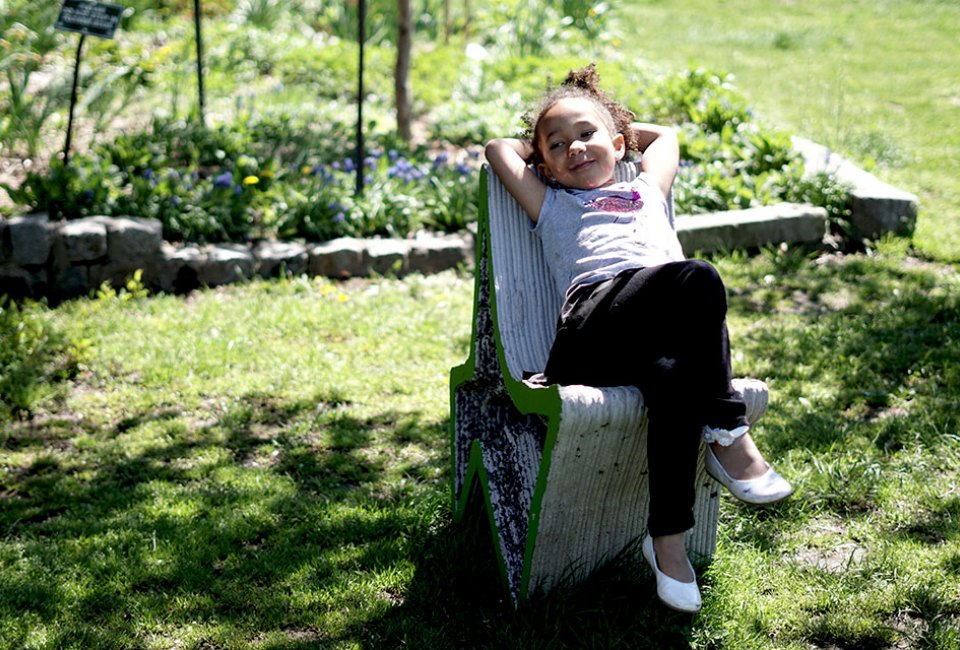 4/30/19
- By
Jody Mercier
While the Upper East Side's Museum Mile gets lots of love and tons of fanfare, there are other cool culture spots to visit in this diverse city. One of our favorite outer-borough destinations just might be Long Island City, which has solidified itself as the queen of Queens' vibrant art scene. In addition to a slew of funky galleries, the 'hood has a trio of art-centric museums worth visiting: MoMA PS1, the Noguchi Museum, and the outdoor oasis, Socrates Sculpture Park.
Read on for our review of these artsy spots, plus the kid-friendly programming that makes them worth visiting, whether you're a local or not.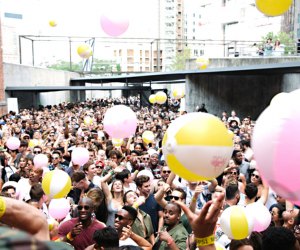 Photo courtesy of MoMA PS1
MoMA PS1
22-25 Jackson Avenue near 46th Avenue
Housed in a former schoolhouse, MoMA PS1 is the Queens outpost of its better-known older sister the Museum of Modern Art in Midtown. Unlike its Manhattan counterpart, MoMA PS1 is not an art collection but a dynamic exhibition space, with a mission to showcase contemporary art and artists. Exhibitions rotate frequently and vary widely, from site-specific works to retrospectives and performance-based pieces, meaning there's always something new and exciting to peep. Many well-known contemporary artists have had pieces on long-term display, too, some of which have been in place since the Museum's founding as The Institute for Art and Urban Resources, Inc. in the 1970s. One such piece, Pipilotti Rist's Selbstlos im LavabadSaul Melman, requires a careful eye to spot; it's located in the lobby floorboards. Other long-term displays, like Saul Melman's Central Governor, which coated the pipes and machinery in the building's old boiler room with gold leaf, are more striking. Kids are particularly enchanted with Ernesto Caivano's In the Woods, which transforms a stairwell into a fairy tale-like mural of gnarled trees.
MoMA PS1's packed calendar of seasonal events is family-friendly (although not specifically aimed at families). Consider attending one of its Sunday Sessions, where artists respond to current events in genre-defying performances. The summertime Warm Up series presents a different outdoor musical performance each week during the summer.
RELATED: Best Places for Families to Eat in Long Island City, Queens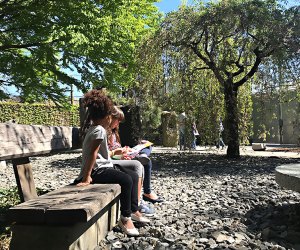 Relax in the serene garden at the Noguchi Museum.
The Noguchi Museum
9-01 33rd Road at Vernon Boulevard
Designed by famed artist and landscape architect Isamu Noguchi (perhaps best remembered for his iconic mid-century furniture), this museum was a breath of fresh air on a recent spring visit. I wasn't quite sure what to expect inside the industrial-looking building, which is oddly placed right across the street from a Costco Wholesale Club. But the serene indoor-outdoor galleries and gardens, including a beautiful tree with weeping branches weighed down by pale pink blossoms, created an alluring natural oasis in which to admire the artist's sculptures. The museum got bonus points for handing us kids' guides upon entry, which inspired my daughters' exploration of the space and works, searching for varied textures, patterns, and shapes. It was engaging for my 9-year-old, and the illustrations helped my 5-year-old feel like she could participate, too. Beware: Though the large-scale, sturdy-looking sculptures almost beg to be touched, we were reminded several times to keep our hands to ourselves...even when my daughters weren't close to them. There are more galleries indoors with many more Noguchi sculptures and a couple of rooms where rotating exhibitions are offered.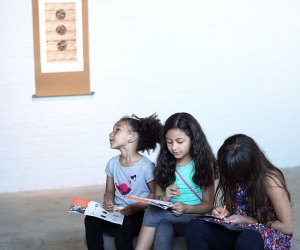 Take advantage of the affordable family art programs at the Noguchi Museum.
Consider visiting during one of the Noguchi museum's regularly scheduled family programs. For $10, a family of four enjoys museum admission plus hands-on art projects led by museum educators. Drop-in opportunities are offered on the first Sunday of every month for its Open Studio program, while Arts for Tots and Art for Families requires advance registration. Most programs are geared toward children ages 2-11.
RELATED: Free Admission Times at NYC Museums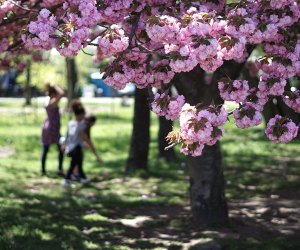 Socrates Sculpture Park has lush beautiful grounds.
Socrates Sculpture Park
32-05 Vernon Boulevard near Broadway
Located just two blocks north of The Noguchi, this outdoor escape is by far the most little-kid-friendly of the trio. This grassy, riverside park houses large-scale sculptures on its beautifully maintained grounds. There's also a tiny beach area known as Hallets Cove where you can go kayaking for free. A constant stream of free programming includes options like a seasonal Saturday greenmarket, yoga, a Halloween harvest festival, and more. Though we visited between exhibitions, the proximity to the water, blooming flowers, green grass, and fresh air led us to linger and enjoy the space for a couple hours, spreading out a snack picnic while the kids ran around the enclosed space chasing butterflies and each other.
While Noguchi and Socrates are easily doable on the same day, PS1 isn't within walking distance for most kids. The best way to travel between the two areas (besides driving) is the Q103 bus, which runs along Vernon Boulevard. Start out at PS1 and grab lunch in the area before moving on. If you're heading back to Manhattan, the East River Ferry docks just north of Socrates.
Looking for more LIC-based fun? Read all of our posts about Long Island City.
A version of this post was originally published in August 2012 but has since been updated. Sarah G. contributed to our reporting.
Photos by the author
Places featured in this article:
---
Socrates Sculpture Park
---
The Noguchi Museum