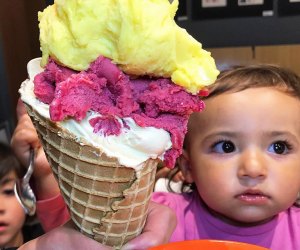 Best Family-Friendly Restaurants in Long Island City, Queens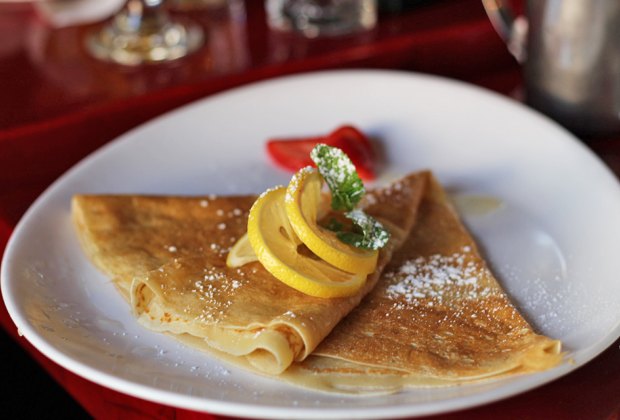 The crepes and coffee are hard to resist, but savory fans can find favorites too. Photo courtesy of Cafe Henri
Cafe Henri
Open every day for breakfast, lunch, and dinner, this cozy French Bistro is hard to resist. They might be on the dessert menu, but crepes can be brunch for my family. For savory lovers, there are burgers and French classics like moules frites and steak au poivre. Plus, there are high chairs and changing tables!
Riverview Restaurant
Conveniently located near Gantry Plaza State Park, Riverview has a large outdoor seating area, which offers great views of the green space and the East River beyond. In addition to lunch and brunch standards, the eatery has an expansive menu that includes burgers, salads, seafood dishes, and other entrees. Check out the website for updated specials like $1 oysters!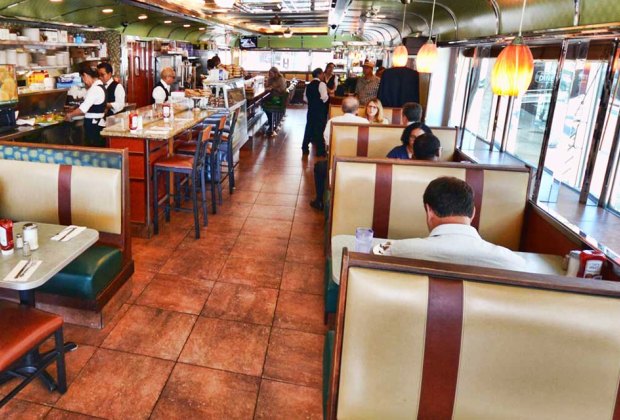 Traditional diner food is always a safe bet. Photo courtesy of Court Square Diner
Court Square Diner
This retro diner has been a neighborhood staple since 1946. It's open 24/7 and serves breakfast, lunch, brunch, and dinner around the clock. Kids' meals are reasonably priced and include a beverage and dessert.
Manetta's Ristorante
This lovely family-owned restaurant is located just off the Pulaski Bridge and serves traditional Italian dishes, brick-oven pizza, and delicious sandwiches. There's also a small outdoor seating area, which is a treat when dining with the kids in the summer.
Bella Via Restaurant
Another great Italian eatery, Bella Via offers coal-fired brick-oven pizza, traditional Italian fare, and decadent desserts. It has recently extended its hours on the weekends to incorporate brunch.
Tuk Tuk
If you're in the mood for Thai, Tuk Tuk offers a nice selection of well-priced lunch specials. Another plus: there are plenty of vegetarian options on top of Thai classics like pineapple fried rice and pad thai.
RELATED: Queens Party Places: 21 Spots for Kids' Birthdays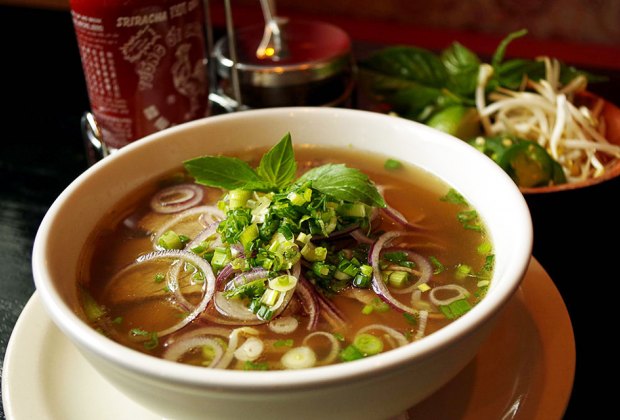 Pho is just one of the many delicious traditional dishes that can be found on Cyclo's menu. Photo courtesy of Cyclo
Cyclo
Sister-from-another-motherland to Tuk Tuk, Cyclo offers a delicious array of Vietnamese cuisine. We're big fans of its bahn mi and pho, but there are plenty more options to enjoy including a Vietnamese version of churros and ice cream.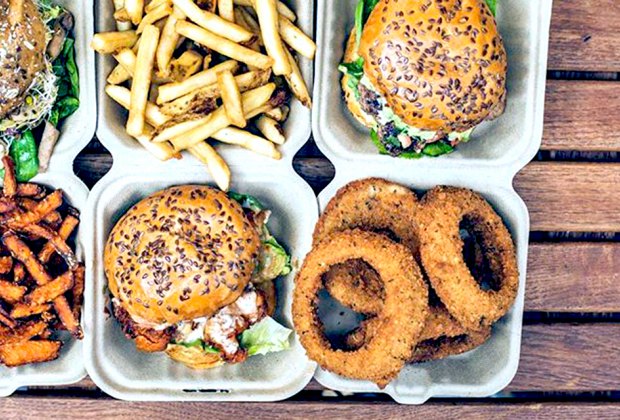 This chain is more than your everyday fast-food joint, with organic ingredients, vegan options, and a great kids' menu. Photo courtesy of Bareburger
Bareburger
This burger chain always gets a shout-out from my family because of its thoughtful and organic menu. Burgers, fries, and shakes are standard, but there's also an Impossible Burger (vegan burger) that has quickly become a local favorite.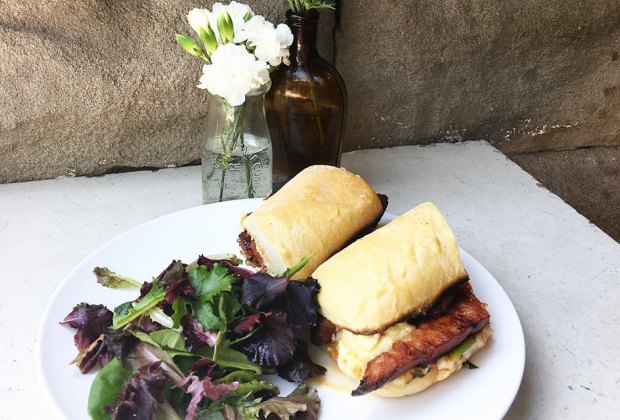 LIC Market focuses on local organic and artisanal ingredients while being a humble neighborhood favorite. Photo courtesy of LIC Market
LIC Market
Open for lunch, brunch, and dinner, this raved-about restaurant is also pretty kid-friendly. Fancy grilled cheese, BLTs, and burgers are offered along side slow-roasted duck hash and roasted vegetable entrees.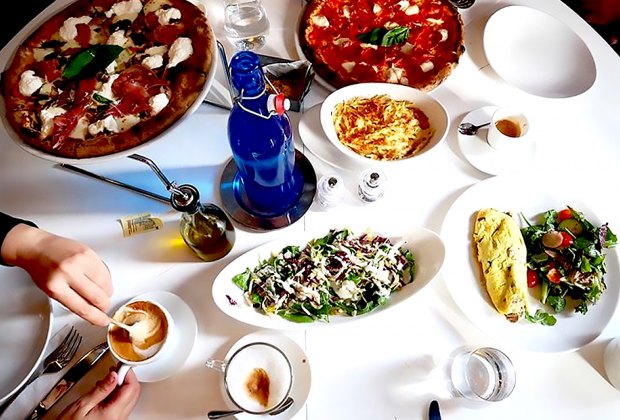 Levante offers Neapolitan pizza and plenty of delicious pasts choices, making this a hit with both parents and kids. Photo courtesy of Levante
Levante
Complete with a beautiful outside eating area, Levante serves traditional Neapolitan pizza, a delicious array of Italian lunch and dinner entrees, and brunch. This charming and rustic-chic restaurant is casual enough for the kids but yummy enough to please all its patrons.

Bel Aire Diner
While there are plenty of restaurants in the Hunters Point section of Long Island City, Ravenswood, which is farther north, is pretty barren. But with two major LIC attractions here—the Noguchi Museum and the Socrates Sculpture Park—it's good to know about this veteran diner, which is located about four blocks away from both. Bel Aire is open 24/7 and boasts a novel of a menu. It's best to stick to standards like burgers, all-day breakfast, and starters, as the fancier entrees aren't always so wonderful.
And for coffee, snacks, and dessert...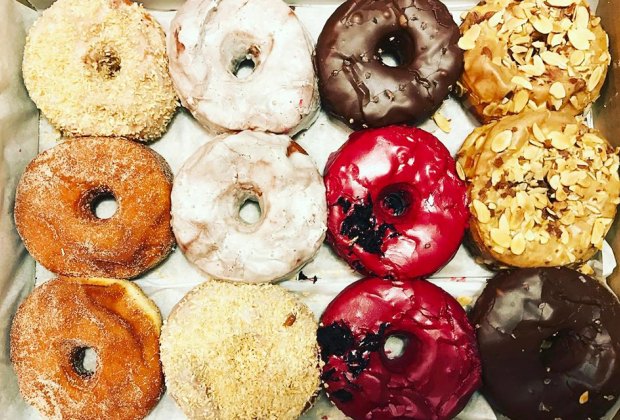 The espresso is great, but the pastries (especially the giant doughnuts) are even better! Photo courtesy of Black Star Bakery and Cafe
Black Star Bakery and Cafe
My son and I love to take refuge in this warm and bright eatery. He gets the giant doughnuts, and I get a latte and croissant. There's a light-fare menu as well, which includes sandwiches, salads, and breakfast items. You can have a complete meal here; sit by the window, and watch the city walk past.
51st Bakery and Cafe
This cafe offers a great espresso and some darn good fresh baked cookies! But it's not just for snacks—they have a great daily sandwich and salad menu, too. Plus, it's right next door to LIC newcomer Playday, a creative art space for kids.
RELATED: Tea and Treats at Flushing's Rose House with Queens Kids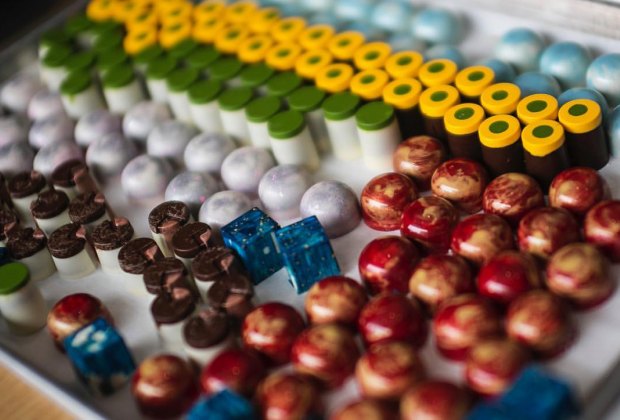 The desserts at Sugar Cube are almost too beautiful to eat......almost. Photo courtesy of Sugar Cube
Sugar Cube
Get your kids exploring the world of sweets beyond the basic prepackaged snack. Sugar Cube offers delicious, exciting, and BEAUTIFUL desserts. This could be your child's first dark-chocolate adventure or dive into a scoop of artisanal gelato. The owners are parents themselves and happy to see little ones savoring their delights.
Cannelle LIC
French patisserie Cannelle offers delicate eclairs, mille-feuille (napoleons), plus contemporary selections like apple turnovers and seasonal fruit tarts. It's also just a block from Gantry State Plaza Park.
A version of this article first published in 2012, but it has since been revised.