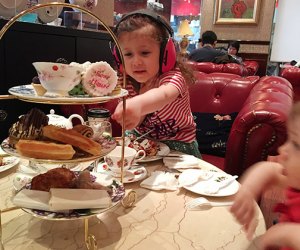 Tea and Treats at Flushing's Rose House with Queens Kids
Flushing has many unsung treasures, but one of the neighborhood's best-kept secrets is Rose House inside the Queens Crossing Mall. Queens residents no longer have to travel into Manhattan and battle the crowds for a fancy afternoon tea and treats date with their little ones. Families can enjoy a tower of sweets, a warm cup of brisk black tea, and classical music inside this colonial-inspired teahouse.
Rose House is the vision of Taiwanese artist Robert Huang. A repeating subject in his vibrant paintings is the rose–that passionate and delicate flower that holds symbolism across continents. In 1990 Huang opened his first Rose House in Taiwan, combining his love of roses, English afternoon tea and pottery. Rose House has grown to 50 locations worldwide.
Stepping into Rose House Queens reminded me of the first time I stepped into The Peninsula in Kowloon, Hong Kong. Guests are met by servers in crisp, matching blouses. The interior is furnished with red overstuffed armchairs and couches. The experience is distinctively Chinese-meets-colonial.
RELATED: Best Hot Chocolate Joints in Queens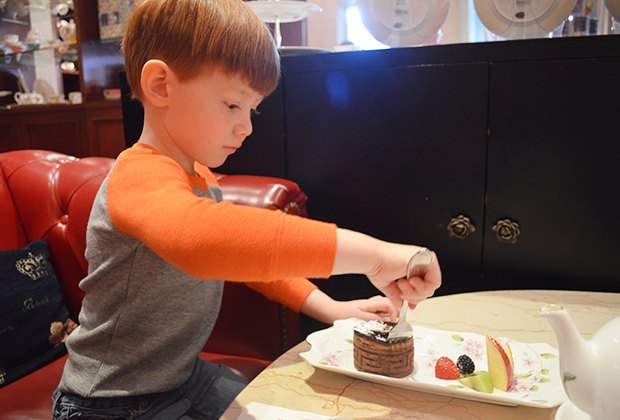 My son enjoys a decadent chocolate cake with a subtle coffee-flavored mousse center. He even loved the fruit.
My family and I decided on a few decadent treats. The grown-ups settled on the "Classic English Afternoon Tea Set"–a $36 tea for two. The finger sandwiches were VERY Hong Kong style–egg salad and ham on fluffy milk bread pressed and lightly warm. Two mini-pizzas took me by surprise and turned out to be delicious. Two other tiers were overflowing with desserts, including crème brulee served in a tiny tea cup, banana cream pie covered in chocolate, and warm rugelach lightly sweetened with rose water syrup.
This particular tea choice is for a limited time as the menu often changes. The more permanent "Prince William's Afternoon Tea" offers delicious choices including rose lychee jelly, cheesecake, English scones and... burgers! It's always fun to see English tea translated into colonial settings. There are also child-friendly tea choices such as the Sticky Toffee Tea with Milk, which you can get either iced or hot for $13.
RELATED: Best Ice Cream Shops Around Queens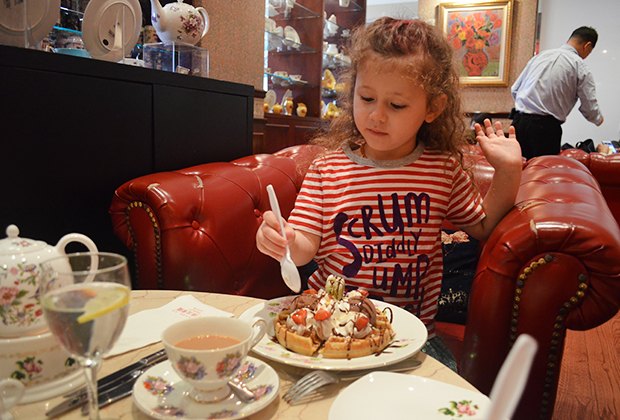 Digging into chocolate ice cream and fresh waffles with a matcha French macaron on top.
Our children were eager to try the fresh waffles with towers of ice cream. Each waffle was crowned with an Asian-inspired macaron such as matcha or mango. My 4-year-old son selected a chocolate cake with a subtle coffee-flavored center and devoured it.
We were very comfortable in the main dining room sitting on low couches, but there are standard tables for those with younger children in need of high chairs. There were three other families with children 8 and older when we visited. Tables are set with delicate china, but the staff is experienced and ready with plastic and paper for younger tots.
We had a lovely time stuffing ourselves on sweets and tea. If you're in Flushing for more than one meal, check out the New World Mall Food Court or another of our favorite local eateries.
Top photo: The kids can't wait to get started on the tower of treats during Classic English Afternoon Tea Set. Photos by the author.
Rose House at Queens Crossing
136-17 39th Ave. 1st Floor
Flushing, NY 11354