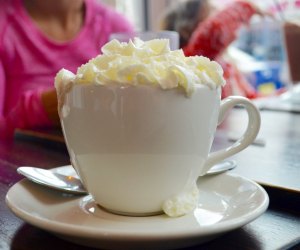 11 Queens Hot Chocolate Spots to Sample with the Kids
While it might not have $12 blossoming marshmallow hot chocolates or frozen hot chocolate served in 40-ounce bowls, Queens still knows hot chocolate. In the city's most diverse borough, it's not about the gimmicks, but the ingredients: cream, steamed milk, syrup, cocoa, shredded chocolate, maybe some whipped cream. Those are the tools in Queens' hot chocolate arsenal.
My 4-year-old is starting his hot chocolate journey this year, among other amazing holiday activities—and winter fun. Whether Belgian, French, or Mexican, that dark brew of sweet and bitter warmth is a staple of any childhood memory. We're building those memories one cup at a time as lights twinkle in the shop windows and the scent of snow creeps into the air.
Start your child's holiday cheer by visiting one of these Queens locations, but you might also consider a quick trip to these spots in Brooklyn or Manhattan, especially if you're killing time over a school holiday.
Find more great NYC eats in our Family Restaurant Guide.
Aigner Chocolates — Forest Hills
103-02 Metropolitan Avenue
This confectionery shop, which specializes in its own line of in-house-made chocolates takes hot chocolate to the gourmet level. It melts down its specialty chocolate to create a sauce, which then is blended with steamed milk to order. You would think this kind of chocolatier professionalism was only for Manhattan, but the $3.75 price tag reminds you that you're still in good ol' Queens.
Cafe Henri — Long Island City
1010 50th Avenue
Get ready to swoon. This French cafe serves a hot chocolate concoction made with dark cocoa and a little brown sugar. It's mildly sweet and grown-up, and your child can add extra sugar and whipped cream. For adults, there is Grand Marnier hot chocolate, sure to shake off the chills.
Cannelle LIC — Long Island City
5-11 47th Avenue
Not too sweet and without toppings, Cannelle chops up chocolate bars into its steamed milk and cream. This little bakery is just a hop, skip, and jump away from Gantry Plaza State Park, so take your piping cups to go and watch the little ones frolic by the East River.
Cannelle Patisserie — Jackson Heights
75-59 31st Avenue
This French bakery serves up a traditional cup. Using a mix of dark and milk chocolates, Cannelle doesn't mess around. No whipped cream. No frills. And the price is right, starting at $3. Croissants are to die for, too, so plan on breakfast here Parisian style, dunking flaky baked goodness into frothy chocolate dreams. It's the best way to start any morning.
Eddie's Sweet Shop — Forest Hills
105-29 Metropolitan Avenue
Be careful when entering this old-school soda shop. You'll come for a simple hot chocolate and stay for a sundae drenched in amazing hot fudge. This novelty shop reminds customers of days past, when egg creams and root beer floats were king. Bring the grandparents and the kiddies this holiday. Connect and reminisce.
La Boulangerie — Forest Hills
109-01 72 Road
Owner Francois Danielo was at impasse developing his hot chocolate recipe. Should he take on the popular style of rich and thick desserts served in a cup, or the more drinkable, simple approach? Francois decided on the latter, reminding him of the simple pleasures of Parisian homes. Using Barry Callebaut chocolate powder from Belgium, the large size is served in a bowl, encouraging patrons to nuzzle against the warmth of the ceramic. Children can add hazelnut, vanilla, or other flavors with whipped cream, but Francois prefers the simple and traditional chocolate that reminds him of home.
Leli's Bakery — Astoria
35-14 30th Avenue
Fun fact: Leli's uses Ghirardelli cocoa powder in its hot chocolate and calls it a French hot chocolate. Founder Domingo Ghirardelli was Italian and he started his confectionery business in San Francisco. I wasn't going to give a chocolate history lecture because, either way, it's THE BEST hot chocolate in Astoria. Your little one will find the sweetness and optional whipped cream perfection. At a reasonable price, starting at $3, this is a must for a snowy day afternoon pick-me-up. If you are feeling fancy there are also flavors such as raspberry and vanilla.
RELATED: Best Ice Cream Joints in Queens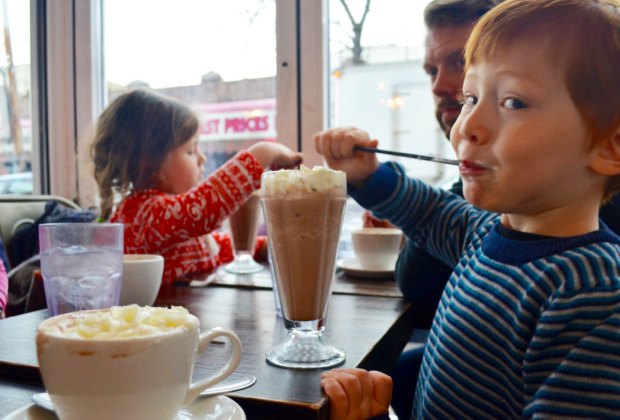 Get your chocolate hot or frozen at Martha's Country Bakery.
Martha's Country Bakery — Multiple locations
If you're looking for a little more fun, try Martha's. It uses Ghirardelli chips melted down into the steamed milk, and the choices are tremendous, including peanut butter, red velvet, Mexican, and a personal favorite, Nutella. My son loves its frozen hot chocolates that come in an array of flavors. Although on the pricier side (starting at about $5), the servings are generous.
Red Pipe Cafe — Forest Hills
71-60 Austin Street
The managers of this neighborhood fave are tight-lipped about their popular hot chocolate. Called Belgian style, they create a chocolate sauce from cocoa powder, delivering a drink that's not too sweet and appeals to the more health-conscious and hard-core chocolate lovers in the area. Starting at $4.
RELATED: 15 of NYC's Most Over-the-Top, Decadent Desserts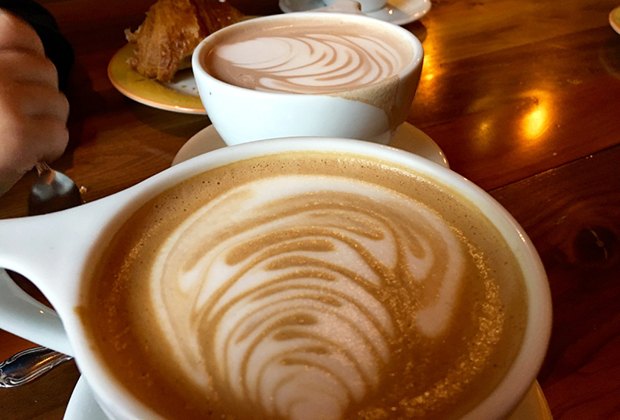 Enjoy a sophisticated hot chocolate at 60 Beans in Astoria.
60 Beans — Astoria
36-02 Ditmars Boulevard
Sophisticated and slightly bitter, the hot chocolate at 60 Beans pleases palates both young and old. No whipped cream, no frills. High chairs and great service add to the perks. Did I mention doughnuts from DOUGH and croissants from Balthazar? When you don't have whipped cream on your hot chocolate, you can have a doughnut, right?
Sweatleaf — Long Island City
10-93 Jackson Avenue
French Chocolat Chaud, traditionally made from milk and not cream, is the style of choice here with shredded pieces of mast chocolate melted into steamed milk. No whipped cream; no joking around. Starting at $4, this is a great location to lay back in a chair and let your snowy boots defrost.
Top photo: Martha's Country Bakery makes a Nutella hot chocolate to die for. Unless noted, all photos by the author.
A version of this article first appeared in 2010, but it has since been updated.