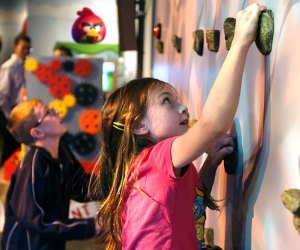 25+ Things To Do on February Break with NJ School Kids
Sandwiched between the bustling holiday break and the itching-for-warm-weather spring break falls New Jersey's mid-winter February break. This year, Presidents Day falls on Monday, February 17—and depending on the district, NJ schoolchildren will have a three-, four-, or even five-day weekend, making it the perfect time for a family outing or day trip, or two.
Whether you choose to hang indoors at popular play spaces, especially free ones, or embrace the winter weather on the slopes, there's plenty to keep everyone busy on the long weekend. If the break starts on Friday, February 14, be sure to check out some extra-special Valentine's Day activities.
Read on for the best February break activities for NJ kids, and don't miss our February GoList, FREE February fun, and Events Calendar for even more ideas.
Anytime February Break Fun
Liberty Science Center
Spread your wings at the new Angry Birds Universe exhibit, as well as Wild Kratts: Creature Power for younger visitors.
American Dream
New Jersey's mega-mall is growing in leaps and bounds, with Nickelodeon Universe, an indoor ice rink, indoor ski slopes, and a candy super-store, plus much more to come.
Xtreme Energy
Burn some no-school energy at this brand new indoor play spot, featuring a two-story rope course, climbing wall, trampolines, a ninja course, and a toddler area.
Indoor Water Parks
Get a taste of summer in the winter at indoor water parks throughout the state, including Sahara's Sam's and Coco Key.
Indoor Ice Skating
Stay warm on the ice at indoor skating rinks that offer public sessions.