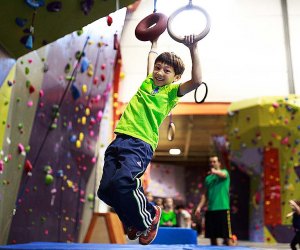 Indoor Obstacle Courses, Ninja Warrior Training, and Aerial Arts for NJ Kids
Got kids who are obsessed with American Ninja Warrior and want the thrill of climbing warped walls? Or junior acrobats hoping to twirl in the air like circus performers in The Greatest Showman? Well, they're in luck, because New Jersey is home to many indoor ninja-style obstacle courses and gyms with aerial arts training where your little acrobats and ninjas can practice the stunts and tricks they have seen on TV and under the big top.
These indoor adventures will get your kids climbing, vaulting, swinging, and balancing. From ropes courses and rock walls to trapeze swings and even plate-spinning, these New Jersey facilities will keep your adventure-seekers moving right through the winter. Many offer birthday party packages and group rates, too.
Find more active spots for NJ kids in our Kids' Sports Centers Guide and Indoor Play Spaces Guide.
Obstacle Courses in NJ
All Heart Athletic Academy – Hamilton
Designed to improve your kids' athleticism and sharpen their minds, the obstacles here are infused with martial arts elements. With afterschool programs, camps, birthday parties and adult classes, this facility aims to build strength and focus in kids and adults. Trial classes available.
Base Camp Adventure Fitness – Toms River
Hybrid ninja/parkour fitness classes are a draw, designed to keeps kids active with fun and dynamic obstacles. Kids 6-14 can join the ninja warrior competition teams for monthly challenges. Special classes for younger kids, teens, and adults include rope swings, rings, vaults, and more.
Center Court – Chatham, Mount Olive, Lawrence
Join the Ninja League here and test your strength and agility in weekly competitions. Young ninjas can start practicing at age 5, working up through increasingly challenging obstacles. Outdoor obstacles are also offered during warm weather and summer camps.
Get Air – Freehold
This indoor trampoline park recently added a ninja-inspired obstacle course. The facility's popular vertical and side-by-side trampolines are now joined by a slack line, monkey rings, unstable fidget ladder, and rock-climbing wall. For younger kids, the tumble tracks and foam pit are ideal bouncy training grounds.
RELATED: Trampoline and Bounce Houses Where NJ Kids Can Get Aerial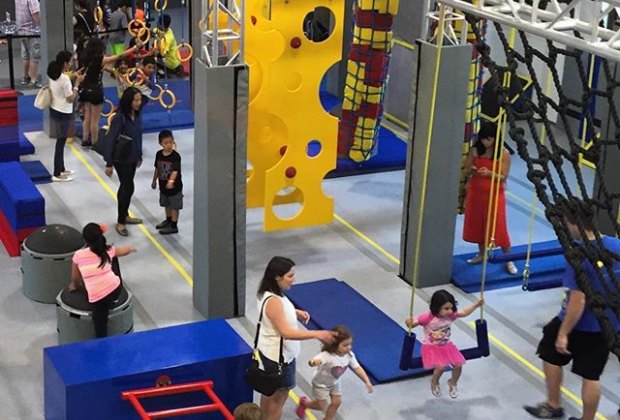 Hudson Play in Jersey City is geared toward kids ages 5 and up.
Hudson Play – Jersey City
This family-friendly Hamilton Park play space makes the ninja experience accessible to children ages 5 and older. Inspired by co-owner Jay Batra's 9-year-old son, fitness options include tumbling, swings, climbing, and ninja courses, in addition to chess and enrichment activities. The dynamic obstacle course is regularly re-configured to keep the challenge fresh.
Movement Lab – Hainesport
Founded by brothers who competed in the televised finals of American Ninja Warrior in Las Vegas, this gym offers pre-teen hula hoop classes, beginner parkour, ninja games, and birthday parties for children ages 6-12.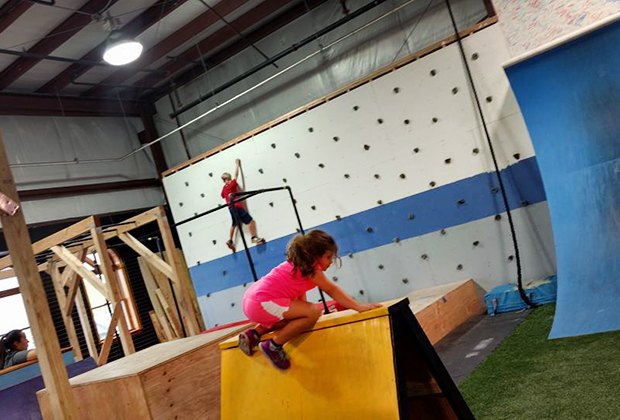 Nex Level Arena recently added several American Ninja Warrior–inspired features.
Nex Level Arena – Flemington
A recent renovation to this indoor sports training complex has made it a go-to venue for obstacle courses, kids' classes, and birthday parties. In addition to its indoor turf fields and sports conditioning classes for kids ages 10 and up, new features include American Ninja Warrior–inspired quintuple steps, a cannonball alley, unstable bridge, parkour boxes and ropes, and a warped wall. New drop-in classes and a kids ninja team are being offered as well.
Pinnacle Parkour Academy – Princeton and Cherry Hill
Focused on movement for all ages, this gym features modified, age-appropriate versions of the most popular ninja warrior obstacles for children, teens, and adults. A curved warped wall, chin-up challenges, and other hurdles may make kids feel like they are inside a favorite video game. After-school classes, birthday parties, and one-on-one training sessions are offered on courses designed by trainers who have competed on American Ninja Warrior.
Rebounderz – Edison
Beyond trampolines, this indoor jumping center has added a Ninja Warrior Course featuring quad steps, hanging doors, cargo netting, a slack line, warped walls, and a spider wall. With four different skill levels, this course is designed for kids through adults and will challenge everyone's agility.
RELATED: iFLY in Paramus Offers High-Flying Fun for NJ Families

Test your skill and determination on the Warrior Obstacle Course.
Urban Air – Milltown
Defy gravity at the Warrior Obstacle Course and test your strength and agility on the trapeze swings, rings, ropes, and more. This massive trampoline facility has added a warrior course to complement its climbing walls, battle beam, tumble tracks, and tubes playground.
Circus Skills and Aerial Arts in NJ
Circus Center – Morganville
Offering classes in trapeze, juggling, tumbling, balance, and tightwire for preschoolers through teens, this center encourages everyone to join the circus. Birthday party packages and monthly juggling clubs are also available.
Circus Place – Hillsborough
The warm and welcoming spirit of the circus is alive at this facility, where kids and adults can learn everything from unicycling and juggling to trapeze arts and hoop skills. There is even a family circus option for the whole family to clown around together, and Circus Sprouts for preschoolers to learn acrobatics, balance, and prop work. Older kids can advance through several levels of lyra—graceful feats of balance in a fabric loop hung from the ceiling—and other aerial skills.
RELATED: Top Tumbling, Gymnastics, and Cheer Facilities for NJ Kids

Gymnastics Unlimited offers classes in the Ninja Zone as well as circus arts and traditional gymnastics.
Gymnastics Unlimited – Flemington
Combining traditional gymnastics with warrior-style obstacles and circus arts training, this expansive central Jersey center can be a one-stop shop for your active kids. Classes in the Ninja Zone feature elements of parkour, martial arts, gymnastics, and obstacle course training. The annual Ninja Games competition gives kids a chance to show off their kicks, rolls, and flips. Special Lil' Ninja classes are offered for kids ages 3-5. In the circus arts classes, taught by an actual circus performer, kids 7-12 can work on aerial skills, acrobatics, and even juggling and plate-spinning.
Climbing Gyms in NJ
ClimbZone Howell – Howell
This indoor family entertainment center features more than 68 themed walls for kids of all ages to climb, as well as ropes course, zip line, soft play for younger children, arcade games, and virtual reality.

Gravity Vault's colorful paths will help kids scale new heights.
Gravity Vault – Chatham, Upper Saddle River, Voorhees, Hoboken
The towering indoor rock walls with colorfully marked paths are ideal for kids age 5 and up. Instructors will help gets kids harnessed up and scaling the walls in no time. Older kids may want to reach the top and learn some belaying skills too. Group lessons and walk-ins available.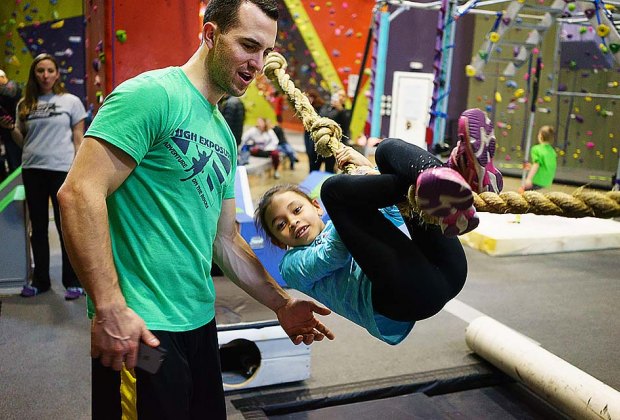 High Exposure Climbing offers tons of activities for active kids in its Action Adventure Room.
High Exposure Climbing – Northvale
The Action Adventure room in this gym features 10 ninja warrior activities and occasional celebrity visits from American Ninja Warrior competitors. The 2,500-square-foot parkour training course includes two warped walls, multiple vaulting boxes, a salmon ladder, bars, a tightrope, foam pit, and other challenges. A special "Little Ninjas" class for kids aged 2.5 and up features tumbling mats, climbing walls, and a foam pit. Ninja warrior birthday parties include a specialized, age-appropriate obstacle course.
Unless noted, photos courtesy of the venues