Indoor Obstacle Courses, Ninja Warrior Training, and Aerial Arts Facilities in NJ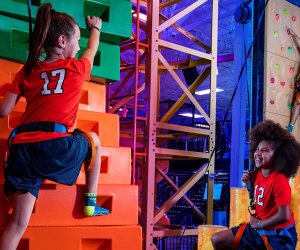 2/13/22
- By
Dore Duhaime
Got kids who are obsessed with American Ninja Warrior and want the thrill of climbing warped walls? Or junior acrobats hoping to twirl in the air like circus performers in The Greatest Showman? Well, they're in luck because New Jersey is home to many indoor ninja-style obstacle courses and aerial arts gyms where little acrobats and ninjas can hone the skills they've seen on TV.
These indoor adventures get your kids climbing, vaulting, swinging, and balancing. These New Jersey facilities keep adventure-seekers moving right through the winter from ropes courses and rock walls to trapeze swings and plate-spinning.
Find more active spots in New Jersey for kids in our Guide to Indoor Sports Centers, Gyms, and Fun Zones. If you'd rather stay in, we've also got fun at-home ideas to get kids moving like these 25 exercise games and creative recess breaks.
Subscribe to our newsletters to get stories like this delivered directly to your inbox.

Editor's note: Please click through to each venue's website for current safety protocols.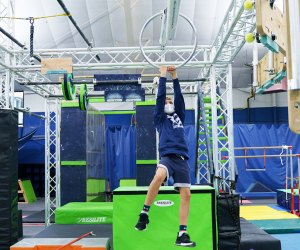 Test your strength and agility in weekly competitions at Center Court.
Obstacle Courses and Ninja Gyms in NJ
Join the Ninja League here and test your strength and agility in weekly competitions. Young ninjas can start practicing at age 5, working up through increasingly challenging obstacles. Outdoor obstacles are also offered during warm weather and summer camps.
This indoor trampoline park added a ninja-inspired obstacle course. The facility's popular vertical and side-by-side trampolines are now joined by a slackline, monkey rings, unstable fidget ladder, and rock-climbing wall. For younger kids, the tumble tracks and foam pit are ideal bouncy training grounds.
RELATED: New Jersey Playgrounds Cool Enough for Big Kids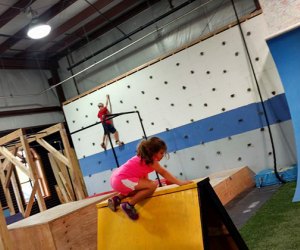 Nex Level Arena recently added several American Ninja Warrior-inspired features.
A recent renovation of this indoor sports training complex has made it a go-to venue for obstacle courses, kids' classes, and birthday parties. In addition to its indoor turf fields and sports conditioning classes for kids ages 10 and up, new features include American Ninja Warrior-inspired quintuple steps, a cannonball alley, an unstable bridge, parkour boxes and ropes, and a warped wall. Drop-in classes and a kids ninja team are also offered.
Founded by brothers who competed in the televised finals of American Ninja Warrior in Las Vegas, this gym offers pre-teen hula hoop classes, beginner parkour, ninja games, and birthday parties. Reservations are required.
RELATED: NJ Winter Fun List: 30 Things To Do With Kids

Test your skill and determination on the Urban Air Warrior Obstacle Course.
Defy gravity at Urban Air's Warrior Obstacle Course and test your strength and agility on the trapeze swings, rings, ropes, and more. This massive trampoline facility also houses climbing walls, battle beams, tumble tracks, and a tube playground. Hours vary throughout the week, check the website before you go!
Combining traditional gymnastics with warrior-style obstacles and circus arts training, this expansive Central Jersey center can be a one-stop shop for your active kids. Classes in the Ninja Zone feature parkour, martial arts, gymnastics, and obstacle course training. The annual Ninja Games competition gives kids a chance to show off their kicks, rolls, and flips. Special Lil' Ninja classes are offered for kids ages 3-5.
Where to Learn Circus Skills and Aerial Arts in NJ
The warm and welcoming spirit of the circus is alive at this facility, where kids and adults can learn everything from unicycling and juggling to trapeze arts and hoop skills. Circus Sprouts lets preschoolers learn acrobatics, balance, and prop work. Older kids can advance through several levels of lyra—graceful feats of balance in a fabric loop hung from the ceiling—and other aerial skills.
RELATED: Trampoline and Bounce Houses Where NJ Kids Can Get Aerial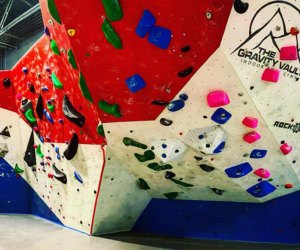 Gravity Vault's colorful paths help kids scale new heights all while keeping them safe.
Rock-Climbing Gyms in New Jersey
The towering indoor rock walls with colorfully marked paths are ideal for kids ages 5 and older. Instructors help get kids harnessed and scaling the walls in no time. Older kids may want to reach the top and learn some belaying skills, too. Group lessons and walk-ins are available.
This indoor family entertainment center features more than 68 themed walls for kids of all ages to climb, as well as a ropes course, zip line, soft play area for younger children, arcade games, and virtual reality. Hours vary throughout the week. Check the website before you go.
The Action Adventure room in this gym features 10 ninja warrior activities and occasional celebrity visits from American Ninja Warrior competitors. The 2,500-square-foot parkour training course includes two warped walls, multiple vaulting boxes, a salmon ladder, bars, a tightrope, foam pit, and other challenges. A special "Little Ninjas" class for kids ages 3 and up features tumbling mats, climbing walls, and a foam pit. Ninja warrior birthday parties include a specialized, age-appropriate obstacle course. It also offers a Nerf arena. See its website for a safety video, COVID protocols, waiver, and online booking.
This post, originally published in 2016, is updated annually. Unless noted, photos courtesy of the venues