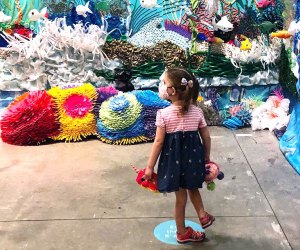 Best Kid-Friendly Museums in Northern New Jersey
When bad weather hits, a trip to a museum can be a great cure for cabin fever. Northern New Jersey is home to world-class museums, including Liberty Science Center and the Newark Museum of Art, where kids can study the stars at a planetarium, learn about dinosaurs that once roamed New Jersey, create their own works of art, meet animals, make music, and much more.
Read on for our favorite cultural spots in North Jersey, and be sure to check out our roundup of museums in central and southern NJ, too.

While many of these museums have reopened following their coronavirus-induced shutdowns, keep in mind that capacity is limited, regular hours may have changed, and many regular programs are not operating. Please click through to each museum for up-to-date hours and event schedules.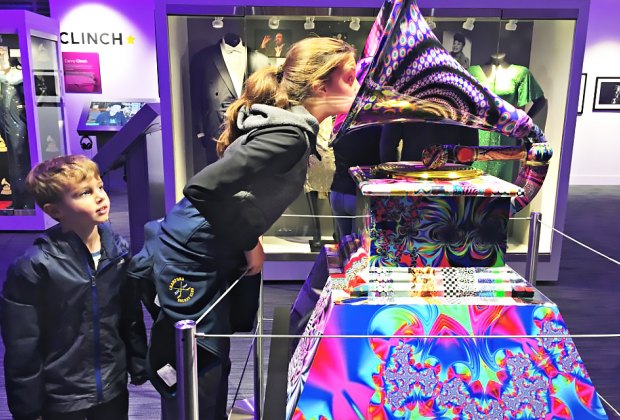 Have fun learning about pop music's biggest stars at the Grammy Museum. Photo by Dore DuHaime
2020 update: The museum remains closed due to the coronavirus pandemic.
Adults, $10; Children ages 3-7, $7; FREE for children ages 2 and under
Rocking out is encouraged at the Grammy Museum Experience Prudential Center. Strutting onstage, playing electronic instruments, and singing karaoke-style is part of the fun at this museum celebrating pop music's biggest stars, including many with New Jersey roots. An electronic jam session may be the coolest way for kids to spend a rainy day. Located on the ground floor of the Prudential Center, the Grammy Museum is rich in music history and shines a spotlight on New Jersey's homegrown stars. Read about our visit to the Grammy Museum here.
2020 update: The Hoboken Historical Museum has reopened with regular hours; the Fire Department Museum asks visitors to call in advance of a visit, 201-656-2240, to confirm operating hours, which are limited to weekends.
Main museum: Adults, $5; FREE for children. Fire Department Museum: Adults, $3; FREE for children
Located in one of the oldest buildings in Hoboken, this museum is historic inside and out. It focuses on various aspects of Hoboken history and features works by local and regional artists. The 2,000-square-foot space also has interactive displays and various family programs. A short drive down the road leads to the affiliated Fire Department Museum. It houses fire gear, memorabilia, and a red Ahrens Fox fire engine circa 1932 that kids can climb aboard to ring the shiny brass bell. Storytimes are held at both the main museum and the fire department museum.
RELATED: NYC Museums Reopen With New Exhibitions and Admissions Deals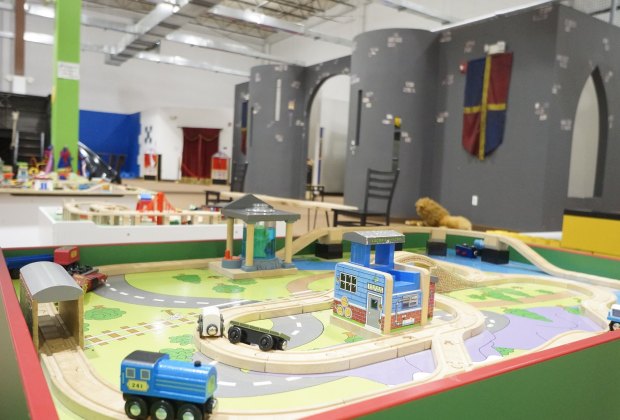 Take a break from screentime at ImagineThat!
2020 update: The museum has reopened for both indoor activities and new outdoor fun. Tickets must be purchased in advance online.
Adults, $6.99; Children, $18.99 per child; FREE for children under age 1 free. Closed Mondays, except on school holidays.
Imagine That! Discovery Museum for Children caters to preschool-age and young schoolchildren. The 16,000-square-foot space recently underwent a gut renovation, adding attractions that include an interactive light wall inspired by Lite-Brite, oversized foam blocks and construction toys, a new castle, a new pirate ship, and a long-awaited sink in the art area. Kids learn through experiences based on play and discovery, including an arts and crafts area, a music room, and a mini dance studio with mirrors and a barre. There's a soft playscape where younger kids can climb and explore; bigger kids can jump aboard the refurbished fire truck. Several themed areas invite kids to play pretend, including a kitchen, grocery store, diner, and new baby-doll nursery. New, larger bathrooms (including a family bathroom) were also part of the renovation.
2020 update: The Aviation Hall of Fame of New Jersey reopened in July. Timed-entry tickets are required and must be booked in advance.
Adults, $9; Children ages 3-7, $7
Learn all about flying at this museum adjacent to Teterboro Airport. You'll see various aircraft, helicopters, the first American hovercraft, and even a rocket engine. An interactive exhibit titled "Fundamentals of Flight" focuses on aerodynamics; a unique Dare to Fly program for ages 8–15 expands on the topic. Kids love Open Cockpit Weekends (check the website for upcoming events), where they can climb into different aircraft for a first-hand feel of what it's like to be a pilot. You can also hold a party here.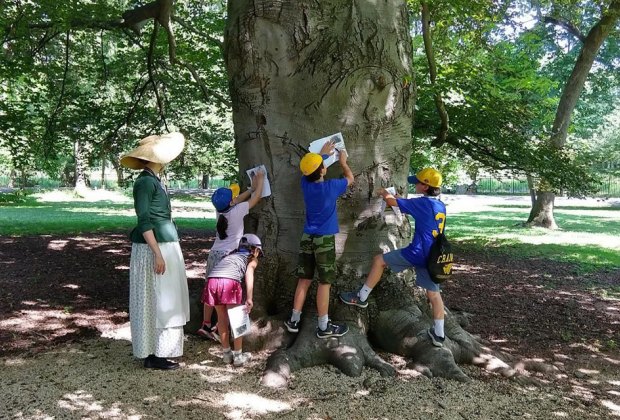 A variety of programming is available at the Liberty Hall Museum.
2020 update: The Liberty Hall Museum reopened in July 2020. Tickets must be purchased at least 2 hours in advance of your visit.
Adults, $12; Children, $8 per child; FREE for children under 3. Hours and prices vary by season, so see the website for current information
This historic home, built in 1772, was home to New Jersey's first elected governor, William Livingston. The Victorian mansion now houses 50 rooms full of antique furniture, toys, tools, textiles, and ceramics. It's a living history museum, meaning you can stroll through the bedrooms, dining room, garage, etc., to see what it was like to live in its era. There are also various tours you can take, with topics ranging from the landscaped gardens to the family's luxury travel. While the museum is closed for regular visits in January and February, there are some fun special programs available, such as a Doctor Seuss' birthday party and a Valentine's Day party for mothers and sons.
2020 update: The Morris Museum reopened in July 2020. Book your tickets in advance online or purchase at the door with a credit card only.
Adults, $12; Children ages 3-17, $8
The Morris Museum is perhaps best known for its extensive collection of 19th-century musical dolls and machines. Viewing this ongoing exhibition, Musical Machines and Living Dolls, feels a bit like walking around inside a music box. It's magical and slightly creepy (there are some sinister-looking clowns and monkeys), and we can't get enough of it. It's but one of many kid-friendly exhibits at this beloved museum, which is small enough to see in its entirety in one visit. Other permanent exhibits include the Dinosaur Den, where kids can sit in a dinosaur's nest, touch a dinosaur egg, and listen to the simulated sound of a Hadrosaur; and a collection of rocks and minerals that includes a "cave" for viewing fluorescent specimens. There are many special programs and events, including Family Fun Days, Tot Tours for ages 2–5, and art classes and workshops for older kids and teens. The museum is also home to the Bickford Theatre, which presents programming for kids and adults. If you have a young train lover in your life, the museum's Mega Model Trains exhibit is a must-see.
RELATED: Best Science Museums for Kids in New Jersey and Beyond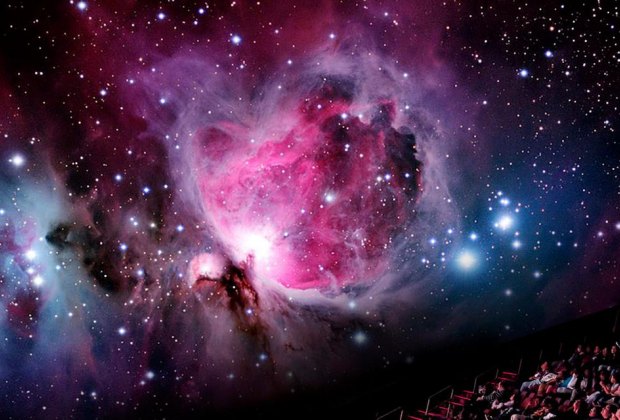 Let the universe take over your senses at the planetarium at the Liberty Science Center.
2020 update: The Liberty Science Center reopened September 5, 2020. Tickets must be purchased in advance online. Some high-touch exhibits, like the Touch Tunnel and Infinity Climber, remain closed. Skylines Cafe is currently closed.
Adults, $24.99-$34.99; Children, ages 2-12, $19.99-$27.99
It's virtually impossible to experience everything the Liberty Science Center has to offer in just one day. This interactive learning museum, located in Liberty State Park, boasts four floors of exhibits and experiences. A kids' lab allows budding scientists to conduct experiments. The Infinity Climber is a one-of-a-kind suspended play space. Inside I Explore, 2–5-year-olds can send balls whooshing through pneumatic tubes, build and test race cars, play with a giant light wall, and scoop and pour rice to their hearts' content. See a movie or laser show in LSC's IMAX and 3D theaters, visit the planetarium, and check out rotating exhibits. Grab a bite at Cafe Skylines, or visit one of the family-friendly restaurants nearby. LSC also hosts birthday parties and overnight camp-ins.
2020 update: The Newark Museum of Art is still closed.
Adults, $15; Children, ages 3 and older; FREE for children under age 2. Planetarium admission is an additional $6 per adult and $3 per child under age 12. The planetarium is not recommended for kids under 4.
The Newark Museum of Art has plenty of offerings for kids and families. Highlights include interactive galleries where visitors can explore topics ranging from plate tectonics to Tibetan life; a planetarium where you can see video from the Cassini spacecraft's ongoing exploration of Saturn's rings; and a fire museum where kids can climb into the cab of a real fire truck and learn about fire safety in the Hazard House. Special programs for kids include Creative Play, geared toward kids ages 3–5, and Family Workshops, for kids ages 5–12, including special tours, games and activities, hands-on art activities and science experiments, storytimes, and even concerts. On Saturdays, all ages can drop into the Maker Space to work on monthly themed projects. Older kids will love checking out the museum's regular exhibits, including one of the nation's oldest and most comprehensive collections of African art. Make time before or after your visit to check out one of these kid-friendly Newark restaurants!
RELATED: Kid-Friendly Newark Restaurants Near Popular NJ Destinations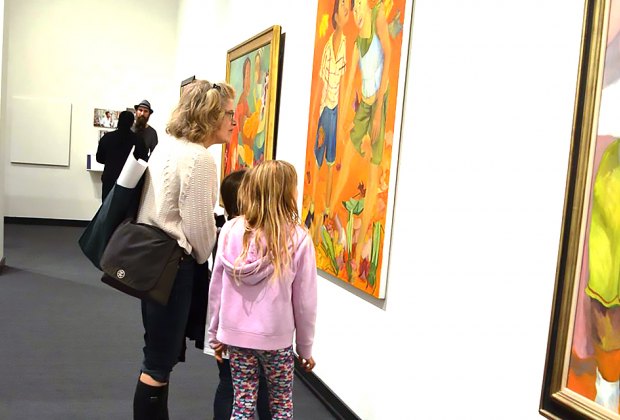 There is much for kids to do and learn at the Montclair Museum of Art.
2020 update: The Montclair Art Museum has reopened. Timed-entry tickets are required and must be reserved in advance. Only the first-floor galleries are currently open.
Adults, $15; Students, $12; FREE for children under age 12
The Montclair Art Museum is a great place to introduce kids to visual arts. Its education department offers various programs that help children learn about and enjoy the art in the museum's collections and exhibits. These programs include guided tours, themed art projects, storytimes, films, and other activities. The Family Learning Lab, in the third-floor lobby, is a place where kids and families can hang out and do interactive projects during museum hours. CREATEabilities, on the second Wednesday of each month, offers pre-K and early elementary-aged kids a guided tour of the museum, storytelling, art projects, and more. The Drop-In Studio, held each Sunday, is another way to explore the materials and processes used in current exhibitions in a hands-on way. Both are great ways to get creative with your kids and meet other families. Various special events include art activities, live music, and more.
2020 update: The park grounds are open, but the museum is temporarily closed.
Admission is FREE. Hours vary by season; visit the site for more info.
Learn all about the brutal winter of 1779-80, when George Washington and the Continental Army hunkered down in Morristown. Part of Morristown National Historical Park, this museum includes artwork, portraits, maps, weapons, and other original artifacts from the Revolutionary War, as well as the sword Washington wore during his first presidential inauguration. Don't miss the new Discover History Center, where you'll find interactive and multimedia exhibits geared toward kids and grown-ups.
RELATED: Outdoor Art Day Trips Near NYC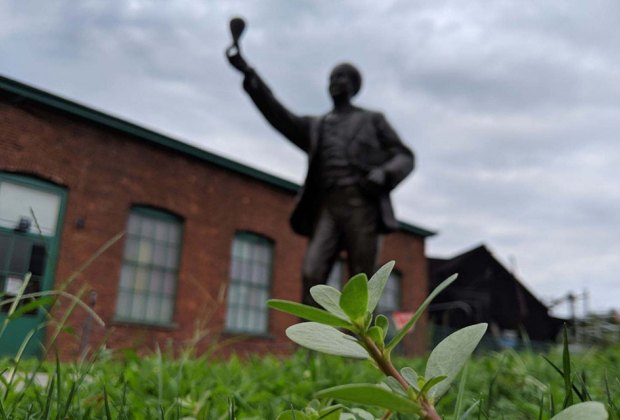 Discover where America's greatest inventor, Thomas Edison, changed our world forever at the Thomas Edison National Historical Park.
2020 update: The Laboratory Courtyard has reopened, but indoor exhibits and restrooms remain temporarily closed due to COVID-19
Adults, $15; FREE for children under 16
Travel back in time and discover where America's greatest inventor changed the modern world. Visitors can walk through Edison's library, machine shop, chemistry lab, music room, and more. And don't miss the Black Maria, a replica of the world's first movie studio, built in 1893.
All photos courtesy of their respective venues. This post was originally 2016 published in and has since been updated.