The Newark Museum: Out-of-This-World Fun for NJ Kids and Families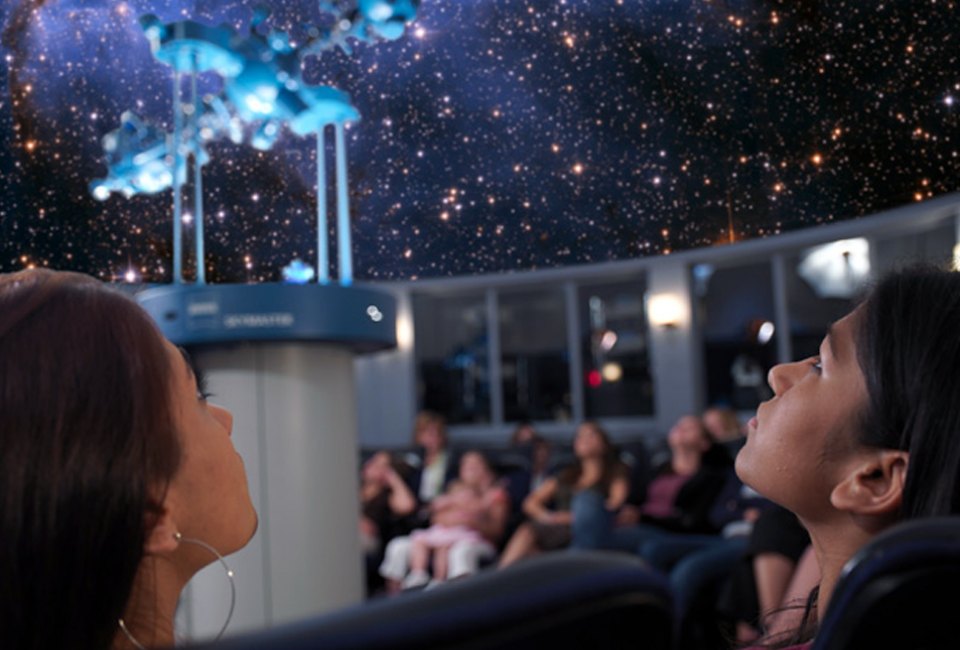 11/16/17
- By
Payal Shetty
2020 update: The Newark Museum is currently closed, and no reopening date has been set. Service changes are likely when it opens to visitors again.
Nestled in the heart of downtown Newark's Art District, 10 miles from New York City, is New Jersey's largest museum. The Newark Museum, established in 1909, is an art and science center that truly has something for everybody. I recently visited with my 5-year-old daughter to see a show at the planetarium, and I was impressed—not only is the planetarium perfect for young kids, but the museum offers tons of other family-friendly programs as well.
If you're looking for indoor activities for the winter ahead, put the Newark Museum on your to-do list. Read on for more about this Essex County gem.
The Newark Museum's collection includes contemporary art, decorative arts, and arts of Asia, Africa, the Americas, and the ancient world. In its science exhibits you can see rare, exotic seashells and minerals, a mastodon skeleton, animal specimens, and more. Kids can test a wind turbine and operate a solar panel in the museum's interactive energy exhibit, and the Fire Museum includes a real, modified fire truck cab that kids can climb on and explore, as well as equipment, gear, and clothing they can try on.
And then there's the The Alice and Leonard Dreyfuss Planetarium, where my daughter and I saw a show. An interactive 50-seat theater, the planetarium is not overwhelming and is perfect for a young child's first foray into astronomy, space, and planetary science.
There are two shows currently running:
Legends of the Night Sky
September 27 – December 31
Saturday and Sunday at 1:30 p.m.
Recommended for children ages 5–9; 40 minutes
Skywatchers of Africa
November 1 – December 31
Wednesday, Thursday, and Friday at 2 p.m.
Saturday and Sunday at 3:30 p.m.
Recommended for children ages 9 and up; 40 minutes
Outside of the planetarium, I was pleasantly surprised with the workshops and activities for children that were being held at the museum. Some of them are listed below: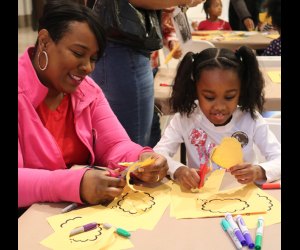 Kids and family members can make a craft, listen to stories, and more during Creative Play sessions.
Creative Play – Storytelling, playful activities, and an art-making project
First & third Saturdays from 10–11 a.m.
3- to 5-year-olds and their caretakers can enjoy a special time before the museum opens to the public.
Family Gallery Programs – Storytelling, music, movement, and sketching
Saturdays at 2 p.m.
New activities every week highlight a different collection and provide an opportunity for families (all ages welcome) to engage with the museum's diverse collections.
Weekend Family Programs – Self-guided
Saturdays & Sundays from noon–5 p.m.
Pick up a Creative Play Gallery Backpack filled with maps and tools for looking as you make your way through the museum. Or grab a red, yellow, or blue gallery guide, designed to encourage 3- to 5-year-olds and their families to discover together. They are available for free with museum admission.
RELATED: The Best Museums for Kids in Northern New Jersey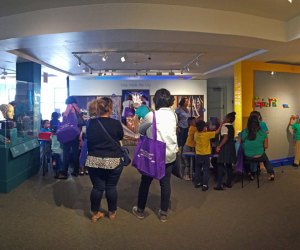 Newark Museum's interactive exhibits encourage kids to get hands-on with art and science.
MakerSPACE Drop-in Programs – Clay, paint, blocks, and more
Saturdays & Sundays, 1–4 p.m.
Inspired by the museum's collections and special events, monthly themes are designed for visitors of all ages to drop in and experiment with the tools and materials of artists. November's theme is "The Fantastic Self," and December's is "Global Holiday Fusion."
Know Before You Go
Stroller Parking
Strollers are not permitted inside the planetarium. There is a spot to park them at the museum entrance near the information desk, when you purchase tickets. Don't forget to pick up your stroller when you visit the exhibits and interactive galleries.
Café
The museum's café is currently closed for construction but will reopen in November (please call ahead to confirm). A closed courtyard right outside the Planetarium has comfortable seating and works well for a quick refreshments break—I brought along snacks and a packed lunch for my daughter.
Parking
An independently operated parking facility is available behind the museum for a fee that ranges between $6 and $15 (depending on the size of car and duration of parking). Parking and payment was smooth and convenient for me.
Admission and Hours of Operation
Wednesday – Sunday, Noon–5 p.m.
$15 for Adults and $8 for Children (Admission is free for Newark Museum members, Newark residents, and active-duty military)
Planetarium admissions is an additional fee: $6 for adults and $4 for children
For more information, visit the museum's website.
Photos courtesy of the Newark Museum
Places featured in this article: