Find Family Fun for All Ages at the Morris Museum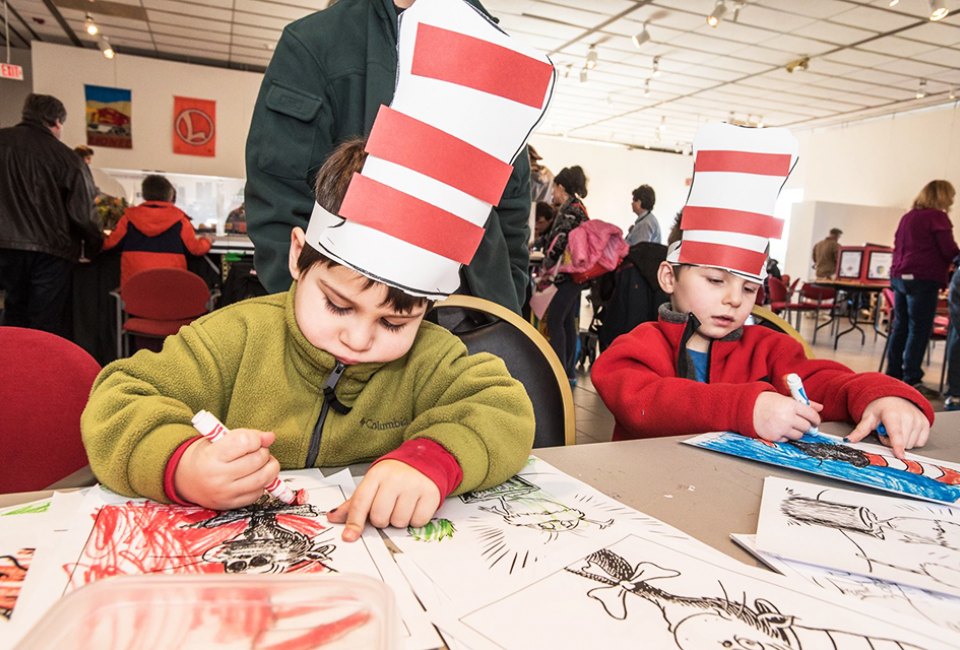 2/14/19
- By
Laurie Rein
If you're looking for an interactive museum experience the whole family will enjoy, head over to The Morris Museum. While smaller and simpler than a big-city institution, the museum, housed in an old mansion, features an eclectic showing of family-friendly exhibits.
Located in a quiet residential neighborhood near Morristown's historic district, Morris Museum has become one of my family's go-to's for a quick weekend day trip or a stopover at one of its annual festivals. The vintage musical instruments, model train exhibit, and rock and mineral collection remain big hits with my tweens.
In addition to the hands-on exhibits, the museum features a children's theater and a robust lineup of family programs and events. There are plenty of reasons that Morris Museum is on our list of 100 Things to Do in NJ with Kids!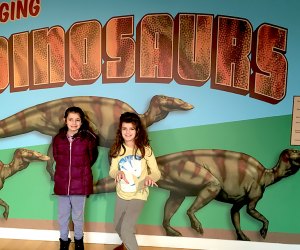 Dinosaur enthusiasts can become paleontologists at the Dinosaur Den exhibit.
Permanent Exhibits
Follow the paw prints to the Dinosaur Den, where young dinosaur enthusiasts become paleontologists, creating dinosaur track rubbings, examining fossils, and sitting in a dinosaur nest.
Tucked behind the Bickford Theatre is the intriguing Musical Machines & Living Dolls exhibit, which never gets old with my tweens. After exploring the hands-on display of 18th- and 19th-century musical instruments, we settle in the workshop area, where visitors can create tunes on a 19th-century music box cylinder. Happy Birthday and Star Wars Theme are among the song choices. The room also features puzzles and a jukebox.
Other exhibitions you'll want to check out include Rocks and Minerals, Mammals (featuring a giant bear and other taxidermied creatures), and the American Indian collection.
One of the highlights is the Model Trains and Railroad exhibit, where kids of all ages can watch a large model train travel through a small town. Spectators can also push buttons for lights and sounds. (Note that this exhibit is open July–August, December–February, and on the third weekend of each month.)
RELATED: 25 Fun Things To Do with Kids in Morristown, NJ

Try out interactive audio devices in Sound Garden: Installations by John Morton and Jacqueline Shatz through February.
Temporary Exhibits
A history of firefighter's gear, equipment, and even a vintage vehicle are on display through February as part of the Community Helpers: Firefighters exhibition. Check out a unique collection of brasswind instruments in Trumpets, Weird and Wonderful through March. Take a stroll through a room full of interactive audio devices in the Sound Garden: Installations by John Morton and Jacqueline Shatz through February.
Special Events and Programs
Located in the museum, The Bickford Theatre presents plays and concerts throughout the year and is home to a wonderful children's theater with family-friendly performances. Coming up in March is Seussology, as part of the Dr. Seuss Family Festival.
RELATED: The Best Museums for Kids in Northern NJ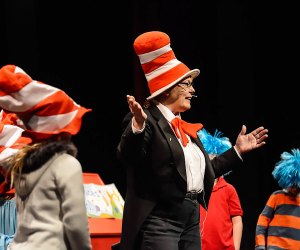 Celebrate Dr. Seuss Family Day with a performance, crafts, games, and more. Photo courtesy of the museum
The Morris Museum hosts several Family Fun Days during the year. February's a sweet time to stop by the museum for its annual Chocolate Family Fun Day, with chocolate samples, games, and Valentine's Day crafts. Spend a day off from school at the museum's President's Day activities in February, and in early March, celebrate everything Dr. Seuss at the Dr. Seuss Family Day in honor of the renowned author's birthday. Festivities will include Seuss-related crafts, games, Oobleck-making, and a performance of Seussology in the theater. Don't miss Dino Day in early April, featuring fossils, crafts, and prehistoric-themed activities.
The children's art studio offers ongoing creative classes for school-age kids. Plus, sign up for children and teen vacation day workshops on days off from school. And for the little ones, stop by the museum on select Fridays every month for Tot Tours, with projects for 2–5-year-olds and their caregivers.
Admission
The Morris Museum is open Tuesday through Saturday from 11am–5pm. See website for regular admission prices. The second and third Thursday of every month offers "pay as you wish" from 4–8pm. If you have a Bank of America card, admission is free on the first weekend of every month. Free passes are also offered through some libraries. Programs and events, as well as theater tickets, require additional fees.
Unless noted, photos by the author
Sign up for the Mommy Poppins Newsletter today!