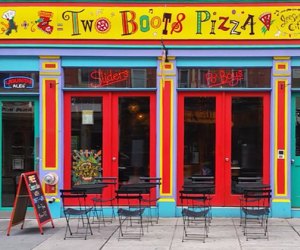 Best Family-Friendly Restaurants Near Liberty Science Center
Exploring the Liberty Science Center with kids who want to crawl through the Touch Tunnel or scale the Climbing Challenge can work up quite an appetite. While we appreciate the convenience of museum-cafe pizza and chicken fingers after a day of hands-on exhibits, sometimes a more varied menu—away from the crowds—hits the spot.
Downtown Jersey City is bustling with kid-friendly alternatives, and we've found eight family favorites located just a short drive from Liberty Science Center. From wood-fired Neapolitan pizza with custom toppings to all-day pancakes loaded with fruit and honey, these city hot spots will satisfy even the pickiest eater. All provide high chairs, if not room for strollers, and some have full bars. Though the Skyline Cafe at LSC offers some healthy fare like wraps, fruit cups and yogurt, it closes 90 minutes before the museum. Instead, opt for a stroll through Jersey City's Hamilton Park or along vibrant Newark Avenue to recharge after a day of science play.
Beechwood Cafe
This industrial chic Grove Street mainstay serves hot coffee, espresso and teas all day, in addition to brunch daily until 3:30 p.m. Kid favorites include smoothies, pancakes, and breakfast burritos, along with milk or apple juice. Lunch begins at noon and features soups, salads, wraps, and sandwiches. Outdoor seating is available weather permitting.
City Diner
With the tagline "Hip and Delicious," this modern twist on the classic Jersey diner can save the day for hungry families. Open 24 hours, with a full bar including "morning cocktails" and a dozen beers on tap, City Diner's enormous menu will have something for everyone in the family, even your less-than-adventurous eaters. From thick-cut French toast and sky-high burgers to fried chicken with waffles and leafy green salads, the menu will not disappoint. If the kids behave, let them finish off the meal with a milkshake or mega-dessert to share.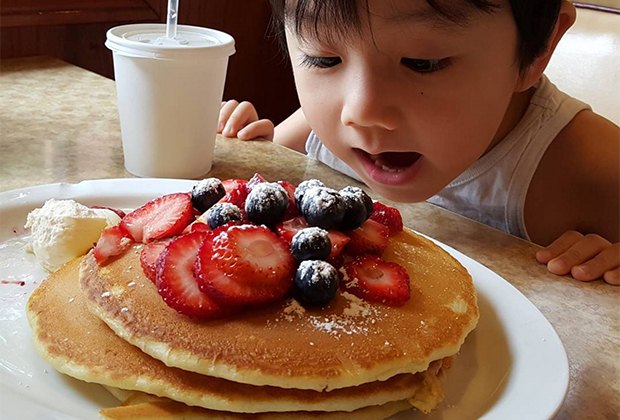 Brownstone Diner and Pancake Factory. Photo by travelingfoodbros via Instagram.
Brownstone Diner and Pancake Factory
A more traditional, family-owned Greek diner cooks up an immense variety of pancakes, including PB & J pancakes, strawberry shortcake pancakes, nut and honey pancakes, and chocolate banana pancakes. Kids with hearty appetites may try digging into a pancake wrap—that's eggs, cheese, meat and potato rolled inside an oversized pancake! Like any good diner, breakfast is served all day, but the moussaka and juicy burgers are hallmarks of Brownstone's lunch and dinner menus.
Skinner's Loft
If your day at the museum winds down around dinner time, Skinner's Loft is the place for young families to enjoy small plates beginning at 4 p.m. daily, and dinner at 5 p.m. Hosts usually hand out paper, stickers, and markers to little ones, and high chairs are available. The kids menu includes grilled cheese, chicken tenders, and pasta with butter or marinara. Mac and cheese and burgers on the main menu are also popular with kids. For parents and more adventurous eaters, salmon, short rib, and lentil nachos are good choices. Vegetarian options include mushroom pizza, cauliflower parmesan, and vegan chili. Brunch is only served on weekends, starting at 11 a.m. Reservations are accepted for dinner.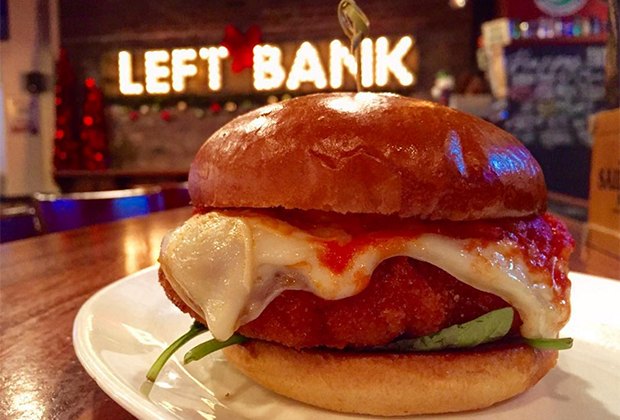 Breaded chicken & pork patty, mozzarella and marinara sauce burger at Left Bank.

Left Bank Burger Bar
Kids may not favor this casual spot's towering burgers on brioche buns, but they will love the coloring books and fresh-battered chicken fingers served up on the kids menu, along with sliders and ice cream. Open daily for lunch at 11:30 a.m. High chairs are available. During dinner service, early is best to beat the evening rush in this 50-seat restaurant.
Hamilton Inn
A downtown classic, this upscale pub off Hamilton Park serves kids' fare including chicken fingers, French fries, buttered pasta, and mini pizzas. While the kids are nibbling, parents can enjoy oysters, ahi tuna burgers, or steak frites. Corned beef, Montauk lobster rolls, local lamb burger, and East L.A. fish tacos round out the lunch menu. Brunch is only served on weekends. Dinner selections include the classic pork chop with apples and Brussel sprouts, filet mignon, or veggie burger. The manager advises arriving in the late afternoon or early evening, before 6 p.m., to avoid waiting for a table.

Porta JC interior.
Porta JC
With Edison bulbs strung across communal tables, this Newark Avenue outpost of the original Porta Asbury Park features kid-friendly options, crayons, and high chairs. Stroller parking is ample during lunch, between 12 and 4 p.m., and dinner service begins at 5 p.m. Early birds most likely won't wait to be seated. A simple margherita pizza with house-made mozzarella and San Marzano tomatoes can't be beat, and spaghetti is always popular with young kids. For weekend brunch, try the brioche French toast or lemon ricotta pancakes.
Two Boots
The classic New York favorite has migrated to Jersey City, and young families are still flocking to Two Boots' whimsical dining room for hot-from-the-oven pizza. The Jersey City location's home pie is the "Boss Hague," loaded with andouille meatballs, pepperoni, ricotta, and mozzarella on a fluffy, round Sicilian crust. Vegetarian options abound, along with juice boxes and cookies.
Top image: Two Boots. Unless otherwise noted, all photos from the restaurants.