25+ Fun Things to Do with Kids in Jersey City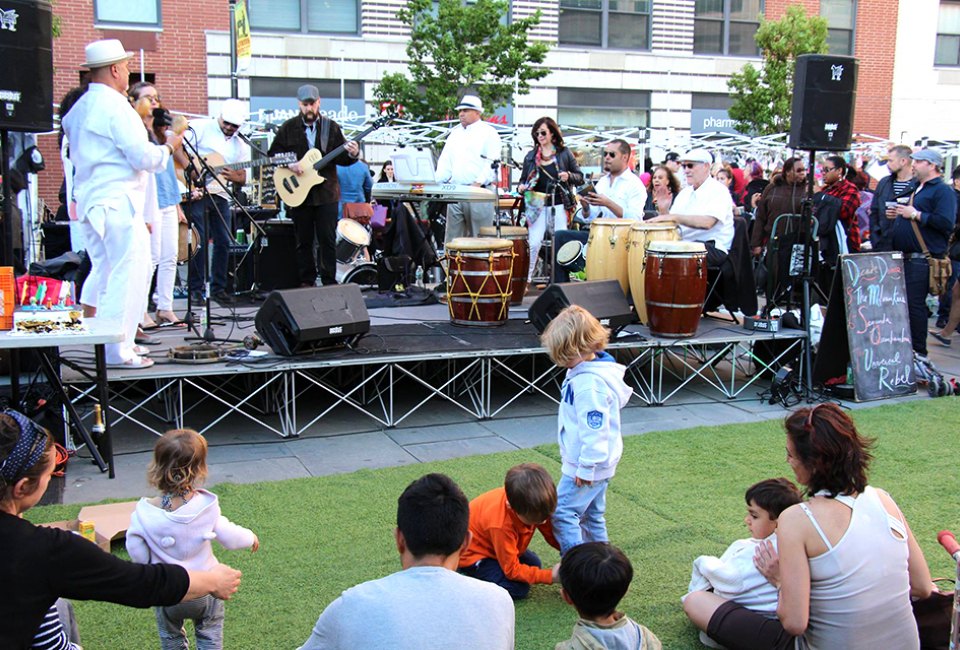 2/16/18
- By
Danielle Halibey
Jersey City is popular with families for its great neighborhoods, walkability, and proximity to New York City. And there is so much to do here, from cool cafes and sassy sweet-treat spots to beautiful parks and a plethora of playgrounds. It's no wonder the Sixth Borough is also called Chilltown.
JC is certifiably chill—and no longer considered the awkward stepsister to Hoboken—tons of visitors make it a day trip destination, and those who live here don't have to look too far for fun. Read on for more than 25 things to add to your to-do list if you're spending some time in Jersey City.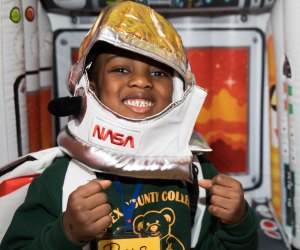 Blast off at Space Station Liberty. Photo courtesy of Liberty Science Center
1. Spend the day at Liberty Science Center and take advantage of all of its exciting updates in the wake of its 25th anniversary. Navigate the Touch Tunnel, pay a visit to the brand-new, state-of-the-art Jennifer Chalsty Planetarium, or take Space Station Liberty for a spin and let your little explorers (children ages 2-5) imagine that they're astronauts reporting for an out-of-this-world interstellar assignment. If your house is full of budding young scientists, make sure you sign the squad up for LSC's Camp-Ins. On the docket through the early Spring, these scientific sleepovers offer incredible fun for the kids and an adults-only night out opp for you!
2. Visit a farmers' market to pick up some fresh goodies and get acquainted with the local crop of epicurean vendors: there are countless ones to choose from during the warmer months (starting as early as late April), spread all throughout the city (Van Vorst Park, Hamilton Park, Newport Centre Mall, Grove Street, The New Journal Square, to name a few).
3. Sign your mini Mozart up for a music class! Jersey City offers several great options for musicians-in-the-making, young and old—choose from local favorites such as A Sound Start, New City Kids, Preschool of Rock, and three little birds.
4. Looking for something to do on a rainy or super-hot day? The Jersey City Public Library is a wonderful resource. The main library on Jersey Ave has a great children's room and offers storytimes, movie sessions, and holiday crafting workshops during winter and spring months, as do many of the neighborhood branches.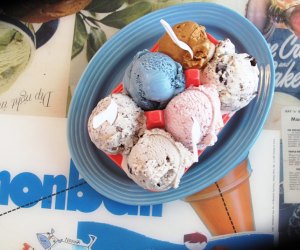 Brooklyn's Ample Hills came to Jersey City in 2017! Photo courtesy of Ample Hills
5. Get your ice cream fix at any one of the dozen-plus delicious creameries around the city. Given how many choices you have to chow down, we suggest putting together your own brain-freezing tour—your little scoop troop will totally dig it! From Torico to Milk Sugar Love, Bucket & Bay Craft Gelato Co. to Ample Hills Creamery, there's no shortage of sprinkles, shakes, and stir-ins to stumble upon.
6. Along the waterfront in Newport sits LeFrak Lighthouse, a red-and-white–striped beauty situated on a comfy patch of lawn. Offering excellent views of the Manhattan skyline, it makes a great spot for a lazy afternoon picnic.
7. Enroll your kiddos in classes at The Acting Space, a premier performing arts and acting school located in the Barrow Mansion. The fun, safe, creative and collaborative studio hosts after-school and summer camp programs that cater to students of every level (ages 5 and up). So whether you have a pre-Tisch thespian at home or a tiny ballerina in tow, your little ingénue will get the star treatment.
8. Take advantage of one of Jersey City's many excellent parks. Some of our favorites include Berry Lane Park, Hamilton Park, Lincoln Park, Van Vorst Park, and Washington Park. With playground areas for romping and spacious lawns for relaxing, these neighborhood jewels are the perfect places to plan a family outing.
9. Sometimes a bigger park can be too overwhelming for younger kids. Luckily, Jersey City contains several small playground areas that are perfect for little ones to explore without getting trampled. We love the pocket parks that, together, make up Paulus Hook; there are also several smaller playgrounds located in Newport.
10. Need to Zen out for a bit with your young yogis? Head over to Michelle Timek Yoga or Sattva Yoga for some mommy-and-me meditation with music and movement. These classes are tailored for infants and toddlers and are taught by terrific teachers, many of whom are parents themselves. (If you'd prefer to fly solo, they also offer plenty of adult classes, including those for new mothers, pre- and postpartum).
11. Once spring has sprung, listen to live bands at Groove on Grove every Wednesday (beginning in May) through September. Free concerts are performed at the Grove Street PATH Plaza from 6–9pm. Bring the kids; they'll be the first to get up and dance! And many dance and karate classes use the series to demonstrate what they're learning, too, so you could get a sneak peek of your child strutting their stuff well before their recital or exhibition.
12. Catch a matinee performance with your family at the Jersey City Theater Center. From now through the late Spring, JCTC Kids will be presenting Pinocchio by Puppetworks.
13. On hot summer days (or cold winter ones), seek refuge at the Newport Centre Mall. Shop till you drop, visit the kiddie rides, grab a bite to eat, or catch the latest flick at the in-mall theater. And if you're already hopping over to the AMC for Peter Rabbit, feel free to stay and have your kids' pictures taken with the Easter Bunny.
14. Bend it like Beckham! Enroll your kids in a class or camp with Super Soccer Stars—they'll have a blast while learning basic soccer skills. Classes are offered year-round at several locations throughout Jersey City and Hoboken.
RELATED: Best Family-Friendly Restaurants Near Liberty Science Center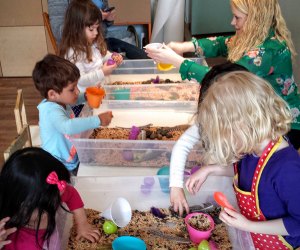 Kids can explore different textures with the sensory bins at Tiny Greenhouse. Photo courtesy of Tiny Greenhouse
15. Give your future Impressionists a great first impression with art at Tiny Greenhouse, a nature-friendly art studio for children ages 15 months to 8 years. Here, kids can get their hands dirty (literally!) in age-appropriate art projects and creative classes that encourage free, artistic expression, all while helping kids learn about preserving and protecting the planet (the majority of the resources and materials used in-studio are recycled).
16. Escape to Jersey City's only "urban beach" at Newport Green. This spacious park has an awesome playground area, complete with a sand pit, carousel, and sprinklers for cooling off. And you don't have to ride the Parkway all the way down the shore, because Newport Green's small beach has all the creature comforts of a coastal chill zone. Lounge on Adirondack chairs, play hard in the lush ball fields, and stroll through the surrounding gardens.
17. Take a dip in one of Jersey City's public pools. All you need to splish and splash is a photo ID and proof of residency. Lafayette and Pavonia Pools are open during summer months (beginning in late May) and Pershing Field Pool is open year-round. And if you can't make it to any of these three pool posts, there are indoor pools open at several public schools throughout the city. Check online for open swim schedules, and inquire about availability for swim lessons for little fish testing out their fins for the first time!
18. ...or cool off at a splash pad! Jersey City boasts three of NJ's best spraygrounds, all FREE: Berry Lane Park, Newport Green, and Hamilton Park. Sprinklers can also be found at many of JC's smaller parks from Memorial Day through Labor Day (seven days a week).
19. Cross something thrilling off your bucket list, and give the new RPM SIM simulator a try at JC's own go-karting venue, Rpm Raceway. The full-motion simulator - used by professional racers - gives amateur riders a real racing experience and it's not for the faint of heart. So, make sure you put on a brave face and bring along a motion sickness bag before riding shotgun with your tweens or teens. If you have children under the age of 5, you may need to leave them with a sitter this time around.
20. If you don't have easily-seasick sidekicks and can spend the day outdoors, take a ferry ride! From the terminal in Paulus Hook, you can hop on a boat to downtown Manhattan…or even to the Jersey Shore. Scoping out a spot to watch the ferries go back and forth isn't a bad idea, and doesn't require any Dramamine doses, either!
21. Book a cooking play date for your little one and their master chef mini partner-in-crime at Bambino Chef. This junior cuisinier mainstay in JC offers a number of after-school extracurriculars and cooking class birthday parties, all with the goal of helping kids make healthier choices when it comes to food and fun.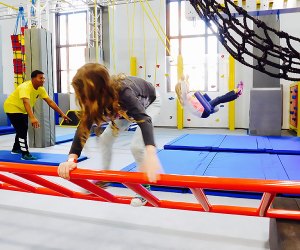 Challenge your kids to an obstacle course at Hudson Play. Photo courtesy of Hudson Play
22. Let your wild ones work off all their pent up energy at any one of Jersey City's indoor play spaces. From the American Ninja Warrior–inspired obstacles at HudsonPlay, to the drop-off program at three little birds that can help toddlers and preschoolers prepare for big kid school, these super physical, sensory and movement-focused activity havens will soon fill out your sprouts' social calendars and be top of mind for their upcoming birthday parties.
22. Spend a morning or afternoon supporting the local economy—it's alive and well in Wall Street West! Jersey City is home to many wonderful neighborhood shops and specialty stores. Some of our personal favorites include organic and sustainable childrens' couturier and toy store, Hazel Baby & Kids and Brooklyn-breakthrough bookstore turned JC treasure, Word.
RELATED: Newport Green: An Urban Oasis and Playground in Jersey City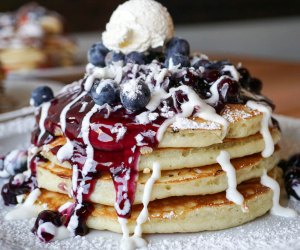 Scrumptious pancakes are on the menu all-day at Brownstone Diner and Pancake Factory! Photo courtesy of the diner

23. Fuel up at one of JC's many family-friendly restaurants, including Mommy Poppins Bestie Award–winning pancake house/family eatery, Brownstone Diner & Pancake Factory.
24. People travel from near and far to visit the Statue of Liberty and take away a piece of their ancestry, and Jersey City residents are lucky enough to have Lady Liberty right in their backyard. Statue cruises depart from Liberty State Park daily, so if you have out-of-town guests coming in, this is the perfect outing.
25. Throw on your skates and fit in a session at Newport Skates, Jersey City's dynamite outdoor ice skating rink, open for the winter months. If your kids are feeling particularly inspired by the magic on the ice at the PyeongChang Winter Games, don't hesitate to sign them up for some lessons. Who knows, you might have a future Olympian on your hands!
26. Ride the Light Rail! If you're in downtown Jersey City, it's such an easy and convenient way to travel, especially if you're lugging a stroller. Take it to Liberty Science Center, Hoboken or the Newport Mall, or just go for a ride!
27. Stroll along the Hudson River Waterfront Walkway. The entire walkway covers 18.5 miles, spanning from Bayonne up to the George Washington Bridge. The Jersey City portion offers stunning views and is an excellent place for walking, running or letting your little ones roam free.
28. Liberty State Park is one of Jersey City's true gems. The park boasts picnic areas, great playgrounds, several restaurants, an old train terminal, and tons of green space for relaxing on a beautiful day. It also hosts free nature programs for kids, including the upcoming Winter Waterfowl Walk and Blue Comet Day. It's the perfect destination for any time of the year!
Top photo courtesy of Groove on Grove