10 Fun Ice Cream Joints in New Jersey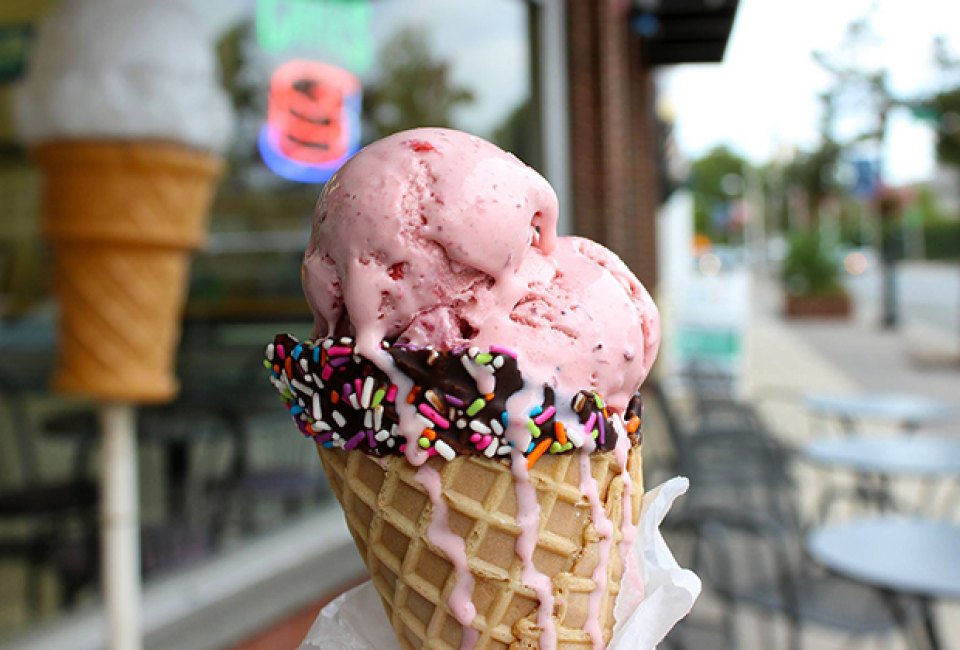 8/17/16
- By
Laurie Rein
What is it about summer that makes even the most uptight parent want to bend the rules a bit? Like healthy dinner rules? How about ice cream for dinner? Go ahead....we won't tell. As temperatures sore to sweltering heights, and we look for new ways to cool down, ice cream has become a must-have. And as luck would have it, our state has some delicious ice cream joints!
Whether you're looking to dazzle your taste buds with a quirky flavor or go for an old-fashioned milkshake, we've rounded up a list of amazing ice cream shops that will have New Jersey kids and parents celebrating all that is summer.
Most all of the places listed here have a small amount of indoor seating for extra hot days.
Applegate Farm (Montclair, NJ)
Applegate has been serving up homemade ice cream for over a hundred years, so trust us, they've got it down. All the basic yummy flavors, plus a few of their own special creations, like graham central station (graham-flavored ice cream with graham crackers and chocolate-covered candy pieces) and caramel cow (caramel ice cream with mini-chocolate caramel cups). The classic red barn and outdoor seats makes it a destination for many, but seating is limited outdoors. Mmmmm. 973-744-5900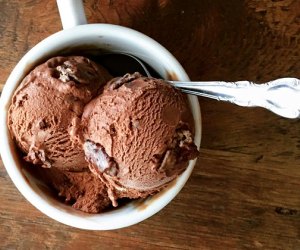 Dig in at The Bent Spoon, founded by a couple of NJ locals.
The Bent Spoon (Princeton, NJ)
The sign as you enter The Bent Spoon says "We love New Jersey!" Owned by two NJ natives turned professional ice cream makers, this shop celebrates the Garden State in all its glory by using local, organic ingredients to concoct some awesome flavors such as cardamom ginger, chocolate habanero, and strawberry mascarpone. Can you say YUM? And for you traditionalists, we hear the vanilla bean ice cream and raspberry sorbet are pretty darn good too! (609) 924-2368
RELATED: NJ Kids Summer Fun Guide: Festivals, Water Parks and More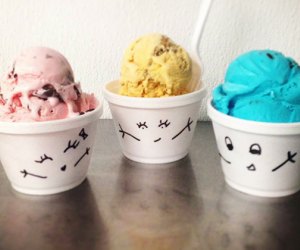 Ice cream leads to happy faces at Hoffman's on the Jersey Shore.
Hoffman's Ice Cream (Point Pleasant, Spring Lake Heights, Little Silver and Long Branch, NJ)
With four locations at the beach, Hoffman's is the answer to the question: 'After we've been at the shore for 12 hours and not eaten our dinner, can we have ice cream?' Nostalgia aside, ice cream at the beach is a must, and Hoffman's offers a dreamy peach flavor Memorial Day through Labor Day. All of the flavors, such as Jersey monkey and peanut butter nugget, are homemade. And if you've really got a big appetite, take on their famous Octopus Sundae, featuring eight scoops, eight toppings and loads of whipped cream. (732) 892-0270
Ice Cream Charlie's (Rutherford, NJ)
Bergen County may be known for its gigantic shopping malls and chain stores, but Ice Cream Charlie's is a 'mom and pop' gem that stands out from the masses. They've got homemade ice cream, yogurt and Italian ices if you're going for something a little lighter. Go for a simple cone with a scoop of classic vanilla or treat your taste buds to one of their awesome flavors like mint cookie crumble, salted caramel vanilla or banana chocolate chunk on a warm summer night. (201) 939-8133

Lindy Hops (Galloway, NJ)
Lindy Hops is a 'down the shore' institution that makes no apologies for its campy, retro atmosphere. Dive into flavors like Mississippi mud, pumpkin, or chocolate banana while perched on red bar stools that sit on a black and white checkered floor. Customers also get pretty excited about the fluffy Belgian waffles (topped with ice cream of course), water ice, and chocolate-dipped waffle cones. NOTE: This shop closes for the winter, so you can only enjoy it March-November. Order Thanksgiving pies here! (609) 652-6020
RELATED: 50 Free Things to Do with NJ Kids This Summer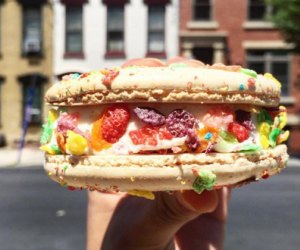 Milk Sugar Love's "fruity pebble mac daddy" is comprised of fruity pebble ice cream sandwiched between two giant macaroons.
Milk Sugar Love (Jersey City, NJ)
This all-organic shop has some unusual flavors to die for and ice cream cakes that will make you drool: how about The Fiore with lemon olive oil ice cream and mascarpone ice cream with candied almonds? Or maybe just pop in for a scoop of chocolate peppermint, named "Best Dish of 2013" by the Star Ledger. (201) 984-0530
Rocko's Ice Cream (Fanwood, NJ)
Brand spankin' new to the ice cream scene, Fanwood's welcome addition serves up creative concoctions, such as cookie monster, birthday cake batter, and the popular "trash can," full of yummy surprises. In addition, Rocko's offers cakes, cupcakes, and other baked goods. (908) 322-0102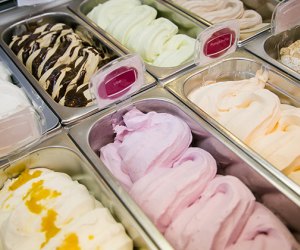 The colors, the scents, the taste of a perfect ice cream (and homemade waffle cones) at Torico Ice Cream.
Torico Ice Cream (Jersey City, NJ)
Hudson County residents have been fulfilling their ice cream cravings here since 1968. The sweet smell of homemade waffle cones as you enter is intoxicating and you really can't go wrong with any of the homemade flavors, from the classic strawberry to coffee ice cream dotted with cookie pieces to a pleasantly sweet and creamy avocado flavor. (201) 432-9458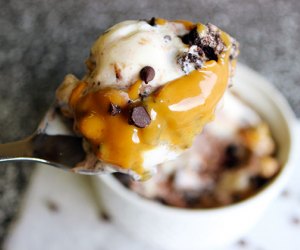 Sample the deliciousness at Vanilla Bean Creamery, including award-winning flavors.

Vanilla Bean Creamery (Cranford, NJ)
This suburban gem has won some impressive awards, including "Best Local Ice Cream" for its bananas foster flavor at the 2011 New Jersey State Ice Cream Festival. One taste of the sweet stuff and you'll realize they've got what it takes to back up the hype, maybe because they insist on using high-quality ingredients like Madagascar vanilla and fresh fruit. Score ice cream sandwiches, cakes, and cupcakes here, too. Bonus: It's around the corner from the recently opened play space, Giggles. (908) 272-3000
Zita's (New Providence, NJ)
Do flavors like mint lightning and chocolate thunder sound tempting to your sweet tooth? Indulge at this Union County favorite, with more innovative, homemade flavor varieties, like kong and s'mores. Top off your ice cream with a variety of scrumptious toppings. Plus, try out Zita's Italian ice, shakes, and frozen yogurt. (908) 464-1511
A version of this article first published in 2013 but has since been updated.
Top image: Vanilla Bean Creamery. All photos courtesy of the respective shops.
Sign up for the Mommy Poppins Newsletter today!
i