Giggles: A New Playspace for Kids and Parents in New Jersey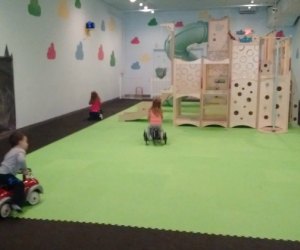 Have you ever dreamed about enjoying a hot cup of coffee while the kids were engulfed in creative play? You know, a cup that you don't have to reheat 3 times? Get caffeinated while the kids burn energy at Giggles, a brand new indoor activity center in Cranford, NJ that offers both a multi-faceted play arena for little ones and an adjacent coffee bar for grownups. The cafe's seating is in direct view of the enclosed play area, allowing kids up to age 6 to run free while adults chill out. Open play is pay-as-you-go, with no membership fees. Check out why Giggles is an ideal venue for playdates, mom meet-ups, parties or a little sanity break.
Playspace: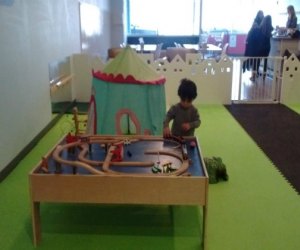 Giggles' clean, enclosed play area features a soft mat floor, with areas to climb, ride and imagine. Kids will give their gross motor skills a workout on the large climbing structure, which contains multiple climbing levels, a bridge, plus smaller slides and a bigger twisty one. Imaginations will also get a workout in the play kitchen, play tent and train table areas. The kids will have fun navigating the area on scooters and other riding toys. The youngest tots can tinker with activity blocks on the soft ground. Little artists can decorate the walls on a giant chalkboard. Restrooms are located directly in back on the play arena, and sanitizer dispensers are provided nearby.
Coffee: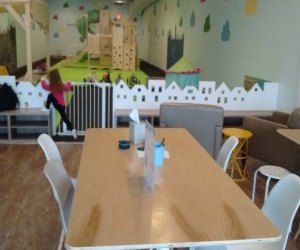 Adults can actually enjoy a cup of coffee without taking their eyes off the play area. The coffee bar features freshly brewed joe, plus tea, cold beverages and snacks. Healthy treats for the kids, such as goldfish, applesauce, and milk are available as well. Grab a magazine from the counter to read while you're there. If the kids decide to join you at the tables, there are coloring sheets and magnetic toys. Plus, a cool rice table, similar to a sand table, is housed in the cafe area. The cafe also provides room for coats, strollers and shoes, which need to be removed in the play area.
Events:
Stop in for weekly storytime on Tuesdays at 10:30am and crafts on Wednesdays from 1-2pm, both included in the admission price. Don't miss the Easter Bunny's appearance at Giggles, with an egg hunt, crafts and pizza on Saturday, March 19th. Plus, get moving at Giggle's new Little Moving Artist class for toddlers on Saturdays and Sundays.
Birthday parties are held on the weekend and last 90 minutes of the day. The two party packages both include 15 guests (extras can be added) plus 2 party leaders and pizza and beverages. The enhanced package also features cake and favors. Add-ons, such as themes, an ice cream bar, adult pizza and extra time, are available for additional fees.
Hours and Admission: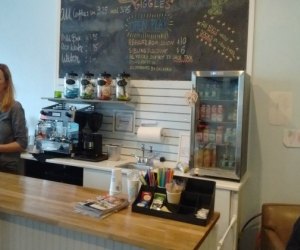 Giggles is open for free play Tuesday through Friday from 9am-6pm, plus various weekend hours which get updated on the website. Birthday parties are held Saturdays and Sundays. Admission for unlimited open play is is $10 per child, and $6 for siblings (plus tax). There is no admission fee for adults. Parking in the facility lot is free as well.