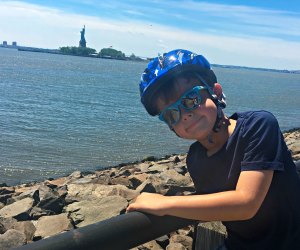 New Jersey's Liberty State Park: A Perfect Family Day Trip
With majestic views of the Hudson River and the Statue of Liberty, acres of sprawling green lawns, a riverfront walkway, picnic areas, and a huge playground, Liberty State Park in Jersey City is ideal for a memorable family outing. Spend a day exploring the park, or board a ferry to Ellis Island or the Statue of Liberty. You can also head indoors for an afternoon at Liberty Science Center, followed by a bite at one of our favorite family-friendly restaurants in Downtown Jersey City.
Read on for tips for visiting Liberty State Park, and for even more family adventures, check out our Summer Fun Guide or favorite picnic spots in North Jersey.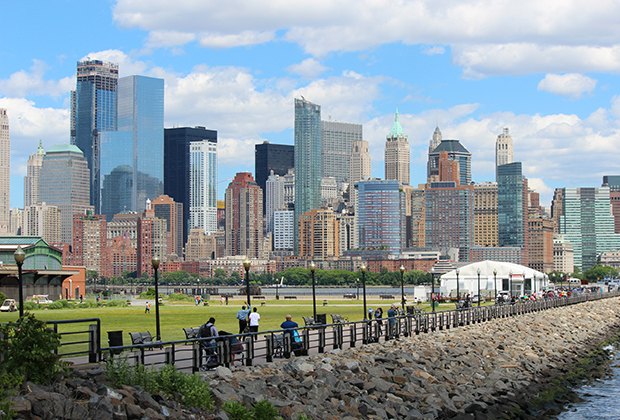 Photo by Shinya Suzuki/CC BY-ND 2.0
Park
A prime attraction of Liberty State Park is the two-mile riverfront promenade, which is perfect for strollers, bikes, joggers, and scooters. Breathtaking views of the sparkling water, Lady Liberty, Ellis Island, and the Freedom Tower are awe-inspiring. My 6-year-old son loved zooming along the smooth pavers on his scooter, with no stop signs in sight. When your little ones get tired of walking or scooting, spread out a picnic blanket on the grassy lawns, or unpack your lunch at a shaded picnic table.
Acres of green fields are perfect for flying kites, tossing a Frisbee, kicking a soccer ball, or playing catch. Relax on a bench along the promenade and watch the boats, including the ferries to Ellis Island and Liberty Island. Fishing and crabbing are permitted in certain areas. The park is open daily 6 a.m. to 10 p.m.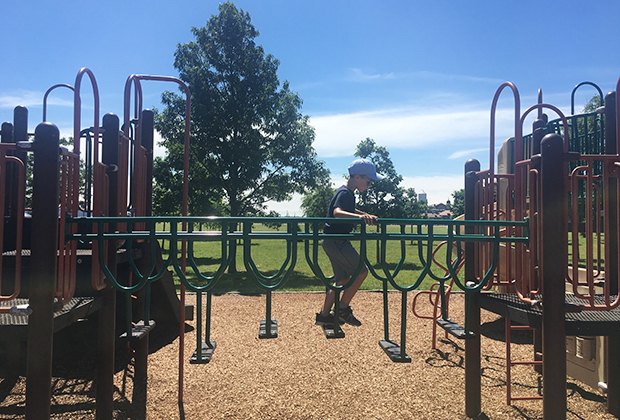 The large playground offers lots of opportunities for climbing, sliding, and balancing. Photo by Dore DuHaime.
Playground
The large playground features connecting climbing structures, with low slides and bouncy bridges for younger tots, and a pretend sailing ship with two steering wheels and a lookout post facing the river. The older-kid side boasts spiral slides, rock walls, climbers, and bumpy slides, plus ladders, bridges, monkey bars, balance steppers, and tunnels. The huge playground is not fenced in or shaded, but the perimeter is ringed with tree-shaded benches and picnic tables.
Surrounding the playground are fields dotted with open charcoal grills perfect for larger family gatherings. On busy summer weekends, arrive early to snag a spot or reserve ahead of time by contacting the state park office. A second, smaller playground is located at the southern end of the park, near the main parking lot and restrooms. A few portable toilets are available near the main playground.
Nature
Bring your binoculars to check out the many species of birds in the marshlands and to glimpse boaters out on the Hudson. The Nature Interpretive Center remains closed, but an adjacent pathway through the 36-acre salt marsh of the Hudson River Estuary is open for self-guided strolls. Kayak tours for ages 16 and older depart from the southern end of the park (advance registration is required). A winding trail with fitness markers and stretching stations runs the interior length of the park.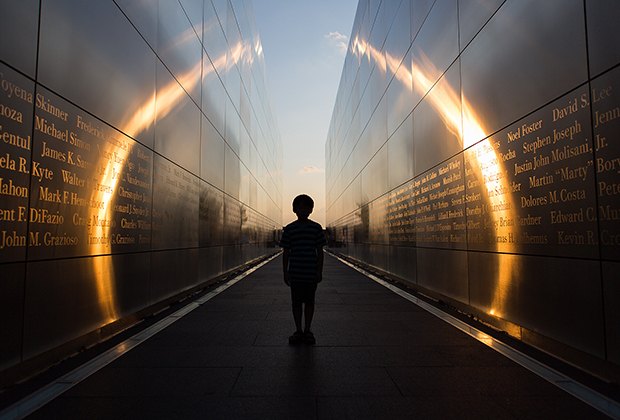 The Empty Sky 9/11 Memorial. Photo by saebaryo/CC BY-ND 2.0.
Older children may appreciate the Empty Sky 9/11 Memorial, New Jersey's powerful memorial to residents whose lives were lost on that day. Twin walls of stainless steel, rising 30 feet high, are etched with the victims' names.
History
A hundred years ago, Jersey City's southern waterfront was an industrial wasteland, a relic of its earlier use as rail transit hub for the New York area. It took decades for Jersey City officials to get it cleaned up and opened as a state park, which was dedicated in time for the country's Bicentennial celebration in 1976. For a glimpse of that history, take a family tour of the historic Central Railroad of New Jersey terminal at the north end of the park. Or plan a full day and board a ferry to Ellis Island or the Statue of Liberty. Advance tickets are recommended. Check out our tips for visiting Ellis Island and Lady Liberty with young children.
Getting There
Public transportation options include the Light Rail (there's a station right at the park) and the Liberty Landing Ferry, which departs from Lower Manhattan and Jersey City. If you drive, parking is available at the Liberty Landing Marina and is $7/day.
Top photo by Dore DuHaime.