Liberty Science Center: Best Things To Do With Kids
4/12/22
- By
Kaylynn Chiarello Ebner
It's no wonder the Liberty Science Center has become a New Jersey mainstay for area parents and kids—and one of our favorite attractions in New Jersey. This 300,000-square-foot educational center on the Jersey City waterfront is jam-packed with exciting hands-on STEM learning activities for kids of all ages. With live animals to see, unique structures to climb and explore, skyscrapers to build, planetarium shows to watch, and experiments to try, it's easy to visit this four-story museum again and again. And the best part? The exhibits are constantly refreshed and new ones are rotated in, so there's always something fresh to see. It's even a great place to enroll in a STEM-inspired summer camp or celebrate a birthday.
Read on for the top 10 things to do and see at the Liberty Science Center and find more great local cultural institutions in our Guide to Museums and Galleries in New Jersey.
Subscribe to our newsletters to get stories like this delivered directly to your inbox.



Little ones get their very own active exhibit in LSC's newly opened Wobbly World.
Little ones love this wobbly play land on the second floor. Explore balance, motion, and cause and effect at this fantastically whimsical exhibit. Hitch a ride on a dangling rope, soar up and down on a teeter-totter, or balance weights on a scale. There are even enormous shapes to balance and sort in their proper spaces. Note that admission is strictly limited to kids ages 5 and under with their parents, and you might need to join the waiting list to enter the exhibit on busy days.
You won't want to miss a chance to step into this enormous, jaw-dropping planetarium. With an 89-foot wraparound screen and digital projection system that produces literally trillions of colors, it's the largest and most technologically advanced planetarium in the Western Hemisphere! Guests of all ages can take a 45-minute trip through the galaxy in Wonders of the Night Sky, rock out at a musical laser light show, or even go on a space odyssey with Big Bird and Elmo in One World, One Sky. Space lovers go wild over the exhilarating astronomy-inspired shows. An additional fee is required for planetarium shows; tickets can be purchased at the first-floor desk, and access to the shows is on the second floor.
RELATED: Best Kid-Friendly Museums in Northern New Jersey

Climb for miles while suspended high above the atrium in the unique Infinity Climber at Liberty Science Center.
Climb on platforms and crawl through rope tunnels in this unique structure that's 26 feet wide, 24 feet deep, and 19 feet tall. It's also dangling high above the atrium below! But, don't worry about falling. The structure is surrounded by a protective mesh made up of 19 miles of hand-threaded wire. Access is on the third floor and climbers must be at least 42 inches tall to enter.

Enjoy an up-close encounter with animals at the Liberty Science Center's Wild About Animals exhibit.
Stand nose to nose with a naked mole rat, spot the dart frogs and snakes in their habitats, or watch the red-footed tortoises and tamarin monkeys in wonder. There are more than 100 species to see in Wild About Animals on the museum's third floor. Also, learn how bees "dance" and then find real buzzing bees near the third-floor elevators. There's even a see-through beehive to marvel at.
RELATED: The Best NJ Zoos and Aquariums for Animal Encounters With Kids

Learn about how scientists are exploring mammoth DNA in the Making Mammoths exhibit at LSC.
Here's your chance to see the world of microbes up close and personal. Head to the third floor and check out a colorful glowing gallery of microbial art or try "painting" with microbes using real lab techniques. While you're thinking small, step over to Making Mammoths to learn about how scientists are exploring the possibilities of mammoth DNA. Nearby in the biology section, test out your skills at performing a virtual surgical procedure or watch your very own skeleton dance in front of your eyes.
Got a dino lover at home? Give 'em a thrill at this incredible outdoor exhibit, where they can brush away sand to uncover realistic dinosaur fossils. There are three different pits to explore and find fossils of replica bones, eggs, and more. Find the doors near the cafe on the second floor.

Learn local river ecology from the Our Hudson Home exhibit, and then step outside to get a stunning view of the river (and NYC beyond!)
Ever wonder what lives in the Hudson River? This exhibit on the fourth floor talks about this local natural resource and shows off some of the species that call the waterway home. See fish, sea turtles, and more. This area also has a balcony where you can get amazing views of NYC. Bonus: While you're up on the fourth floor, step into the corridor outside the exhibit to make pixel art by twisting colorful discs on the wall.
RELATED: 13 Best Science Museums and STEM Spots for NYC Kids

Explore energy by expending some of your own to make things move in Energy Quest.
It's amazing how many forms of energy are all around us. In Energy Quest on the fourth floor, explore wind power, create molecules, learn about nuclear power, and more. You can even race hand-crank-powered cars around a track, or use bicycle power to make a light bulb glow. By the way, if you hear some strange sounds coming from the hallway, fear not. It's just the Dream Machine. Use bicycle pumps to make an orchestra of colors, sounds, and scents (both pleasant and unpleasant). The stations connect to various emotions like happiness and hope.

Curiosity drives choices in Wonder Why at the Liberty Science Center.
This third-floor exhibit offers so many ways to explore the world. Take different paths around a rock wall, fly a beach ball with an air current, or test your strength while hanging from a pull-up bar.
RELATED: The Best Children's Museum in Every State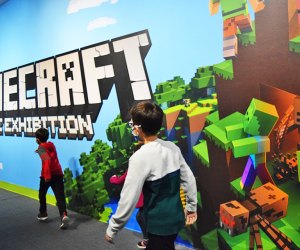 Visit soon if you hope to catch the temporary Minecraft exhibit at the Liberty Science Center!
See Something New…
There's always something new at LSC, which has been known to host pop-up exhibits like a butterfly atrium, indoor ice rink, and Halloween mazes, as well as character-themed exhibits (Think: Paw Patrol, Dinosaur Train, and Daniel Tiger). Right now, there's a premium exhibit that invites guests to step inside the world of Minecraft (open through September 5, 2022). Note: A separate fee applies to premium exhibits).
Know Before You Go to the Liberty Science Center
Definitely buy tickets in advance. They are sold at specific time slots and sell out on busy days and weekends.
Currently, adults need to show a valid photo ID and those over 12 need to show proof of COVID-19 vaccination.
There's a great food court with lots of options for lunch and snacks.
There are lots of stairs to climb, and the elevators can get busy. If your child can make it without the wheels, consider leaving them at home.
At this time, face masks are required for those over 2 years old.
Consider buying an annual membership, which is a great deal.
Unless noted, photos by the author
Places featured in this article:
Click Here to Sign Up!
i