Spin, Build, and Sort at New Wobbly World Exhibit at Liberty Science Center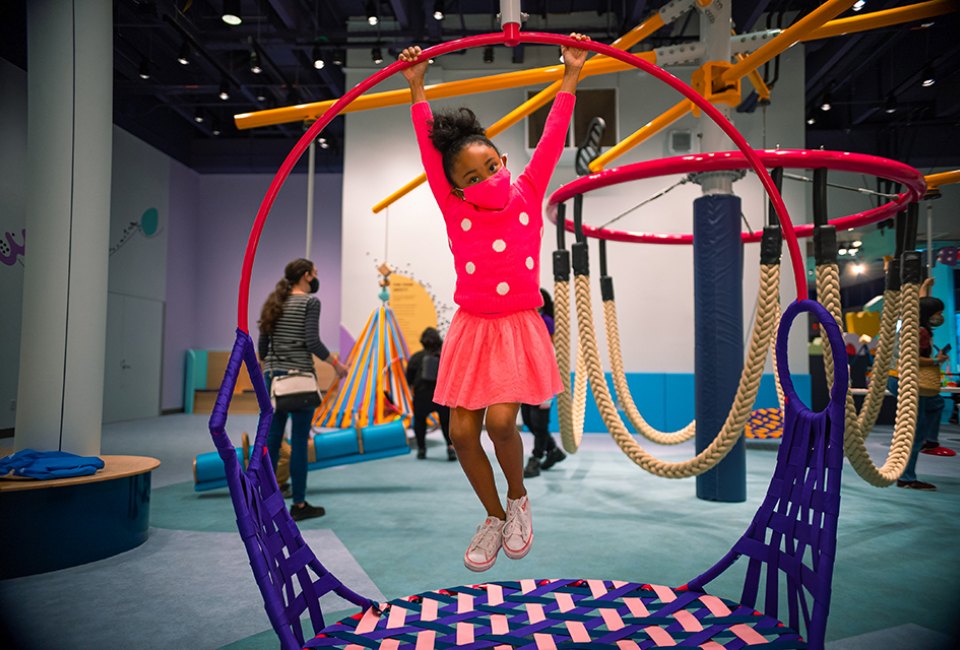 12/20/21
- By
Jessica Laird
Like something of a STEM-powered funhouse, Wobbly World is the newest interactive exhibit to open at the Liberty Science Center. Since the first week of December, the bright and somewhat off-kilter kid oasis has been inviting little ones ages 0-5 to balance on hills, build with oversized blocks, and even spin on a giant mobile that's literally powered by play.
Brought to life with the help of renowned toy designer Cas Holman, the exhibition engages kids in a totally unique way, encouraging them to explore mobility and uncertainty in a safe and comfortable environment. Of course, I couldn't pass up the chance to take my 3 and 5 year olds to this one-of-a-kind wonderland, so we hopped in the car on a Sunday morning and headed over to LSC for some dizzying fun (and you better believe we snuck in some other favorite attractions while we were there too).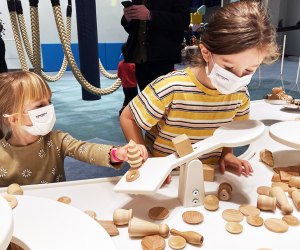 Kids can grab, sort, stack, and balance at the Scales and Stacking Station. Photo by Jessica Laird.
Up the stairs to the second floor and just to the left, you'll spot Wobbly World, with its bright colored sign, painted rolling landscape, and chorus of happily squealing children. If the exhibit's at maximum capacity (which is definitely possible at peak times), leave your phone number with a staff member so that you can continue on your way through LSC and receive a text notification as soon as a spot opens up--a convenient option if you do have to wait.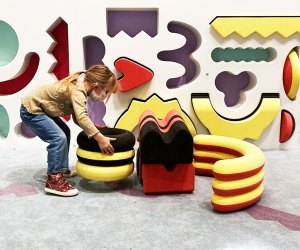 Build with a whimsical collection of oversized Balance Blocks. Photo by Jessica Laird.
When we got the go ahead to enter the exhibit, both my girls were scaling the walls in seconds. Dubbed Balancescape, there's a series of hills and ledges on the way in that test kids' balance and agility and seemed to be especially popular with the older crowd. Note that the hills are high enough to thrill kids, but low enough that parents can keep their cool, and the SafeLandings flooring and shock-absorbing padding help keep little ones safe if they do take a tumble.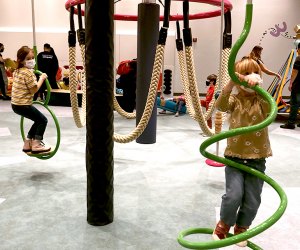 At the center of Wobbly World is a play-powered part carousel, part Calder-style mobile. Photo by Jessica Laird.
From there, it was on to the Body Mobile for us, a Calder-esque mobile with various seats and surfaces that hang from a 14-foot-tall center column. Kids flocked to the carousel-like attraction, swinging, spinning, climbing, and seeing how their movements might affect the rest of the structure. The adjacent see-saw was equally popular, giving little ones a lesson in gravity the good old fashioned way.
Little hands can create a tabletop mobile by hanging mini versions of shapes seen around the gallery.
Beyond the ride-on and climbable elements of the exhibit are a number of opportunities to build that capped off our time in Wobbly World. My 3-year-old was drawn to the crazy-shaped giant Balance Blocks that can be fixed to the wall or stacked on top of each other to create quirky towers. Meanwhile, my 6-year-old was excited to stack smaller wooden pieces on metal scales and hang plastic shapes off a tabletop mobile.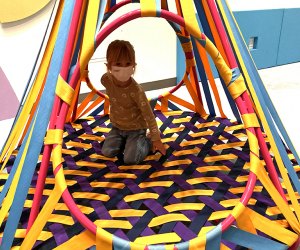 SafeLandings flooring and shock-absorbing padding ensure that all young learners can explore safely. Photo by Jessica Laird.
To make the exhibit that much more accessible for families with kiddos 5 and under, there's stroller parking by the entrance, a restroom with child-sized features, and even a nursing nook for breastfeeding parents. Plus, just like the rest of the Liberty Science Center, masks are required for all visitors 2 and up regardless of vaccination status to help ensure everyone's safety. It's also important to note that all visitors 12 and up must show proof of vaccination in order to enter LSC.
While you could easily spend an exhilarating 30 minutes to an hour at Wobbly World, depending on your kids' ages and interests, the exhibit is free with general admission—so you can really make the most of all 300,000-square-feet of the interactive science learning center! We made sure to hit PAW Patrol: Adventure Bay, the Infinity Climber, and Dino Dig, plus we caught a showing of One World, One Sky: Big Bird's Adventure at the Planetarium (the biggest in the country!). With 12 museum exhibition halls, a live animal collection with 110 species, giant aquariums, a 3D theater, live simulcast surgeries, and a tornado-force wind simulator, it's a full day of fun at Liberty Science Center.
Liberty Science Center tickets are currently timed-entry, so booking in advance is recommended. Plan your visit to the Wobbly World and reserve your tickets for the Liberty Science Center today!
Unless noted, photos provided by Liberty Science Center.
Places featured in this article:
Sign up for the Mommy Poppins Newsletter today!
i