Statue of Liberty Museum Opens With a New View on Lady Liberty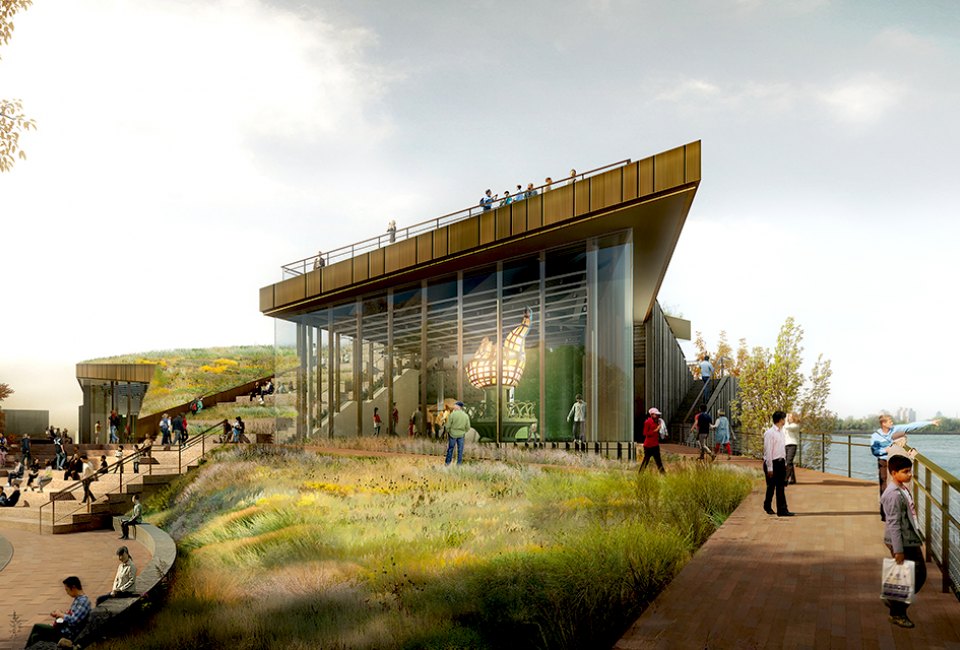 5/17/19
- By
Jody Mercier
If you haven't visited Lady Liberty lately, it may be time to add the tourist hot spot to your list of summer must-dos. The brand new Statue of Liberty Museum has now opened, bringing with it an immersive theater, plenty of Statue of Liberty history, and kid-friendly, touchable artifacts that bring a new interactive element to your visit. Read on for a look inside the museum, plus tips on how to visit.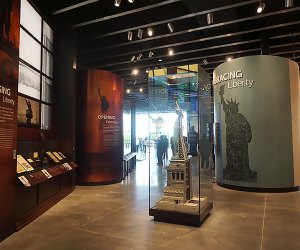 Engage with the Statue of Liberty in a whole new way.
The 26,000-square-foot Statue of Liberty museum on Liberty Island offers visitors a new way to engage with the Statue of Liberty without requiring an added ticket. This new space replaces the museum located within the Statue's pedestal, which has been off-limits to most visitors following 9/11.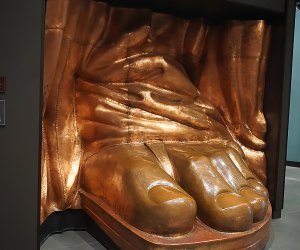 Touch the toes of Lady Liberty.
The museum is comprised of a trio of galleries, taking visitors on a journey from the Statue of Liberty's conception by French-born artist and sculptor Frédéric Auguste Bartholdi—a man obsessed with grand monuments—to the engineering problems he had to overcome to erect her on the island, as well as the role she has played as an icon not just for America, but the world.
RELATED: 30 Fun Things to Do in the Financial District With Kids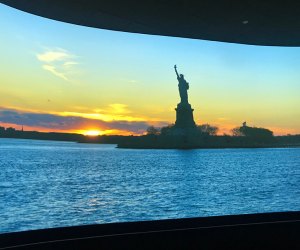 A three-part video lays the groundwork for Lady Liberty's journey.
In the Immersive Theater, a three-part video lays the groundwork for Lady Liberty's journey before you are taken into a replica of Bartholdi's workshop. Here, you'll experience through videos and models how the sculptor was able to create the Statue of Liberty's grand scale, starting with a small plaster model and gradually increasing his measurements to create the larger-than-life monument we know today. The statue's copper cladding was pounded to a width of 3/32 of an inch—that's the equivalent of about two pennies stacked upon one another—to give her robes and facial features their final shape and detail. You'll also get an up-close view of a replica of her foot. Signs nearby encourage touching; kids will likely notice the copper inside maintains its shiny, penny-like coloring, safe from the elements that have oxidized the Statue outside.
Other eye-catching pieces in this portion of the museum, dubbed the Engagement Gallery, show you the inside structure built (and rebuilt during her 1986 restoration) to hold Lady Liberty, as well as the spiraling staircase that leads to her crown. There are exhibits about her opening ceremonies, as well as references to her place in pop culture. The kid-pleasing Lady Liberty M&M and Lego models caught my eye.
RELATED: Exploring the Battery With Kids

See the torch up close!
Just beyond, you move into the Inspiration Gallery, where you're asked to reflect on your interactions with the museum, and the idea of liberty itself. An interactive kiosk lets you add your own portrait to the video installation before you come face to face with Lady Liberty and the original torch she held aloft. Seeing the statue's face offers another tactile-learning moment for kids, and viewing her original torch up close is pretty spectacular. The awe-inspiring torch is displayed in a glass-walled gallery with panoramic views that stretch from Lower Manhattan to Lady Liberty's shadow.
Once you've explored all the artifacts inside, be sure to take the steps up to the museum's roof (an elevator makes this trip stroller accessible, too). A 14,000 square-foot green roof awaits to be explored with jaw-dropping 360-degree views.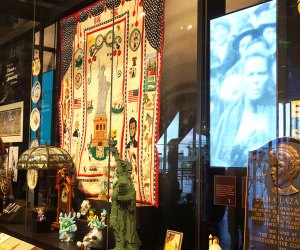 Explore Lady Liberty's role in pop culture.
Having made multiple visits to the Statue of Liberty with my kids, I'm excited to take them back to explore the new museum, which makes the typical visit more than a photo op. In addition to the touchable models and replicas, there's a ton of interactive touch-screens (29 in fact!) to learn fun facts, plus an included audio tour, available in 13 languages. Though the museum is not an all-day destination, it's a fitting complement to any visit to Liberty Island.
The Statue of Liberty Museum is now open. Admission is included with your purchase of ferry tickets. Extended summer hours (Memorial Day through Labor Day) will be offered by Statue Cruises, with the first boat departure from both the Lower Manhattan and Jersey City terminals at 8:30am; the last boat departs for the island at 5pm. The island remains open until 7pm.
If you're booking several top attractions in New York City and looking to save money, consider purchasing a Go City Explorer Pass, which includes discounted admission to One World Observatory, the 9/11 Memorial and Museum, the Statue of Liberty, the American Museum of Natural History, and more.
Unless noted, photos by the author
Disclosure: We may earn a small commission if you click through our link and make a purchase. This revenue helps us maintain this site, so thank you for supporting us.
Places featured in this article: