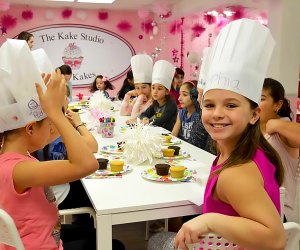 A Dozen New Party Spots to Celebrate Kids' Birthdays in New Jersey
New year, new birthday party to plan! And luckily for Garden State parents, there are new party places popping up every day. From just-teed-up trampoline parks to Brooklyn-transplant ice cream parlors, these new-to-Jersey hot spots have more than enough hype to meet your little ones' birthday riders. Check out some of the newbies below—and if you need more inspiration, brush up on our list of the best places for kids to party in NJ. The old standbys never fail to make them smile!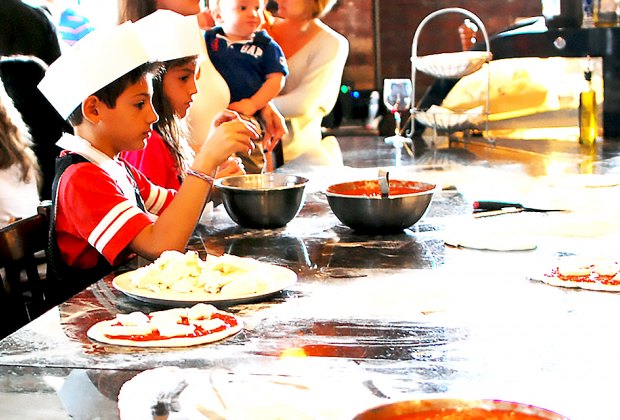 Kids get to make an individual pizza with all their favorite toppings at a birthday pizza party at Ah'Pizz. Photo courtesy of Ah'Pizz
Ah'Pizz – Montclair, Denville
Pizza has a place at every kid's birthday party, and when the kids can make it themselves, it's a recipe for a seriously fun time. The new birthday party packages at Montclair and Denville's hottest artisanal pizza joint invite parents, the guest of honor, and his or her fresh-mozzarella-loving friends into its state-of-the-art kitchen to give the wood-fired brick oven a whirl. Each child receives a chef hat and apron (and crayons to color with) to make the transformation to pizza maker complete. After they roll their own dough and add cheese and tomato sauce, plus their favorite toppings, they get to watch their creation cook in less than 90 seconds in the oven. Throw in a slice of Nutella dessert pizza for good measure, and this party is awesome sauce for sure.
RELATED: 10 Indoor Party Spots with Mega Playgrounds for NJ Kids' Birthdays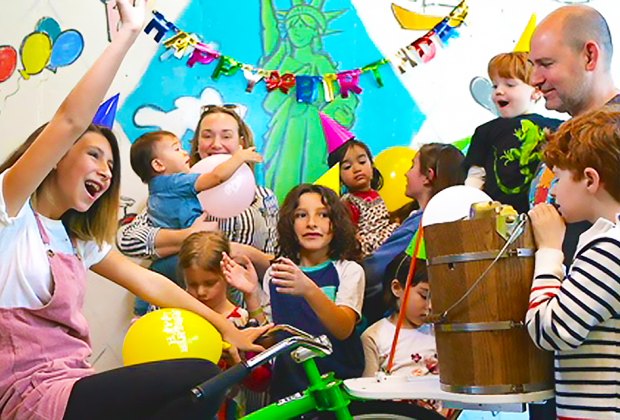 A birthday celebration at Ample Hills includes rides on the custom ice cream churning bicycle for all party-goers. Photo courtesy of Ample Hills
Ample Hills – Jersey City
What goes better with cake than a nice sloppy scoop of ice cream on top? And now that beloved Brooklyn creamery, Ample Hills, just opened its first New Jersey outpost in Jersey City, there's no need to ditch the homemade stuff for regular old Dairy Queen. Bring the group in for two hours of ice cream–making magic in the private birthday party room, complete with an ice cream–churning stationary bicycle. Your little cone connoisseurs can take turns cycling to create a batch of pedal-spun ice cream to top their waffles at the end of the party. And while their hard work hardens, the kids can get crafty with their choice of project—from tote bags to picture frames, aprons to placemats. There's also an option for some seriously sweet add-ons, like a fully-stacked sundae bar and Stumptown coffee service, so a la mode is very open-ended.
Escapology – Garwood
If you have a junior Sherlock Holmes on your hands, he or she would hardly be puzzled about a party at Garwood's new real-life escape experience. Aimed at older kids, the Escapology birthday package (priced at $499 for 12 players) comes equipped with every piece of the puzzle, including an escape game, private party room, three pizzas, a cake, paper goods, water, wristbands, and so much fun. Whether they're trying to track down a killer on the Budapest Express or scouring a lab for an antidote necessary to save the entire human race, your sleuths have to race against the clock and rally together to escape the room in less than 60 minutes. Does your detective and his or her friends have what it takes to walk away with a birthday win?
RELATED: Top Birthday Party Places for Kids in New Jersey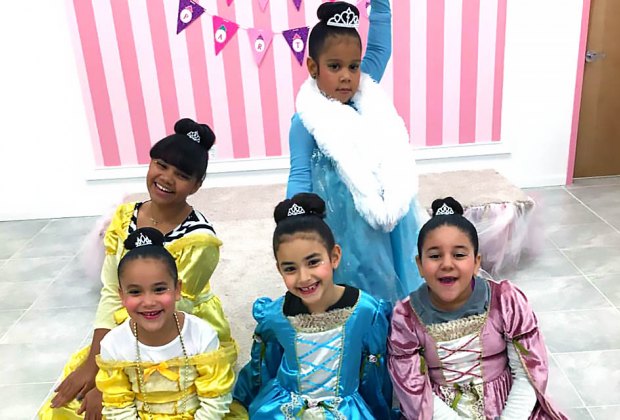 Partygoers go home with their crowns and memories of being a princess for a day at Glitter & Glam. Photo courtesy of Giltter & Glam
Glitter & Glam – Paramus
Has your little birthday girl been jumping on the Meghan Markle bandwagon? If she's been requesting a royal-style reception for her upcoming birthday, this newly-opened girl spa at Paramus Park will make all her princess fantasies come true. Glammed-up birthday party packages are specialized for girls aged 3 to tween, and include everything from sassy spa services, personalized invitations, and a dress-up runway fashion show to games, a diva dance party, and lots of fabulous upgrades like glitter party bags, personalized favors, glamorous cakes, and photo perks to capture all the fun. Your mini and her girl squad won't soon forget all the plush pampering.
Imagine That – Florham Park
One of the most-loved children's museums in the state just celebrated a grand re-opening—and it's just the place to plan your curious cutie's next birthday party. The new-and-improved play spot boasts brand-new play structures, state-of-the-art interactive items like an LED light board, and revamped versions of OG attractions like the grocery store, dance studio, play maze, and more. The museum just started re-booking birthdays in December, and the staff will take care of everything so all you'll need to worry about is taking pictures and planning out your best firefighter, pirate, or princess imitation—because themed parties are a specialty here. You can even invite Batman, Superman, Elsa, and Anna to the soiree to celebrate alongside your honoree.
The Kake Studio – Franklin Lakes
Does your little one subscribe to the idea that cupcakes are muffins that believed in miracles? Well, she'll sure love a party at The Kake Studio. With cotton candy–colored walls, white mod couches, and delicious painted pictures of cupcakes in all their glory, this Barbie-style dreamscape is straight out of Candy Land. Kara, the owner and resident cupcake Queen has been decorating the birthday party dreams of budding bakers for almost a year now, and will be releasing two party packages with sweet new stars this month, one to include a dessert pizza and the other to include cookie bars (one of the top sellers in her store, Kara's Kakes.
Magic Sky Play – Morganville
Every birthday kid should feel like he or she is on cloud nine when it comes to their special day, and at this Mommy Poppins Bestie winner, there's no doubt they will! The birthday packages here range from basic to "sky's the limit," and they're really not kidding. Your little celebrant and 15 of his or her favorite friends and family members will get exclusive use of the indoor play spot plus everything that's needed for the magical milestone: pizza, juice, balloons (that spell out your little guy or girl's name), cupcakes, and even some gold-star goodies for the grown-ups. So, whether the group is getting all fired up around the fire truck, taking turns at the tree house, or defying gravity at the celestial-themed bounce area, they'll be having a ball all day long. Read more in our review of Magic Sky.
The Recording Academy Grammy Museum Experience – Newark
Have an ardent musician, singer, or songstress in the family? He or she will be charmed by a visit to the Prudential Center's newest attraction for inspiring future music icons. Though the museum doesn't explicitly offer birthday party packages, parents who recognize their teen or tween's passion for the arts can certainly use their birthday as the special occasion to plan a trip (with or without a few similarly music-obsessed friends). If you're visiting with a group of 10 or more and are interested in a personal tour, the GRAMMY Museum Experience Prudential Center offers tours comprised of educational performances and workshops tailored to your child's specific needs. While you're there, stop by the New Jersey Legends exhibit featuring iconic artists from the Garden State, and have your star pose for a few pictures. They might be worth gold (or platinum) one day!
Rockin' Jump – Wayne
Kids need to work up an appetite for all that birthday pizza, so why not let them take it out on the trampoline? The brand-new, 29,000 square-foot trampoline park at The Willowbrook Plaza is the perfect place to start. Stacked with open jump area trampolines, a ninja challenge course, vertical ops wall, x-beam, slam-dunk zone, dodgeball arena and more, there's no shortage of energy-expending activities to wear out your little warriors. Choose from three party packages, ranging from silver ($395) to platinum ($585), all of which include a dedicated party host to enhance the experience. No matter which tier you pick, your child will be gifted a special T-shirt to commemorate the occasion. Private party rooms book up quickly, so advance notice is advised.
RELATED: Top Birthday Party Places for Preschoolers in New Jersey

Celebrate your child's special day with a hands-on art party at Sip of Art. Photo courtesy of Sip of Art
A Sip of Art – West Orange
Paint-and-sip parties aren't just for grown ups! If your birthday kid has mastered brushstrokes like Monet, then it might be time to book a party at this philanthropic art lounge. Perfect for children ages 5-12, the two-hour party sessions are hosted by a dedicated and engaging instructor who will take partygoers on a step-by-step journey to create their own canvas masterpiece worthy of their walls at home. The studio will provide all the art materials necessary, along with additional pizza and sips (for an additional fee). $30 per child for a weekend party; $25 per child for a weekday workshop. The studio also has a give-back mission: for every private party booked, a percentage of the fee is donated to a school PTA or nonprofit of the person's choice.
Tumbles - The Learning Playground – Princeton
Is your tiny one treading into toddlerhood this year? He or she might be ready for a play party with friends! And there's no better place to take this next step than Tumbles. Just opened in Princeton this past December, Tumbles designs a totally-age-appropriate assortment of activities to match your child's skill set. Whether that means they'll be singing silly songs and crawling through thrilling tunnels or learning gymnastics, conquering the rock wall, or throwing a football, they'll be doing it with supervision and sunny encouragement from two to three party professionals. You supply the cake, candles, drinks, and paper goods, and Tumbles will take care of the rest.
Urban Air Trampoline & Adventure Park – Milltown
New Jersey has jumped on the trampoline trend hard in the last few years, and this new Urban Air location in Milltown is a welcome addition to the flip-and-fly family. If your birthday kid has no fear, he or she will be right at home at these new digs. Featuring wall-to-wall trampolines, air basketball hoops, dodgeball courts, a climbing wall, and an out-of-this-world obstacle course, the park is poised to put on some dynamo parties. We're also super impressed with Urban Air's GLOW birthday package—the lights are off, and the lasers, strobes, and black lights are on while the group plays glow-in-the-dark dodgeball and jumps to their favorite songs. This rave is only offered on Friday nights and sells out weeks in advance, so booking ASAP is strongly encouraged!
Top photo by Kara-Kakes at a Kake Studio Birthday Party