Artificial Intelligence with Scratch Online Camp
Young Gates - Kids Online Personalized Classes

Online Robotics Camp
Young Gates - Kids Online Personalized Classes
Thompson Park's Annual Creative Arts and Music Festival
Thompson Park
Sign up for our free newsletters.
New Indoor Play Space in Central NJ Is a Magical Spot for Small Kids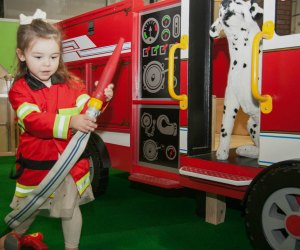 6/28/17
- By
Kaylynn Chiarello Ebner
Something magical has come to Morganville, NJ: Magic Sky Play, a new indoor play facility for young children (8 and under).
Magic Sky is a 2017 Mommy Poppins Bestie Awards Winner, for good reason. Its bright, open layout and creative activities are perfectly suited to a young child's imagination (and the needs of his or her parent). I recently visited with my 6- and 3-year-olds, and we had a blast exploring this sweet new spot.
What the Kids Will Love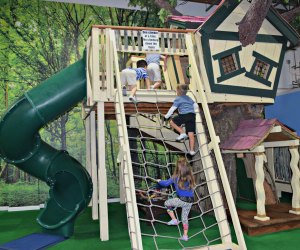 Photo by author
Magic Sky
has about eight large play features and a bunch of smaller things to do and see. For instance, a huge tree house with a twisting slide, climbing cargo net, and lookout points kept my 3- and 6-year-olds occupied for hours. The train table underneath was a fun surprise.
Grab a fireman's hat and climb aboard the large firetruck, which has real working lights. Unwind the firehose to extinguish play fires.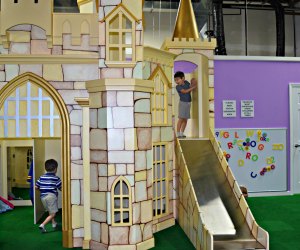 Become a princess in a tutu or a knight in shining armor in the large castle. Climb and slide! ​Photo by author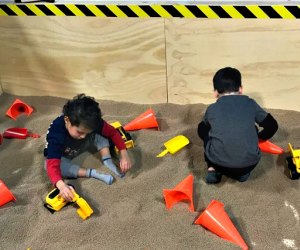 Forget about a dirty old sandbox. Magic Sky Play has a "construction zone" filled with tiny plastic pellets to dig in. Ages 3 and up are recommended.
RELATED: Indoor Trampolines and Bounce Houses in New Jersey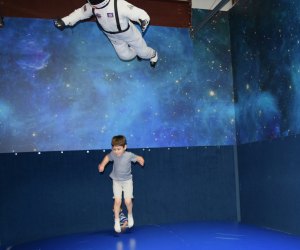 Jump to the moon in the bouncy area. It's an air-filled vinyl dome surrounded by padded walls—no trampoline springs that can cause scrapes and injuries! Photo by author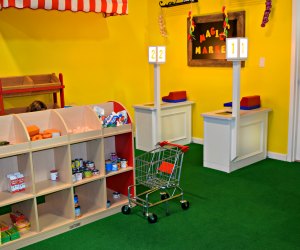 A cute little kitchen, grocery area, and check-out aisles will perfectly capture the imaginations of young kids. Photo by author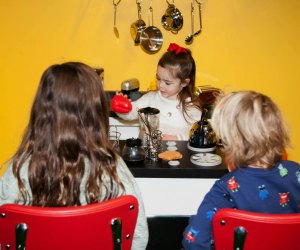 We LOVED the toddler area (24 months and younger) with cushions, toys, books, mats, a pull-up bar, and a mini-gym. It was surrounded by a sturdy gate and windows for looking. While other facilities play lip service to a toddler play zone with one or two ride-ons, Magic Sky embraces it with an area that's clean, fun, and safe.
What else is there? A huge doll house, a magnetic board, building areas, and (depending on the day) crafts. Bathrooms are strategically placed around the play area and facility.
RELATED: Play Spaces with Drop-In Hours for Central NJ Kids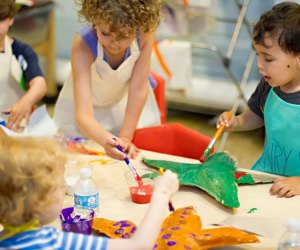 What the Parents Will Love
Two much-apppreciated features of Magic Sky Play are the free wi-fi and lounge area. There are two tables and several high chairs where families can eat a packed lunch or snack. I'm one of those parents that is more likely to bring food than buy, and many times that means we're forced to eat in the car or crowd onto a bench. I loved that Magic Sky is welcoming of external food as long as it's nut free. Packaged snacks and drinks are available for purchase. Note that there is a gift shop with lots of toys that you must walk through to enter and exit the play area.
Also great were the cleanliness of the facility and the staff's attention to patrons. Several staff members are on hand to enforce the rules (with a smile) and clean up toys that are out of place. They were super friendly, too, and my kids loved interacting with them.
Magic Sky is great for themed birthday parties, and there are also classes offered by the semester in areas like soccer, science, art, preschool prep, and more.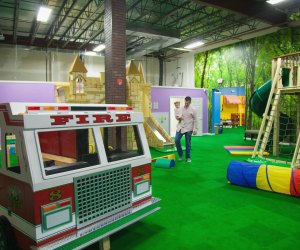 Admission
Kids under 12 months are free with a paid sibling, and two parents per child get free admission. For kids' admission, pay by the day, month, or annually. Note that the facility is open on weekdays (9:30 am-5:30 pm) and weekends (8:30-11:30 am, with parties to follow).
No strollers are allowed in the facility. Socks only in the play area for both kids and adults.
Photos courtesy of Magic Sky Play unless otherwise noted