Where To Find Bluebonnets in Houston this Spring 2023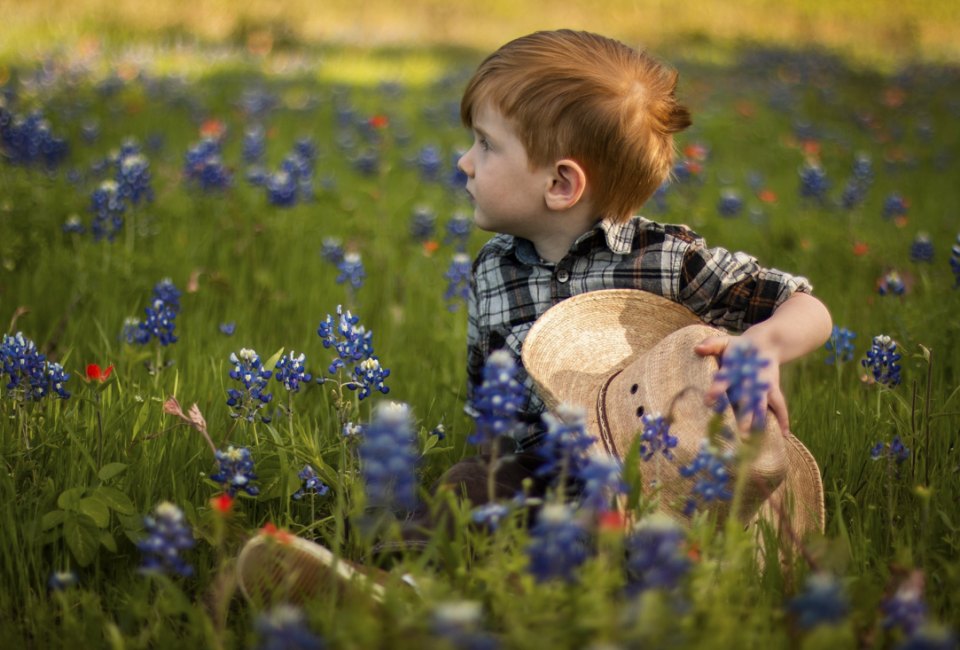 3/12/23
- By
Carrie Taylor
Looking for bluebonnets near Houston? Get those bluebonnet photos at these bluebonnet fields in the Houston area.
It's that time of year again. Texas Bluebonnet season is one of the highlights of Houston's spring activities and runs from about March through May, depending on rains and the length of winter. Houston is home to many reliable bluebonnet beds and fields, as well as some iconic spots on the outskirts of town that are perfect for photos. We've rounded up some spots where you can snap quintessential bluebonnet pictures when the blooms start to open in and around Houston, and we'll continue to update this post as we find more locations.
Many of the best bluebonnet spots are in Houston's parks. Make it a day by checking out our Guide to Playgrounds and Parks for more fun activities.
Bluebonnets around Houston: An overview
The bluebonnet is well known as the official state flower of Texas, but what you may not know is that Texas technically has five state flowers. These five flowers are all variations of the Bluebonnet that grow in different regions and have slight differences in appearance. It is perfectly legal (and encouraged!) to grow these beauties at your home, though it's best to plant them in the fall, around September through mid-November. There is a widespread myth that states that you cannot pick bluebonnets, however in reality there is no law prohibiting bluebonnet picking. Bluebonnet enthusiasts are nonetheless discouraged from taking large swathes of the flowers when out picking.
When it comes to taking photos, don't be discouraged if you only come across a small patch. Remember: angles, angles, angles. The position of your child and angle of the camera can turn a tiny patch into a sprawling field. Lastly, be kind to the flowers; try to minimize the stomping and squashing!

Bluebonnet photos are a Texas tradition. Photo courtesy of Sweet Pecks Photography
Best Places To See Bluebonnets in Houston
Inner Loop
Buffalo Bayou: The park usually has patches across its entire property, and in years past there have been more on the south bank of the bayou. You can park at The Dunlavy, walk the trail about half a mile and you'll usually find them past the first bridge. Address: 1800 Allen Parkway and Memorial Drive, Houston.
Stude Park: Located off White Oak Bayou at Studemont and White Oak (near I-10), this park usually has a decent patch of bluebonnets. Because this is a park, you won't have to struggle to find parking or places to sit. Address: 1031 Stude, Houston
Various spots off Memorial Drive: If you park off Memorial Loop, there are patches just a short walk away near the road all the way to Loop 610. We also recommend heading to Memorial Park, as they usually get some good blooms and there are a lot of outdoor activities you can take advantage of while you're there. Address: 6501 Memorial Dr., Houston.
White Oak Bayou near Loop 610 and 18th St.: The stretch of the bayou that runs alongside TC Jester from W. 34th St. to Ella Boulevard (near 18th St.) typically has tons of flowers perfect for pictures.
Medical District: The corner of Almeda Road and S. MacGregor Way has a beautiful patch each year, though it can be difficult to access.
Montrose/Fourth Ward: Spotts Park usually has large patches every year on the southwest side of the park, so check here if your search for Bluebonnets along Memorial Drive isn't fruitful. Address: 401 S. Heights Blvd., Houston.
Hermann Park: Nestled in the heart of the Museum District next to hotspots like the Houston Zoo and the Houston Museum of Natural Science, Hermann Park typically sees enough bluebonnets to make it a picture-worthy spot. Plus, you can pack in lots of other fun activities while you're in the area. Address: 6001 Fannin St., Houston.
Mason Park: The protected marsh area of Mason Park usually sprouts a crop of bluebonnets. Address 541 S. 75th St, Houston, TX 77023
North & East Houston
The Woodlands: Visit the spacious Rob Fleming Park for patches of bluebonnets. The park is perfect for an afternoon out, so make a day of it and bring a picnic lunch and enjoy the amenities, from fishing to the various playgrounds. Address: 6055 Creekside Forest, The Woodlands.
Humble: The Mercer Arboretum and Botanic Gardens has a small patch in its native wildflower/flower section, just don't expect a massive field. Address: 22306 Aldine Westfield Road, Humble.
Northwest Houston
Cypress: If you head to Fallbrook near the Wortham subdivisions, you can usually find a good patch of bluebonnets. Additionally, both the front and back of the Bridgeland neighborhood have bluebonnets planted.
T.C. Jester Park: You can usually find bluebonnets along the hike and bike trails of this northwestern park. Address 4201 TC Jester Blvd, Houston, TX 77018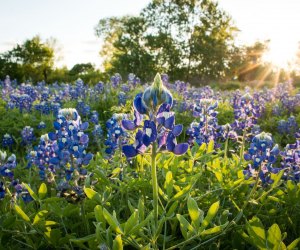 Bluebonnets are the Texas state flower. Matthew Lancaster/Unsplash
Southeast Houston
League City: Flowers grow yearly in League City on Hwy. 96 in between I-45 and Hwy. 3. Check out nearby Hometown Heroes Park at 1001 E. League City Parkway, League City.
Pasadena: Make your way over to the Beltway and Crenshaw for a field is usually full of wildflowers.
Pearland: Bluebonnets bloom yearly on the roadside of 1-35 W between Pearland and Alvin.
Southwest Houston
Westbury/Southwest Houston: The spanning green spaces at the Willow Waterhole Greenway typically have plenty of patches of Bluebonnets. It's a huge park (291 acres to be exact), so you won't feel crowded by your fellow Houstonians. Address: 5300 Dryad Drive, Houston.
Sugar Land: Master-planned community Telfair has Bluebonnets that bloom along the river that runs north-south through the territory, specifically near the Houston Museum of Natural Science at Sugar Land, which is at New Territory and University Blvd.
West Houston
​Energy Corridor: Terry Hershey Park usually has plenty of flowers to go around, and the park itself has fun amenities to make for a good afternoon out - from playgrounds to fishing to hiking trails. Address: 15200 Memorial Drive, Houston.
Far West Houston: Blessington Farms plants bluebonnets every year in its flower patch. It's best to call ahead to check their status before planning your visit. Address: 510 Chisholm Trail, Wallis.​

There are plenty of places to see bluebonnets in Houston each spring. Photo by Elizabeth McGuire, courtesy of austinparks.org
​Other Places Bluebonnets Grow
If you drive along I-10 west toward San Antonio you will likely encounter several patches along the highway not too far past Katy.

Drive out on Hwy. 290 toward Austin, and there are usually large patches near Washington County and east of Brenham. You could make a fun day trip out of this and visit the Blue Bell Ice Cream creamery. There are also tons of spots in and near Brenham to take pictures, including Old Baylor Park and Washington on the Brazos historic site.

Head north on I-45 toward Conroe and take exit 89; there are several patches along the road.
If you have a favorite bluebonnet spot to share, let us know!