Fun Budget Weekend Getaways for Houston Families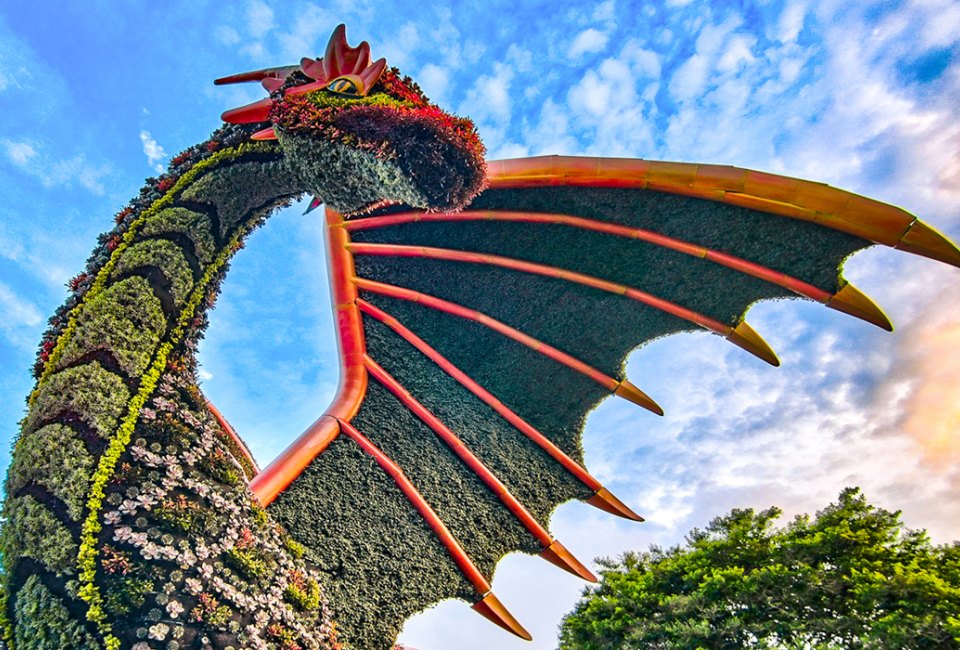 4/14/23
- By
Sarah Banks
The nice thing about budget weekend getaways from Houston (besides saving money, of course) is that there are plenty of options for family fun any weekend of the year. No need to wait for spring or summer break. However, trips away from home can add up in cost - but getting away from it all doesn't mean you have to break the bank. Fortunately, plenty of budget-friendly weekend getaways from Houston offer fun and exciting activities for families. We've compiled a list of ideas for budget-friendly family weekend getaways from Houston nearby and far.

Check out minor league games, like The Corpus Christi Hooks. Photo courtesy of Visit Corpus Christi
Corpus Christi is a great budget-friendly family weekend getaway option. Only around 3 hours from Houston, Corpus Christi provides over 70 miles of Gulf Coast free to visit at the Padre Island National Seashore and various other family-friendly beaches. If you want a break from the beach, you can also visit the Art Museum of South Texas, which offers free admission to ages 12 and under and is free for everyone on the first Friday of the month.
2. Fredericksburg
Fredericksburg is a charming town offering plenty of budget-friendly weekend getaway options. This quaint town has abundant nature, history, and great food options in the heart of the Texas Hill Country. You can visit the Pioneer Museum and learn about the first settlers – kids under 5 are free. You are also a stone's throw from one of the largest natural rock formations in the US, Enchanted Rock, located just north of Fredericksburg in a State Natural Area. If your family likes getting back to nature, consider staying in one of the fourteen cabins in Garner State Park, which have more facilities than many state park cabins, including that essential air-conditioning!
Huntsville State Park has over 20 miles of hiking trails that offer scenic views of the surrounding forests, lakes, and creeks. There are two lakes, Lake Raven and Lake Huntsville, popular fishing spots for bass, catfish, and crappie. The park has a designated swimming area with a sand beach perfect for swimming and sunbathing. When you stay over for the weekend, there are campsites for tents and RVs, as well as screened shelters and cabins. Several picnic areas throughout the park offer tables, grills, and scenic views for a relaxing outdoor meal. The park is home to a wide range of wildlife, including white-tailed deer, armadillos, squirrels, and many species of birds, making it a great spot for wildlife viewing and photography.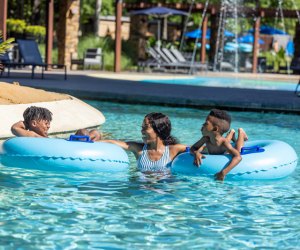 It's easy to take a daytrip or short overnight to The Woodlands. Photo courtesy of Visit the Woodlands
You don't need to travel far from Houston to feel like you're in a different world. Only 45 minutes north of downtown, The Woodlands is a family-friendly wooded community with plenty of free activities. The Woodlands is renowned for its network of trails through the woods, so you can walk, bike, or scooter for miles for free. There are some great parks in The Woodlands - Bear Branch park has an ADA-accessible park, a skate park, a dog park, tennis courts, basketball hoops, and more. North Shore park has a huge lake for fishing as well as a playground and a big green space. Enjoy the musical and lit fountains at Waterway Square, where you can also walk along the canal. The Woodlands Mall has a reasonably priced food court and a fun indoor play area.
San Antonio is a great option for a budget-friendly family weekend getaway from Houston. You can visit the famous Alamo and various Spanish Mission sites for free and explore the beautiful San Antonio River Walk. You can also visit the San Antonio Zoo, which has a variety of animals, or the McNay Art Museum, which offers free admission on the first Sunday of each month and on Thursday nights. The Institute of Texan Cultures is another great historical museum that is free!
6. Lake Charles, Louisiana
We love Texas, but it's nice to have an adventure in another state. Lake Charles, Louisiana, is a budget-friendly family weekend getaway option offering plenty of free activities. You can stroll through the downtown area and enjoy the architecture or visit the Creole Nature Trail for scenic driving, hiking, and wildlife viewing. Along the way, you can stop at crabbing piers and bird-watching areas. You can also spend a day at the free Millennium Park, which has playgrounds and splash pads for kids. It's a great place for the kids to burn off energy and enjoy being outdoors. Before you go, check out the Lake Charles Civic Center calendar – the venue hosts various free events throughout the year.
Austin is another budget-friendly family weekend getaway option. You can explore Zilker Park and Botanical Gardens for free or visit the Texas State Capitol for a free tour. You can also visit the Lady Bird Johnson Wildflower Center, which offers free admission for children 4 and under, or spend a day at Barton Springs Pool, which has a small admission fee. Visit the Public Library, enjoy the giant chess set, and admire the Harry Potter-esque staircases.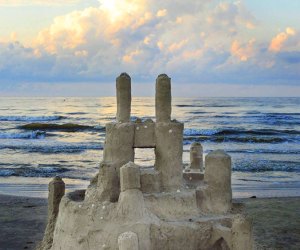 Galveston's best free activity is a visit to the beach. Galveston Island State Park photo courtesy of Texas Parks and Wildlife
Of course, one of the best free family activities is a day at the beach, and Galveston has sand galore, so why not go and build some sandcastles and relax and soak up the sun? Although there are fees for the rides, you can stroll along the historic pier for free and enjoy the ocean views. When you want a break from the seashore, head into the historic Strand with its historic ambiance and the marker for the start of the Juneteenth celebrations when the end of slavery was announced in Texas.
9. Palo Duro Canyon
If you love the road trip as much as the destination, take the long drive to Palo Duro Canyon in North Texas, renowned for its spectacular canyon - the second-largest canyon system in the United States - 120 miles long and 20 miles wide and up to 800 feet deep. The canyon has over 30 miles of hiking trails that offer stunning views. You might spot some more unusual wildlife, including bison, prairie dogs, and numerous bird species. Check the park's schedule for ranger-led geology, history, and wildlife programs. Palo Duro Canyon is far from city lights, making it a great stargazing spot. Bring a blanket and enjoy the night sky.
10. Montgomery
This small town north of Houston offers a variety of activities for kids and is great for a budget family weekend getaway. You can visit the Fernland Historical Park for free, a living history museum that showcases what life was like for early settlers in the area. Kids can explore historic buildings and learn about the town's history. Stay affordably in a cabin at the KOA Campground and enjoy the swimming pool and small lake. The Montgomery Farmers Market is held on Saturdays at the campground and features locally-grown produce and handmade crafts – there are plenty of delights to taste, including coffee, raw milk, Italian baked goods, and honey. There are family-friendly craft breweries and wineries in the area, such as the Frankenboltzzzz brewing company which has outdoor space, a massive shelf of games, and 3 dartboards (that older kids can use with adult supervision). Nearby paid attractions include P6 farms and the St. Francis Wolf Sanctuary.
Click Here to Sign Up!
i