Texas Hill Country with Kids: Where to Go, Eat, and Stay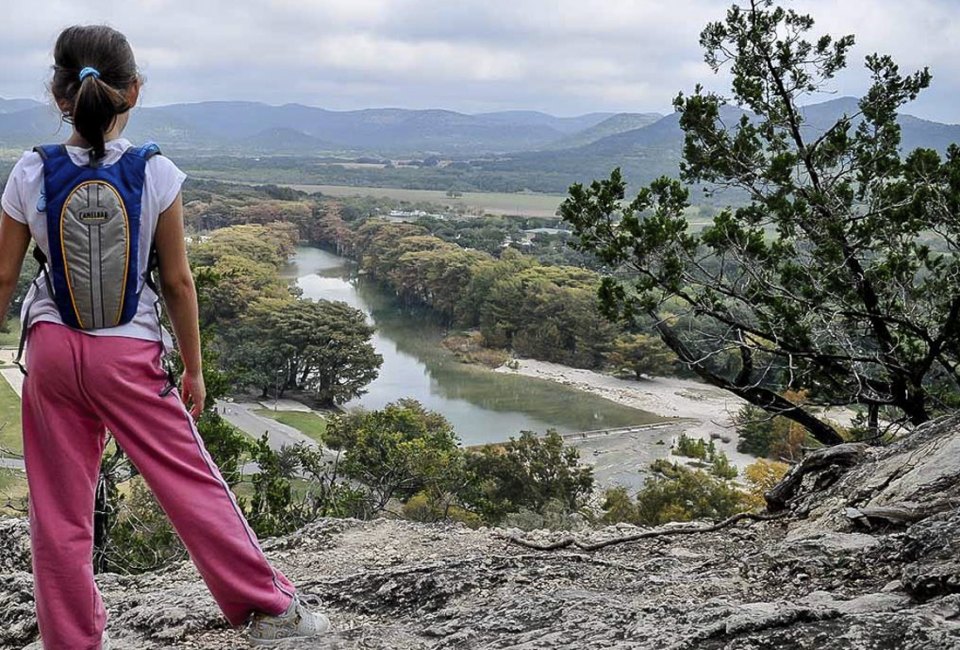 3/11/22
- By
Sarah Banks
We love how easy it is to push our stroller along the flat path of Houston, but sometimes it's great to explore somewhere with a few hills and beautiful scenery! The Texas Hill Country is one of Texas's most popular regions to visit, and with the drive only 3 or so hours from Houston, it's doable as a weekend destination. The area combines natural attractions, historical towns, swimming spots, and great food. Favored by German settlers, the Texas Hill Country includes some authentic German bakeries and restaurants. There are plenty of great accommodation options as well, from remote cabins in State Parks to luxurious resorts. There are lots of things to do in the Texas Hill Country with kids, so check out our guide, which includes family-friendly top attractions and suggestions for places to stay and eat.
Things to Do in the Texas Hill Country with Kids

Cast your shadows on the rock formations at Enchanted Rock State Natural Area in the Texas Hill Country. Photo courtesy of Texas Parks and Wildlife
1. Visit Enchanted Rock - one of the largest rock formations in the country
This 425-foot pink rock is possibly the best-known sight in Texas Hill Country. One of the largest natural rock formations in the US, Enchanted Rock is located just north of Fredericksburg in a State Natural Area. Known as historically important to Native American tribes, visitors now head here to see the majestic views of this impressive granite rock. It's just under a mile to head to the top, although it may be a little strenuous for younger kids. However, as the trail to the top is just one of a total of 11 miles of hiking trails on and around Enchanted Rock, you can find other suitable routes and enjoy a beautiful view of the Enchanted Rock.
2. Hike in the stunning and family-friendly Garner State Park
One of the most beautiful state parks in Texas, Garner State Park is situated 90 miles west of San Antonio. Garner State Park is a great place to visit for a swim or hike, or to enjoy a relaxing weekend. With almost 3 miles of Frio River winding through close to two thousand acres of scenic Hill Country terrain, the park offers lots to see and do! There a few easy shorter trails of less than a mile for younger kids. Visitors can rent paddle boats, kayaks and inner tubes, as well as tables, barbecue pits, heaters and fans. The park's concessionaire operates a tube shuttle and putt-putt golf course during busy seasons.
Visit Lyndon B. Johnson National Historical Park and learn about the 36th president of the US, who grew up in the Texas Hill Country. The park is divided into two units dedicated to his life, including the main visitor center in downtown Johnson City and the LBJ Ranch in Stonewall. In downtown Johnson City, discover the president's birthplace and boyhood home, an early Texas cabin. Then drive about 15 miles west along U.S. 290 to tour the LBJ Ranch, his home before and after his presidency. Your kids will love climbing up the stairs of a genuine retired presidential jet and seeing the prized Texas Longhorn cattle.

Photo courtesy of Natural Bridge Wildlife Ranch
The Natural Bridge Wildlife Ranch allows you to hand-feed many exotic animals including zebra, buffalo, and giraffes. You can see the animals from your car or by safari bus while taking in the beautiful Hill Country scenery. The beautiful 450-acre ranch has 6 miles of driving trail to view the 40 species of animals. After you complete the tour, you can visit the giraffe barn and the lemur enclosure on foot, then stop by the shop and restaurant.
Why not combine your safari at the Natural Bridge Wildlife Ranch, with a trip to the nearby Natural Bridge Caverns? Kids will love the excitement of heading underground for the hour-long discovery tour, which sets off every 10 - 40 minutes. The distance is just over 1 km of walking and does include stairs, so strollers are not recommended. On the tour, you will see stalactites, stalagmites and other amazing rock formations. The great news is there are a variety of additional activities above-ground for all ages: zip rails and ropes courses (one 60-feet above ground for older daredevils and another only 3 feet off the ground for smaller kids to explore with their parents.) A 5000 square foot outdoor maze and gem and fossil mining are other fun activities.
Hamilton Pool Nature Preserve is a natural wonder in Dripping Springs, 20 miles west of Austin. This natural wonder has emerald-green waters and a beautiful waterfall. Although there is no swimming at the moment due to rockfalls, you can still access a beach and enjoy the many hiking trails. Beautiful, tall cypress trees provide shade on your walk. Reservations are for the morning or afternoon and can be made online.

A birds-eye view of the lake at Landa Park in the Texas Hill Country. Photo courtesy of nbtexas.org
7. Take a paddleboat trip and ride the miniature train in Landa Park, New Braunfels
Landa Park in New Braunfels boasts 51 acres of land and water recreation for hiking and relaxing under the shade of giant oak trees. Your kids will love riding the miniature train or heading out on the lake in a paddleboat. There's no chance to be bored with miniature golf and a playground to occupy all ages. You can also use the free fishing pier and wading pool, and there is an aquatic center open in the summer months.

The swimming hole at Blue Hole Regional Park, photo courtesy of friendsofbluehole.org
Ranked as one of the best swimming holes in the state, in the summer you can enjoy all sorts of family-friendly recreation at Blue Hole Regional Park in Wimberley. The park is home to three miles of attractive nature trails, and you can take a picnic and relax in one of the picnic areas. The main attraction is definitely the crystal-clear water in the swimming hole - the kids will particularly love the rope swings which allow them to swing and splash all afternoon!

GF Ranch Private family ride photo by Guy F. via Tripadvisor
9. Head out on the trails horseback riding
Texas Hill Country is a picturesque location with so many trails to saddle up and take the kids horseback riding. Enjoy the view as you head out and about on a majestic horse - this is definitely one of the most fun things to do with kids in the Texas Hill Country. There are a number of options to hit the trails on a horse, including the GF Ranch in Fredericksburg.
10. Relax at a Texas winery
One of the most famous attractions of Texas Hill country is the plentiful wineries with their numerous rows of grapes. Some of the wineries go out of their way to welcome kids, so you can still enjoy the view and local wine with the kids in tow. Check out our guide of the best kid friendly wineries to visit.
Kid-friendly Hotels and Resorts in Texas Hill Country

The Schlitterbahn Resort in New Braunfels, photo courtesy of the resort
Known for being a Bavarian-themed water park, Schlitterbahn is also a year-round resort where you can stay amongst beautiful surroundings on the crystal-clear Comal river. With accommodations as varied and unique as Texas, from a hotel room to a vacation home, chances are you will find something to suit your family's needs.
Lakeway overlooks the picturesque Lake Travis, 25 miles west of Austin. Lakeway Resort and Spa features beautiful accommodations amidst the natural landscape of Texas Hill Country. There is a dedicated kids' pool with a slide and splashpad, and the kids will be delighted that you can jump in a heated pool even in the winter on the weekends.
Peach Tree is family-owned and offers affordable accommodations in downtown Fredericksburg, Texas. The motel has 7 different room and lodging options including standard queen rooms, executive suites and private cottages. The Peach Tree Inn and Suites is a great location for visiting historic Main Street in Fredericksburg.

Garner State Park cabins in the Texas Hill Country. Photo courtesy of Texas Parks and Wildlife
If you like the outdoors, consider staying in one of the fourteen cabins in Garner State Park, which have more facilities than many state park cabins, with a microwave, refrigerator, air-conditioning, and heating. The cabins have kitchens and bathrooms and cost $150 a night, with a 2-night minimum reservation. The rental rate is based on up to four people, and a maximum of six people can stay, at $10 per night for each additional person.
Kid-friendly Places to Eat in Texas Hill Country

Photo courtesy of the Old German Bakery and Restaurant, Facebook
The owner of the Old German Bakery and restaurant worked for 20 years as a German baker before moving to the US in 1998 to take over this Fredricksburg gem. This family-owned business serves German and Texan favorites such as bratwurst (sausages) and schnitzel (pork cutlet), and fried chicken and steak. You can also sample their delicious baked goods.
Offers sandwiches, pizza and pasta, with a kids menu also including mac and cheese and butter noodles. Grown-ups will enjoy the range of craft beers. Kid-friendly with an outdoor play structure and plenty of outside seating. Open Wed-Sun.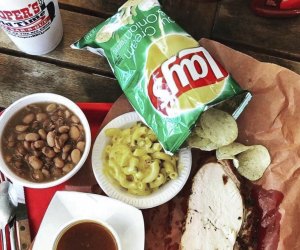 A kid-sized portion of the famous Cooper's Old Time Pit Bar-B-Que, photo courtesy of the restaurant's facebook page
In business for over sixty years, and voted in the top fifty BBQ joints in Texas by Texas Monthly magazine, Cooper's has locations in both Plano and New Braunfels. Whether you like ribs, beef, chicken or sausage, you will find it in this traditional Texan BBQ restaurant. If you still have room after their generous portions, they also bake a delicious range of fruit cobblers.