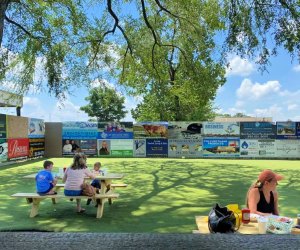 20 Kid-Friendly Restaurants with Room to Play in Houston
Relaxing on the patio with good food and drinks is something that, prior to kids, we used to love to do... and then we had kids and going out to eat became nothing short of a nightmare that quickly got nixed from our weekend plans. All seemed lost, and we resigned ourselves to spending our evenings out at Chick-fil-A until we found these awesome Houston restaurants with play spaces for kids (we also spent an exhaustive amount of time eating near the green area at CityCentre).
And for more ideas on where to eat around the city, visit our Houston Restaurant Guide for families.
Due to the coronavirus health crisis and restrictions, information is always changing. The information in this post is current as of June 23, 2020.

Talk about a game changer - it's like these restaurants knew that us parents needed a space to unwind a bit with the kids in tow, and they delivered with patios that opened up to enclosed playgrounds, sand pits (ok, this one is a catch-22 because of sand everywhere), and toys.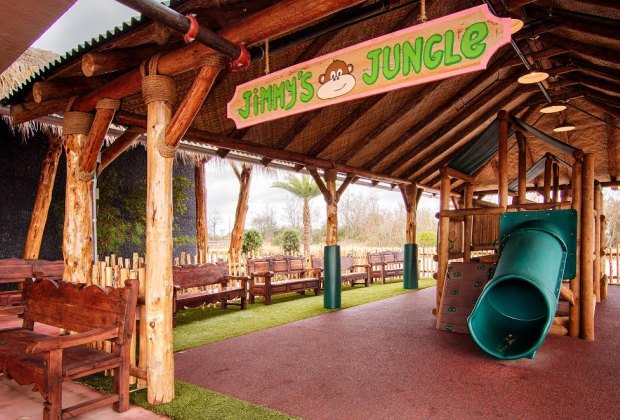 A playground on the patio? Sign us up! Photo courtesy of Jimmy Changas
2020 Update: Currently, Jimmy Changa's is open for dine-in; however, the play area is closed.
Multiple locations around Houston. Find one closest to you here.
For a fresh take on Tex-Mex, you'll want to check out Jimmy Changas. The chain is local to Houston, has a tasty margarita menu and boasts an enclosed playground for the kids (sans the sand, for all those who aren't keen on their kids leaving in need of a bath). Insider tip: while the wait can get lengthy, by downloading the nowait app you can get in line before you even get there.
2020 Update: Restaurant is open. No update yet on the play area.
Multiple locations around Houston. Find one closest to you here.
This Mexican food favorite is known for two things: a patio for parents that overlooks a sandpit full of playground equipment and toys for the kids and outstanding beef fajitas. Just be sure to get there early for weekend dining, because this restaurant hotspot gets busy FAST come Friday at 5 p.m.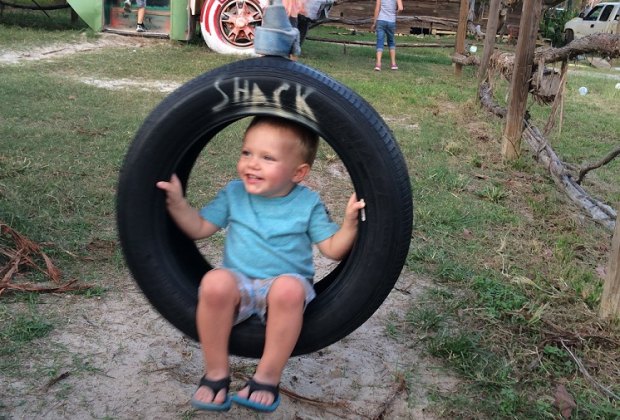 Swinging at The Shack. Photo courtesy of Rachael Cherry
2020 Update: The Shack Burger Resort is temporarily closed for renovations. A reopening date has not yet been announced.
16602 Cypress Rosehill Road
281-256-1575
This is no ordinary burger joint; at The Shack you'll find unparalleled craft burgers, a wide selection of craft beer and an expansive outdoor play space for the kids, making this burger joint a must when it comes to family-friendly dining everyone will enjoy. Burgers and fries are ordered à la carte and offer unique combinations like The Bad Decision - a burger with grilled cheese sandwiches in place of the buns - and Southern Rock fries which are smothered in brisket and cheese.
4. Crisp - Heights
2020 Update: Crisp is open for dine in; however, reservations are encouraged due to limited seating.
2220 Bevis St.
713-360-0222
Crisp is a gastropub in the Heights with a great beer on tap, wine and comfort foods, and it also has a great outdoor space. There are games and a fountain that my kids always get a kick out of playing around.
2020 Update: Bellagreen is open. As well, the CityCentre location and adjoining green space are also open.
801 Town & Country Blvd.
When it comes to healthy fare that is both delicious and made from premier local and organic ingredients, Bellagreen tops the list. Add in that the CityCentre location has a patio that opens up to the famed green space for kids, and you've hit the jackpot for family dining.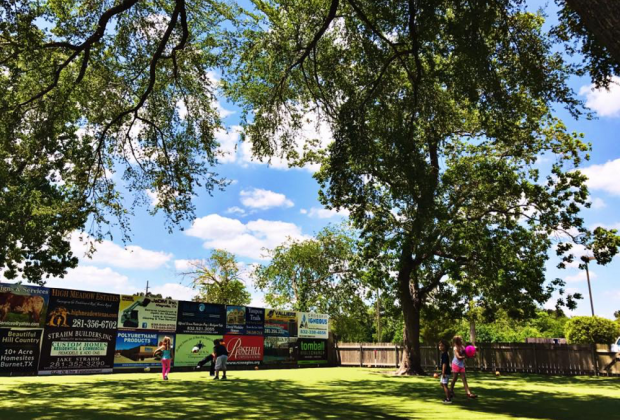 Taking advantage of the backyard at Frey's. Photo courtesy of Frey's Backyard Cafe
2020 Update: Frey's Backyard Cafe and the backyard play area are open.
14441 FM 2920
Known for good food and outstanding service, this small-town cafe is a family favorite. The restaurant serves up home-cooked comfort food with a Texas twist, has a welcoming atmosphere that is both casual and professional and is known for its large backyard area for kids to run and play.
2020 Update: The Del and its patio are open.
6585 Del Monte Drive
713-750-9259
This trendy Uptown spot serves brunch, lunch, and dinner featuring dressed up American classics and has a fabulous patio where you'll often find yard games.
2020 Update: Christian's Tailgate is open for dine-in and the playground at the West U location is open as well.
5114 Kirby Drive
This laid-back burger and beer joint has four other locations around Houston - downtown, Heights, Midtown, and the Energy Corridor, but the newest addition at West University features a cute little playground! There are also table games inside.
2020 Update: Restaurant is open. No update yet on the enclosed playground.
26440 FM 1093 Road 400
281-394-2100
With a blend of American fare and Tex-Mex favorites, an outdoor enclosed playground for the kiddos, daily specials and live music on the weekends, Texas Borders Bar & Grill 1093 is a preferred dining choice for Richmond and Katy locals. As if that weren't incentive enough, Kids Night! starts at 5PM and kids' meals cost only $1.99 with the purchase of an adult entree.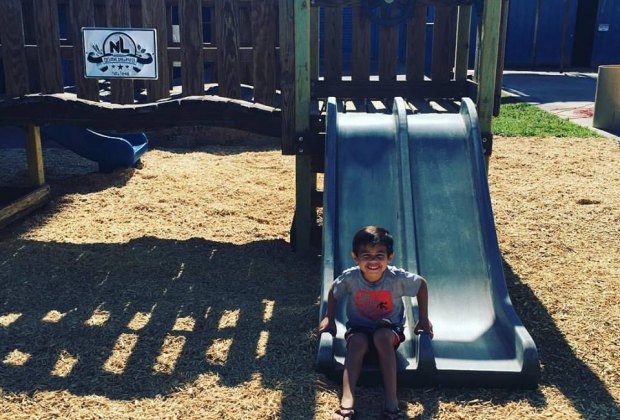 The playground is officially open at No Label Brewing Co. and ready for action. Photo courtesy of No Label Brewing Co.
2020 Update: The brewery is open. No updates yet on the playground.
5351 1st Street, Katy
Craft beer on tap, both indoor and outdoor picnic areas, a playground for the kids, an ever-changing selection of food trucks and a laid-back vibe that can't be beat - what more could you ask for when it comes to kicking back with friends and family on the weekends? Known for its unique location in an old rice silo, this brewery in Old Katy is a favorite destination for kids and adults alike. Love spending time at breweries? Check out our guide to the best family-friendly breweries Houston has to offer.
11. Little Matt's - West University Place
2020 Update: Little Matt's is open for business.
6203 Edloe St.
713-592-6200
You'll find more than good food and a kid-friendly atmosphere at Little Matt's. There's an entire wall devoted to encouragement and support of children and families struggling with cancer. You can leave a wish and donate to charities Little Matt's supports.
2020 Update: Live Oak Grill is open for business.
12935 Dairy Ashford
281-491-5253
There's not just one patio at Live Oak Grill, but two, allowing plenty of space for families to dine outside. The patio area is covered with fans (can I get an AMEN! for that one, especially for summer dining) and there's play equipment for the kids to stay occupied and entertained. You'll find a little bit of everything on the menu here, so dining out is easy for even the pickiest of eaters.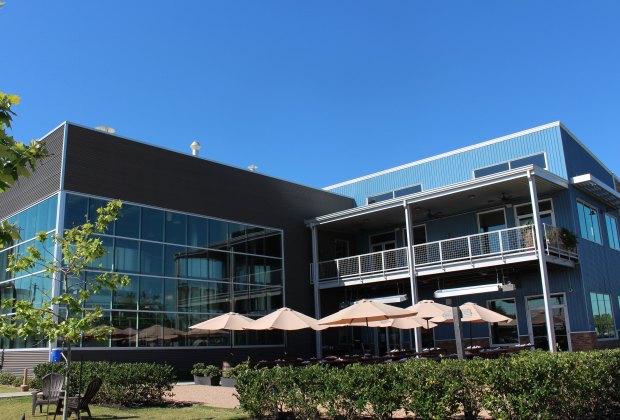 A patio with a view and green space for the kids can't be beat. Photo courtesy of Karbach Brewing Co.
2020 Update: Karbach is open for full-service dining on the patio or in the garden area.
2032 Karbach Street
This brewery doesn't just boast amazing craft beer, but also has its own restaurant on site that's touted as having dynamic, world-class cuisine that pairs perfectly with the beer selection on tap. Combine this with a patio that allows space for the kids to be, well, kids and you have a weekend destination that can't be beat.
2020 Update: Punk's is currently not serving food.
5212 Morningside Drive
713-524-7865
The name may say "Simple Southern Food," but the fare at Punk's is anything but. Enjoy classics like fried chicken, homemade biscuits and deviled eggs for a meal straight from grandma's kitchen, then let your kids run wild on the grassy area right off the patio. Having a birthday? Be sure to tell the staff so they can bring out a bowl of cotton candy complete with a sparkler on top to celebrate!
2020 Update: Last Concert Cafe is temporarily closed due to the health crisis.
1403 Nance St.
713-226-8563
It's places like this that make Houston such a fun place to live. At Last Concert Cafe, you'll find casual Mexican fare and a constant line-up of live music performed on a massive patio. Check out their schedule before planning your visit.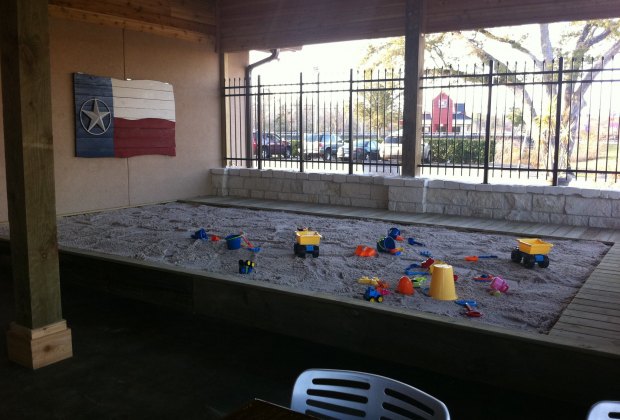 The sandbox at Red River BBQ & Grill is ready and waiting for your kids to enjoy. Photo courtesy Red River BBQ & Grill via Facebook.
2020 Update: Red River is open for 75% seating capacity and can serve parties of 10 guests or less. The sandbox at the Katy location is closed.
1911 East Main St.
281-332-8086
You'll find delicious barbeque items on the menu at Red River BBQ & Grill in League City and Katy, but you'll also find a huge outdoor space and a sandbox filled with kids toys to play with at the Katy location. Kids will love spending time playing with the sand while you enjoy eating your fill of barbeque and listening to live music on the patio.
2020 Update: Hupcap Grill is open for dine-in and the patio is open.
1133 W 19th St.
713- 862-0555
If you're looking to grab a great burger while your kids sprawl out on a massive patio, Hubcap Grill's Heights location is the place you want to be. While they have multiple other locations around Houston, the outdoor dining area in the Heights is totally laid back and allows kids to be noisy.
2020 Update: Jenni's is open for limited seating.
602 East 20th St.
713-666-3537
Kids can play inside of a giant concrete tube structure and draw on it with sidewalk chalk, as well as run around a green space right outside of Jenni's Noodle House in the Heights while you dine on tasty Vietnamese food.
2020 Update: The Pearland location, as are all others in the Houston area, are open for business.
2682 Pearland Pkwy, Suite 120
281-810-5998
Although there are multiple locations throughout Houston, MOD Pizza's Pearland spot has a playground where kids can play until they're nice and worn out after they eat their fill of delicious pizza.
2020 Update: Petrol Station is temporarily closed due to the health crisis.
985 Wakefield Dr.
713-957-2875
A refurbished gas station, Petrol Station offers a cool, laid-back atmosphere that's perfect for the beer aficionado grownups in the family and kids love it, too. With a large patio area, occasional live music, and movies projected on an outdoor screen, the entire family is sure to have a good time.
Top photo: Playing at the Shack Burger Resort in Cypress. Photo courtesy Lisa Baird
This post originally published in June 2017.