30 Things To Do Near South Padre Island, TX with Kids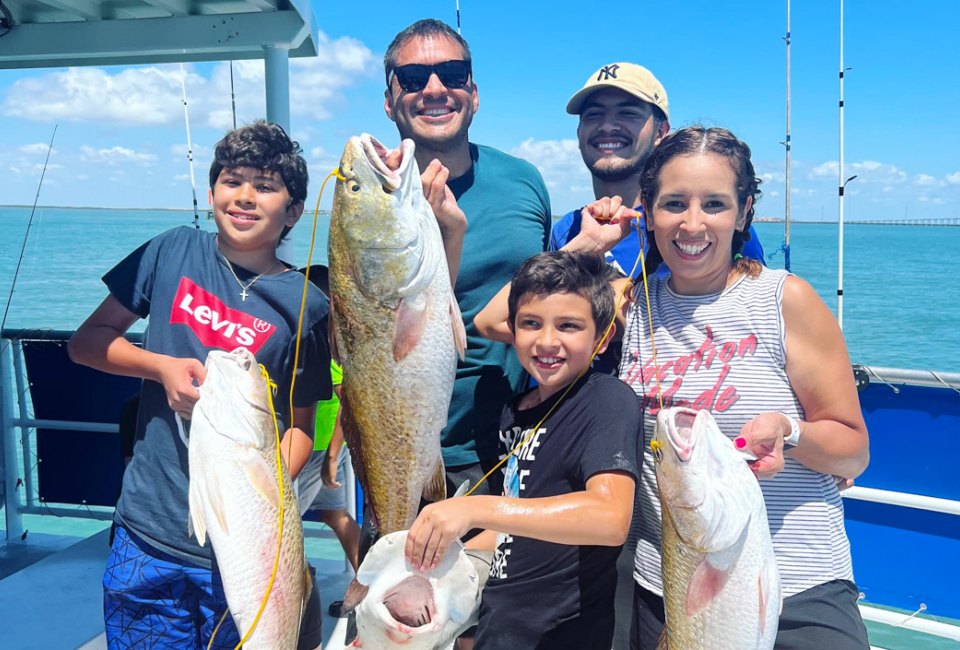 6/11/23
- By
Rebecca Matheson Ortiz
South Padre Island brings ultimate family fun and a taste of the tropics without ever leaving Texas. Roughly six hours south of Houston, this coastal getaway is worth the drive with its 34 miles of white-sand beaches, gorgeous Gulf Coast waters, and tons of activities the whole family can enjoy. We've rounded up the 20 best things to do in South Padre Island with the kids, from boardwalk trails and rocket launches to pirate boating adventures, museums visits, and more. And to make planning your vacation a breeze, we've also scouted out the top family-friendly resorts and restaurants you won't want to miss.
Looking for beachy fun that's closer to home? Browse our guide to Galveston for the best things to do there with children in tow. If you're hoping for more weekend excursions that are easy to pull off from H-Town, check out our Houston Getaways Guide. Or, if you're planning a big family vacation and need some destination ideas, give our Family Travel Guide a look for top family destinations across the US.
20 Kid-Friendly Activities For Your South Padre Island Family Vacation
This 25-acre waterpark features more than a dozen slides, eateries, beach access, and more. Big kids can whoosh down slides while even the littlest tikes can splash and play at Sand Castle Cove, the family water playground. As an added bonus, you can pack your own picnic (food and drinks are free to bring in; however, coolers and bags are charged a $12 fee).
While a boardwalk stroll and birdwatching are musts when you visit this nature center, it's the Alligator Sanctuary that the kids won't be able to stop talking about. Stop in for a daily Gator Talk and to "meet" Big Padre, a 12' 6" gator. And make sure to add on the $10 Adventure Package, which includes a photo while holding a snake and baby alligator.
Ascend the 75 steps and two ladders of the 1852 Port Isabel Lighthouse for gorgeous South Padre views and a chance to observe the beautiful 3rd Order Fresnel Lens (but please don't touch). The lighthouse climb is available for kids ages 5 and up. The Keeper's Cottage Visitor's Center museum and grassy public park at the tower's base are great for learning about the structure's history and for family photo ops.
This museum is located in the 1899 Champion Building showcasing an exterior fish mural originally painted by a local fisherman in 1906. The two-story building is filled with exhibits that share the history of the Laguna Madre region.

The beach is the main attraction on South Padre Island on a sunny day. South Padre Umbrellas photo by William Heinrich via Flickr (CC BY-NC-ND 2.0)
5. Hit the beach
Of course, you can't skip the beach on your South Padre Island trip! Powdery white sands and waters as blue as what you'll find in Florida lure visitors to soak up the sun. Along Gulf Blvd., visitors will find 25 beach access points. Pick your shores, from drive-on options to beaches that have parking, facilities, and even playgrounds. With so many spots along the miles of shoreline, you can choose between quiet spots with a few other visitors or fun times among the crowds.
Cruise the Gulf to spot pods of dolphins swimming in their natural habitats when you take the family on a Dolphin Watch Tour boat. Your little ones will shriek with joy at seeing bottle-nose and spinner dolphins leap from the sparkling waters in a truly unforgettable experience. Either soak up the views with a Sunset Tour or opt for up-close marine life encounters along with dolphin sightings during an Eco Tour.
Through conservation and rehabilitation efforts, Sea Turtle, Inc., strives to protect these gorgeous creatures. Learn all about the mission and contribute to the cause when you visit. Kids (and parents, let's be real) will love seeing all the turtle residents, from those on the road to release to the life-long residents who aren't fit for open seas. Tours are self-guided, but presentations and turtle feedings are also on the agenda.
This South Padre Island adventure and amusement park features thrills and clean family fun. Whether you're looking for heart-pounding drops on The Rocket reverse-bungee ride or wanting to enjoy a chill game of mini golf with the fam, you'll find something to bring a smile to every face. Go-karts, an arcade, Ferris wheel, trampolines, and more are also available for a fun-filled family day.
A fan-favorite, guests 6 and older can saddle up for a leisurely horseback ride along the shore. Choose from an hour-long ride that's great for families with younger children or enjoy a 1.5-hour morning or sunset ride with these gentle giants. If you time it just right, you can book a Moonlight Horseback Ride (offered only 4 days before and during a full moon) and watch the moon glisten off the waves from a sand-dune lookout.
10. Spot sand sculptures along the Sandcastle Trail
Fitting for what's called the "Sandcastle Capital of the World," South Padre Island is home to the Sandcastle Trail, featuring 23 sand sculptures located throughout the island. These incredible structures, most of which are sandcastles, were created by professional sand artists ranging from local makers to creators from across the globe. You're likely to find them in front of hotels, restaurants, and local attractions, so make a game out of it and cross them off the map as you visit each one.
11. Learn how to build a sandcastle
Get inspired by the designs along the Sandcastle Trail and try your hand and building your own sand sculpture. A local pro can walk you through the basics, from building a classic castle to sculpting characters and more. Your family will leave with impressive skills to show off next time you're at the beach. Browse the list of sand art experts and get on their schedule for sandcastle lessons.

Padre Island is the perfect place for first time fisherman. Photo by Pinke, via Flickr (CC BY-NC-ND 2.0)
Take the kids to the pier and see who can reel in the biggest catch from the Queen Isabella State Fishing Pier. Located on a one-acre park, this causeway-turned-fishing-pier is the perfect spot to snag trout, catfish, and more. Take your bounty to dinner with you, where many restaurants will "cook your catch" for the ultimate fresh seafood experience.
Art and turtle lovers alike will enjoy this fun little Sea Turtle Art Trail on South Padre Island. Each of the permanent turtle sculptures along the trail is unique, from a carved wooden design by local artist Andy Hancock to the colorful, dog-lover turtle by artist Chelsea Fedigan, and so more. Follow the map to spot all 12!
14. Set sail on a pirate ship
Ahoy, mateys! All aboard The Black Dragon pirate ship for a swashbuckling good time the whole family will enjoy. During the cruise, kiddos can take part in interactive adventures, like learning pirate talk, pirate fighting lessons, and treasure hunting.
SpaceX is currently testing the Starship, which it hopes will be able to orbit Earth, the moon, and even Mars. A big part of this, as well as the company's many other projects, includes rocket launches! Catching a rocket launch takes advanced planning (and may end in disappointment if there's a failed or scrubbed launch), but if it all goes right, the experience of watching a rocket launch into the Final Frontier of space is worth navigating the logistics—your kids will get to see some very cool history in the making.
16. Burn off extra energy at a park
South Padre Island has tons of public parks for visitors to explore. Get active at Andy Bowie Park, which includes a playground, amenities, and beach access, enjoy a quiet picnic among the monarchs and native Texas plants at Butterfly Park, play on exciting structures at Turtle Park, and more.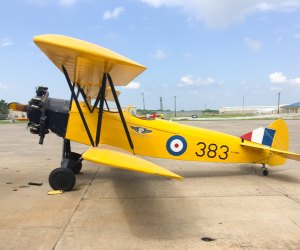 Visit vintage aircraft at the Cameron County Airport. Photo courtesy of the Cameron County Airport
The Rio Grande Valley Wing of the Commemorative Air Force is located at the Cameron County Airport. This volunteer-run establishment is home to eight flying WWII aircraft as well as other vehicles and artifacts. It's free to visit, but donations are encouraged.
18. Get the full South Padre Island experience at Isla Blanca Park
Known as the island's crown jewel, Isla Blanca Park is a destination unto itself and can be found on the southernmost tip of South Padre Island. Along with a mile of accessible beaches boasting crystal-clear waters and powdered-sugar sands, Isla Blanca Park offers restrooms, showers, picnic areas, restaurants, a full-service marina, water sports, a water park, walking trails, cabana rentals, RV hookups, campsites, and so much more.
Get out in nature and see local wildlife, like migratory birds, when you traipse across four acres of marshland on a 1,500-foot boardwalk. Point out the fiddlewood berries growing along the easy trail and see who can spot the most birds.
Sign the family up for a semi-private or group surf lesson and get your whole bunch out on the water and riding the waves. During lessons with SPI Sessions, you'll learn the ins and outs of surfing, from the basics to etiquette, safety, and more with the guidance of highly trained instructors. After you learn how to hang 10, you can sign up for stand-up paddleboard or skateboarding lessons through the same company and take your new skills home with you.
5 Kid-Friendly Restaurants on South Padre Island
From waterfront seafood restaurants to the ultimate Tex-Mex experience, these five family-friendly restaurants are sure to please even your pickiest eaters.
Beachy restaurant dishing up fresh food with a casual vibe. They have everything from fresh seafood to burgers, steaks, sandwiches, and more.
South Padre Island staple serving up a little bit of everything, from fried shrimp and fresh fish to Fettuccine Alfredo, steak, hot dogs, and more. A wide-ranging kids menu offers options that are sure to please.
For a taste of Italian, make your way to the Meatball Cafe for fun times and good eats. The menu touts a large variety of pastas, pizzas, paninis, and more.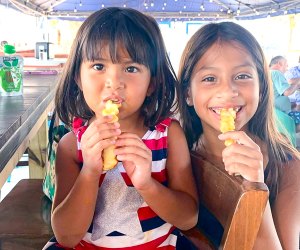 Mahi Nic serves kid-friendly food on a dock. Photo courtesy of the Mahi Nic Facebook page
Dockside restaurant featuring creative hot dogs, hand-cut fries, burgers, fish tacos, and sandwiches that are sure to fill you up after a day of fun in the sun.
Get your fill of Tex-Mex favorites at this casual eatery featuring enchiladas, tacos, nachos, fajitas, and more. And ice-cold aqua frescas add a refreshing touch after a hot day at the beach.
South Padre Island's 5 Best Family-Friendly Hotels and Resorts
From kids activities and pools to walkable locations, these five South Padre Island resorts are perfect for families traveling with children.
This brand-new Margaritaville resort is perfect for families with its oceanside location and fabulous pool and eateries.
Full-service resort in a prime, beachfront location on 10 verdant acres. Kids activities are hosted seasonally.
This family-friendly oceanfront resort features three pools, seasonal kid and family activities, and on-site restaurants.
This kid-friendly resort is located on the beach and just across the street from Sea Turtle, Inc. and the Alligator Sanctuary.

Courtyard photo courtesy of Marriott
New beachfront resort welcomes families with a splash pad for kids adjacent to the saltwater pool.
Click Here to Sign Up!
i