Best Breakfasts in Houston for Kids and Families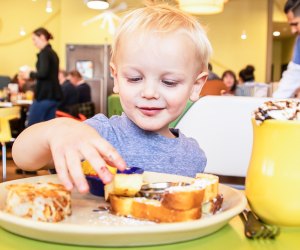 2/12/23
- By
Sarah Banks
Looking for restaurants serving breakfast in Houston? Check out one of these kid-friendly breakfast restaurants for when the kids are up early.
Where is the best place to take kids for breakfast in Houston? Whether you prefer eggs and bacon, breakfast tacos, pancakes, migas, donuts, or masala eggs, we've got the answer for you. All parents know that eating out with kids can be challenging, especially in the evening when they're tired. So why not take your kids out first thing in the morning and enjoy delicious food when they are at their best? Then they're fueled and ready for a busy day. We've picked independent and chain restaurants that we know will welcome you and your kids to fill up on breakfast treats. If your kids have woken you up early, these restaurants are open early to serve you breakfast, and some have an online waitlist, so you don't need to stand in line with hungry kids!
Don't worry if you miss your early morning dining. Some choices serve all-day breakfast, or you can check out our full restaurant guide for more ideas on family-friendly restaurants in Houston.
Independent Breakfast Restaurants in Houston for Kids and Families

Photo courtesy of Kenny and Ziggy's
Breakfast Mon - Sat 7 a.m. - 11 a.m., Sun 8 a.m. - 11 a.m. (Deli open till 9 p.m.)
Kenny and Ziggy's has been a staple in Houston for over twenty years. In January 2022, they moved to a new location with a bakery, patio seating, and a coffee and milkshake bar! The weekday breakfast specials (served till 11 a.m., excluding holidays) allow you to get a full plate of food at affordable prices. The sides are available in small portions, such as one pancake, one egg, or toast with butter for small appetites.

The Breakfast Klub is a Houston classic. Photo by Cool Beanz, courtesy of the Breakfast Klub Facebook page
Breakfast all day Mon - Fri 7 a.m. - 2 p.m., Sat - Sun 8 a.m. - 2 p.m.
This popular midtown spot is frequently featured in best-breakfast lists and positively encourages families. The breakfast menu includes many favorites, such as pancakes, waffles, and a vast range of breakfast sandwiches and dishes, including Green Eggs and Ham (for your Dr. Seuss lovers!), French Toast with eggs and meat, and Biscuits and Gravy.
Breakfast all day 7 a.m. - 9 p.m.
An extensive range of Mexican and Tex-Mex breakfast delights is served all day at La Mexicana, and you'll be sure to find a breakfast taco to please every family member. Favorite plates include Huevos Rancheros - eggs topped with salsa ranchera, served with beans, Migas - eggs scrambled with pieces of corn tortillas, topped with queso fresco, served with beans, and Chilaquiles - fried corn tortillas pieces with onions, cooked in salsa ranchera, topped with queso fresco, and served with beans. This restaurant has been open in Houston for forty years, so we know they're doing something right! If you're eating later in the day, check out our list of Mexican restaurants that serve free ice cream!

Kid-friendly, but slightly more upscale. Photo courtesy of Tiny Boxwoods in River Oaks
Breakfast Tues - Fri 8 a.m. - 11 a.m. Breakfast items from their brunch menu Sat 8 a.m. - 3 p.m. or Sun 9 a.m. - 2 p.m.
If you want an upscale breakfast cafe, head to Tiny Boxwoods, where kids can explore shrubs and flowers near the outdoor patio. While kids can't play on the lawn, there is plenty of greenery to look at, as the restaurant is located right by a nursery. Breakfast options include mother's breakfast with sausage or bacon, scrambled eggs, white cheddar grits, biscuit, and strawberry jam (jelly), or enjoy the pastry board, which includes a choice of three pastries.
Breakfast all day 6 a.m. – 9 p.m.
Enjoy casual surroundings and a sweet breakfast at Glazed, which offers Cinnamon Toast Crunch donuts, French Toast donuts, and their infamous breakfast sandwich donut. You can order eggs and bacon on the side, and there is a good range of coffees. Glazed is one of Houston's family-friendly, black-owned restaurants.

Photo courtesy of Pondicheri
Breakfast all day. Bakery open 8 a.m. – 5 p.m. Restaurant open 9 a.m. – 9 p.m.
Pondicheri is an Indian restaurant and bakery with a welcoming, modern vibe. The downstairs restaurant has an outdoor patio, and the upstairs bakery has a small outdoor balcony. The restaurant breakfast includes masala eggs with a dosa or carrot roti and coconut pancakes with jaggery caramel and fresh fruit. The bake lab has casual breakfast food like oats or toast, as well as Indian-influenced choices such as the Bombay benedict that comes with delicious masala spices!
Chain Breakfast Restaurants in Houston for Kids and Families

Photo courtesy of Snooze, a breakfast restaurant in Houston.
7. Snooze - Various
Breakfast all day 6.30 a.m. – 4 p.m.
Snooze is perfect for early risers as it opens at 6.30 a.m. daily, serving up a delightfully large selection of creative dishes. The Snooze Classic includes three eggs cooked any style and with your choice of ham, bacon, sausage, chorizo, pulled pork, chicken sausage, or soyrizo. The Classic also includes hash browns and a choice of toast. The kids menu has plenty of great choices, such as the quesadilla filled with potatoes, eggs, and cheese, and all kids items include hash browns on the side, fruit, and choice of juice or milk. Your little cowboy will also enjoy the Lil Pardner's Pancakes!
Breakfast all day 8 a.m. – 9 p.m.
This affordable Tex-Mex restaurant has multiple locations around Houston and is a great place to grab your Big Joe Burrito (Large flour tortilla filled with two eggs, potatoes, bacon, cheese and beans.), Hotcakes (pancakes) or Huevos Estrellados (eggs served with refried beans, red chips, seasoned potatoes, your choice of bacon or ham. Flour or corn tortillas).
Breakfast all day 7 a.m. – 2 p.m.
Enjoy an extensive breakfast menu at Another Broken Egg, including some Texas classics. Why not try the Chicken and Waffles, with crispy fried chicken tenders on a Belgian waffle, drizzled with honey? It's never too early for a Biscuit and Gravy, with house-recipe country sausage gravy over an oversized biscuit, two eggs any style, and two house-made sausage patties. If you have a sweet tooth, you might order the Cinnamon Roll French Toast, with house-baked French-toast style cinnamon rolls topped with cream cheese icing, rum butter sauce drizzle, fresh seasonal berries, and fresh whipped cream. Served with two eggs any style and baked bacon or house-made sausage patties. There is a kids menu for smaller appetites, including the Waffle Sampler, which includes a kid-size waffle topped with powdered sugar - served with scrambled egg and baked bacon.
Breakfast all day 7 a.m. – 3 p.m.
The Toasted Yolk prides itself on the fact that everything is made from scratch. They offer tasty dishes such as the Cowboy Scramble with biscuits, covered with bacon, sausage, ham, onions, and three scrambled eggs topped with country sausage gravy and served with hashbrowns or grits. Another option is the granola Apple French Toast which includes French toast glazed with cinnamon-apple compote and topped with fresh granola. For something sweet and tasty, why not try the donuts "churro style," - cake donuts dusted with cinnamon and sugar served with warm caramel dipping sauce?
Click Here to Sign Up!