Fun Things to Do in Lake Livingston State Park with Kids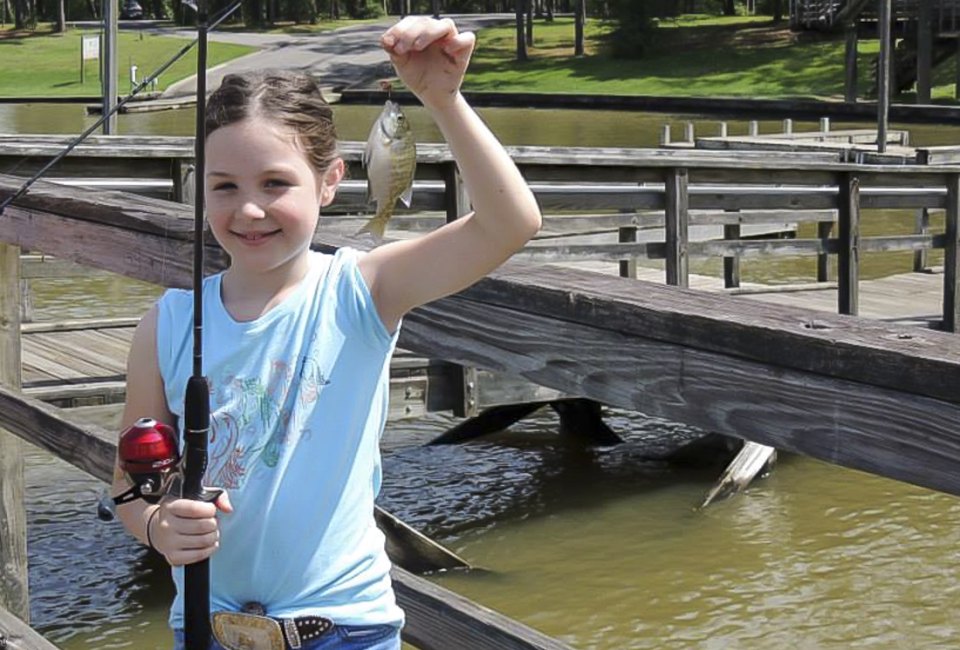 5/6/22
- By
Sarah Banks
Did you know that one of the largest lakes in Texas is only one hour north of Houston? Part of the Pineywoods region, Lake Livingston is 39 miles long and has 450 miles of shoreline. Lake Livingston State Park is a hidden paradise of swimming, fishing, boating, and camping. Lake Livingston is a great destination for families in Texas who love the outdoors - the tall trees provide shade when the temperatures start to rise, and you can jump in the water to cool off in the designated lake swimming area.
You can check out some other great outdoor destinations in our family travel guide to the United States national parks.
Check out our list below of fun ideas for things to do in Lake Livingston State Park with kids.

Lake Livingston is home to a variety of fish.
1. Fish off the fishing pier
Lake Livingston is known for its white bass population, and you can also catch catfish, crappie, bass, or perch. The park has a fishing pier, bank fishing, and two fish cleaning stations. You don't even need a fishing license to fish in a state park. Lake Livingston State Park has put together a fishing tips sheet to help you and your kids succeed! If you want some professional help, expertise is close by - consider hiring a fishing guide with their own boat from nearby Livingston.
Rent a canoe, kayak, or paddleboard and head for the water.
2. Paddle on Lake Livingston
Weather permitting, the rangers at the state park store rent out canoes, stand-up paddleboards, and kayaks at the park store from Thursday to Sunday from 8:30 a.m. to 3:30 p.m. Self-service rentals are also available through Paddle EZ Monday-Wednesday from 7 a.m. - 5 p.m. and Thursday - Sunday from 3:30 p.m. - 5 p.m., with extended hours in the Spring and Summer. Livingston State Park also has boat ramps if you have your own boat.

Photo by Chase Fountain, for Texas Parks and Wildlife
3. Cool off in the lake
There is so much fun for the family on and in the water at Lake Livingston State Park. Lake Livingston has a designated swimming area, although entry is by ladder rather than a beach. There is no lifeguard, so swimming is at your own risk, and the Texas state park website provides some water safety warnings. You may see mention online of a swimming pool at the state park, but that is no longer in use.
4. Hike the trails
Lake Livingston is a perfect destination for families with younger children, as the trails are shorter and of easy or moderate difficulty
The Hawthorn Trail, Oak Flat Trail and Fó:si Trail wind through woodland and are all half a mile or shorter.
You can enjoy the fun of walking on a boardwalk on the Pineywoods Boardwork Trail, which passes through both woodland and wetland and has a wildlife viewing area and a frog pond.
Use our hiking games to motivate your kids when their legs get tired.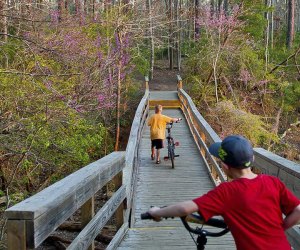 The bike trails at Lake Livingston State Park​. Photo by Chase Fountain, for Texas Parks and Wildlife
5. Cycle through the woods
Lake Livingston State Park is a great spot for biking as the hiking trails are also suitable for biking. The trail map provides full details for hiking and biking options. Try out the Babka Trail circuit or the Trinity Trace Trail, which are both about 2 miles long, or link together some of the shorter paths.
6. Play in the playground
Lake Livingston State Park has a playground where kids can enjoy the company of other kids and have fun on the play equipment.
7. Grill up a tasty feast
Plenty of picnic tables and grills are available to enjoy the outdoors and cook up a meal after outdoor activity. So many good family memories revolve around food! Snacks are also available in the park store.

The Group Hall makes a great venue for gatherings. Group Hall photograph courtesy of Texas Parks and Wildlife
8. Have a gathering in the Group Hall
Why not bring friends and family together and rent the Group Hall for $125 plus the daily entrance fee? Up to fifty people can gather at the Activity Center, which has a large BBQ grill.
9. Bring your dog to a new place to sniff!
Texas State Parks allow dogs on a leash, so the whole family can come and hike and camp. Your dog will enjoy the change of scene as much as the kids, and you save yourself the expense of dog sitting.
10. Try out geocaching
Geocaching is a worldwide trend that makes being in the outdoors a fun treasure hunt. Use these hints to find your first geocache. Make sure you let the park HQ know if you create a geocache.
11. Set up camp
There are several camping options in Lake Livingston State Park, with 142 sites to suit different vehicles, tents, and budgets. The State Park has 9 screened shelters on the lakefront, a 12 x 18-foot building with a concrete floor, and a picnic table and electricity. Water, grills, and electric hookups are available, and restrooms are nearby. The shelters cost $30 per night. There are also 68 full hookup campsites for recreational vehicles ($25), 49 campsites with electricity ($20), and 15 sites with just water ($15). At weekends there is a minimum 2-night stay, and the daily entrance fee is in addition to the site cost. You can check availability and make reservations online.
Even if you don't have your own equipment, the state park sometimes runs events where they guide families through camping with a tent and provide equipment and host activities.
12. Buy a souvenir
Head to the Sunset Marina store and pick up a cool souvenir of your trip, such as t-shirts, caps, and bumper stickers. You can also pick up bait, ice, snacks, cold drinks, and treats. The store is also next to the observation tower, where you can climb up to see a great view of the vast lake.
Junior Ranger program at Lake Livingston.
13. Take part in the Junior Ranger program
The Junior Ranger Youth Explorer program is run by Texas State Parks and helps kids learn about the great outdoors by observation, writing, and drawing. You can download or pick up their free Junior Ranger Journal, and if you complete a certain number of activities, you can earn a Junior Ranger pin.
14. Play games
Your trip to the state park is an excellent chance for the family to play games. Whether hide and seek or corn hole, games make us laugh and have fun together. Check out our guide to backyard games, most of which can be played on your state park trip.
15. Relax and look at the sky
Your trip to Lake Livingston State Park doesn't need to be hectic - take time out to relax and look at the sky. In the daytime, look at the clouds and see what shapes you can see. When it gets dark, set up a blanket and look through binoculars or a telescope at the stars. You might even see fireflies!
More Tips for Lake Livingston State Park
Where is Lake Livingston State Park?
The park is about an hour northeast of downtown Houston - along the I69, passing through Cleveland, and on to Livingston. Hours are from 6 a.m. to 10 p.m. daily, and overnight camping is available.
How much does it cost to visit Lake Livingston State Park?
The entrance fee is $6 per person, per day, but your kids 12 years and under are free. If you plan to revisit or go to another state park, the Texas state park pass allows you unlimited entry to over 80 state parks, with discounts on camping, park store purchases, and equipment rentals. The pass member's guests enter free with them, so for $70, the whole family can have access to Texas's state parks all year.
What's near Lake Livingston State Park?
The state park is only 8 miles from the historic town of Livingston, where you can visit Pedigo Park or learn more about the area at the Polk County Memorial Museum. The Alabama-Coushatta Native American Tribe of Texas live in Polk County and hold an annual PowWow on the first weekend in June.
Want more information?
Check out the Lake Livingston State Park website and FaceBook page.
All photographs, unless otherwise indicated, are courtesy of the Lake Livingston Facebook page.
Places featured in this article:
---
Lake Livingston State Park
Click Here to Sign Up!
i