Interactive Puppetsburg Show at Brooklyn Greens
Brooklyn Greens
Submerge: NYC Marine Science Festival
Hudson River Park Pier 84

Cirque-tacular presents 'The Art of Circus'
BMCC Tribeca Performing Arts Center
12 Hiking Games for Kids That Turn Walks into Adventures Again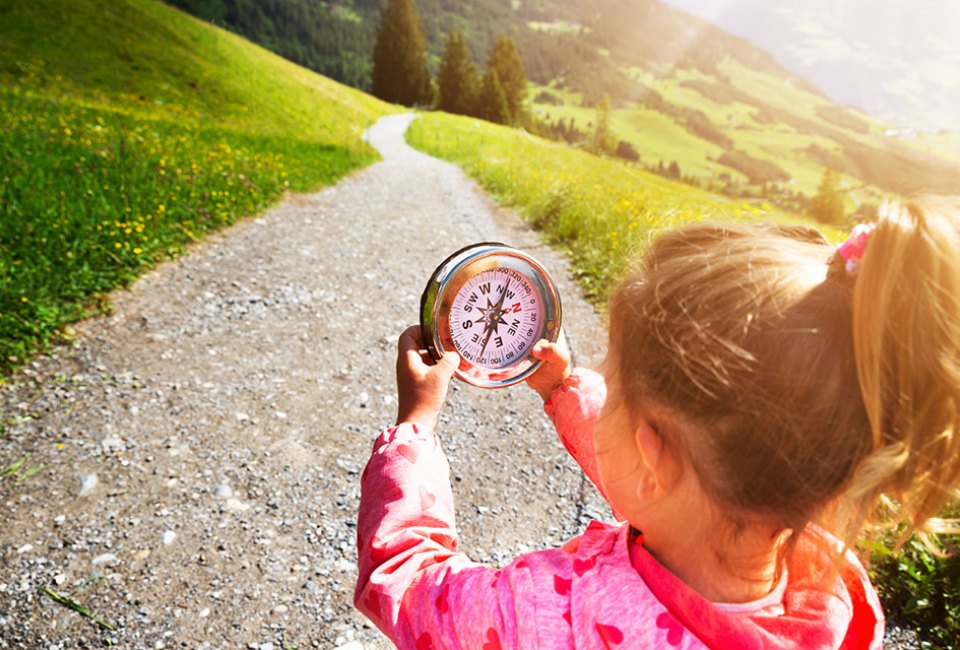 4/20/21
- By
Kristen Markel
This past year, hiking has exploded in popularity. Families enjoying Mother Nature have filled parks from coast to coast. Hiking is a great (free) activity that allows people to remain socially distant. And you can find hikes all over the country that are perfect for kids of all ages, from babes in backpacks through slightly surly teens.
While time in nature is awe-inspiring for adults, it can quickly get stale for kids. Little ones that were once keen to lace up their sneakers are now reluctant to head out the door. That doesn't mean that it's time to stay indoors—just add some pizazz to those outdoor activities. Here are 12 hiking games for kids that turn walks into adventures.
1. Steps Challenge
Arm everyone with a pedometer and make your outing a competition to see who takes the most steps. As you hike, think about the winning walker's prize. (Ice cream, maybe? You've earned it!)
2. Scavenger Hunt
Jot down a list of things that can be found in nature and have the kids check them off as they stroll. Birds, trees, rivers, and leaves are all great entries. If you are not feeling creative, here are some pre-made printables.
3. Walkie-Talkies
Pack a pair of walkie-talkies, and the kids can pretend to be on a secret mission. Let them describe what they see and where they are.
Turn your hike into a search for buried treasure with geocaching. Using specific coordinates, search for one of the many caches planted around the world. Older kids love this activity.
5. Search For Wildlife
Pack a pair of binoculars and have the kids look for different types of animals. Many parks have placards listing which creatures inhabit the environment.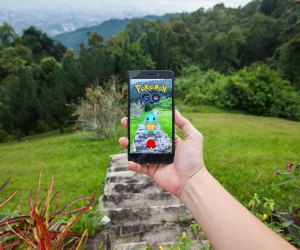 Gotta catch 'em all. Photo by Mommy Poppins
Grab a phone and have kids look for Pokémon. In the app, characters appear in your surroundings, and players are charged with capturing them. Kids will love seeing what's around the next corner.

Playing catch along a trail gives kids something to do with hands as well as feet.
7. Play Catch
Before heading out, grab a tennis ball and put it in your pocket. If boredom sets in, start an impromptu game of catch along the trail.
8. Follow the Leader
Take a step back and let kids take turns being the guide. Give them a trail map and have them look for appropriate markers. It's a great way to teach navigational skills.

Who can find the best walking stick? You can even bring them home and decorate them for the next hike.
9. Look For Walking Sticks
Make your hike an opportunity to go on a hunt for the perfect walking companion. A large branch turns any hike into an adventure. To keep the fun going, swap it out for a better one as you go.
10. Twenty Questions
Animal, vegetable, or mineral? Take inspiration from your walk and play 20 Questions. It's an excellent game for kids of all ages.

Water makes any hike even more exciting. Photo by Rose Gordon Sala
11. Wade In the Water
Roll up your little one's pants and let them splash in the water. Whether it's the bay, ocean, river, or creek, stomping around is always fun.

For some reason, every kid loves to collect rocks.
12. Start a Collection
Bring a bucket and grab items from the environment. Leaves, shells, sea glass, rocks, or twigs are all excellent collectibles.
Unless noted, photos by the author

Sign up for our free
newsletters.
Mommy Poppins is a family activity website that helps people find things to do with kids.
©
2023
MommyPoppins. All Rights Reserved.
mp-prod4-v4.32.99
Click Here to Sign Up!
i