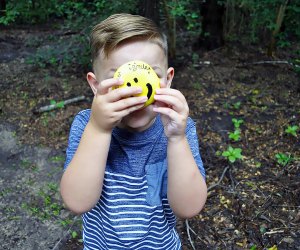 Painted Rocks Is the Newest Kid-friendly Scavenger Hunt & Hiking Craze Since Geocaching
The popular geocaching phenomenon has proven over the years to be a great way to channel your inner treasure hunting abilities as a family. Chances are someone in your family has also played at least one round of Pokemon Go. One positive impact these types of activities have is that they get kids up and moving, many times in parks or on local trails. Painted rocks is a trend that offers yet another way to get moving as a family and connect with the community, with a little crafting thrown in.
Kind is the new cool. So, it's only fitting that the painted rock craze started as a movement to spread kindness. The basic premise is to paint your own design or message on a rock, hide the rock outdoors in a public place, and then watch online painted rock community groups to see if someone finds and posts a photo of your hidden treasure. When a rock is found, it can either be kept or re-hidden by the finder.
Related: 100 Awesome Crafts for Creative Fun at Home

Using a hashtag with your local group's name will help whoever finds it know where to post about it.
The rocks are often painted with happy phrases, sayings, or fun art to help brighten the day of whoever finds it. Communities to share painted rock ideas, hiding locations, tips, and tricks are all over the internet, including various groups on Facebook and pages on Pinterest. To find a community near you, this page is a great place to start.
Our fourth grader and seventh grader have been bragging about painting and hiding rocks with several of their friends for a while now, so I thought it was time to try the trend with my younger two kiddos. The results yielded two entire afternoons worth of good, clean (well, mostly) fun! And it wasn't expensive. Chances are, you probably have most of the supplies lying around already. At a minimum, you need rocks, paint, brushes, a permanent marker, and a little bit of imagination.
What you'll need:
Paint - Acrylic is recommended, but really any paint will work if you use a sealant.
Rocks - You can find rocks in nature, buy in bulk online, or purchase from a craft store. Small, smooth stones that are somewhat flat work best.
Brushes - Any paintbrush will do.
Permanent markers - These can be used to write inspirational sayings on the rocks, create decorative drawings, and to write your group's hashtag or website on the back of the rock.
Sealant - Spray-on sealant is easy-to-use, but brush on will work as well. This helps to protect the rocks from the elements when placed outside.

We used acrylic paint and paint pens to decorate our rocks. A spray-on sealant helps create a weatherproof barrier to protect the designs.
Another thing we really love about this activity is that it can be as complex or simple as desired. In various painted rock groups online, people post super intricate rock designs including movie scenes, sports logos, and cartoon characters. But the goal here is to get kids creating and spread kindness, so any design that fits that mold will work.
Because my boys are still rather young, we chose very simple designs. I let my 4-year-old cover an entire rock in yellow paint and once it dried, my 6-year-old painted a simple smiley face on it. Then, when the face dried, I wrote a couple of inspirational sayings with a paint pen. All three of us had a hand in making that one rock. It was a group effort that was such an easy concept yet turned out to be one of our absolute favorites despite its simplicity. They also got to go a little crazy on several rocks and painted a menagerie of squiggles and dots with seemingly no design in mind whatsoever.
We happened to plan our painting endeavor on a day where the weather allowed us to paint outside. Because the rocks are small and paint can be contained to a paper plate, this project could easily be done inside on a cold or rainy day. I recommend putting down some cardboard or newspaper so that the kids can paint directly on it without worrying about whether or not the paint will get on any other surface. This also makes clean up a breeze.
Related: 25 Exercise Games and Indoor Activities to Get Kids Moving

Painting our rocks on a recycled cardboard box helped create an easy-to-clean workspace.
What is the most fun part about painting rocks? Waiting for them to dry... NOT!
Depending on how much paint you use, your rocks can take an hour or more to dry. Because kids are impatient, I decided to leave our rocks alone for way longer than that until a few days later when we were ready to go hide them. The most fun part for us actually happened on a separate afternoon, days after we painted our rocks when we went to find places to hide them. It was a great way to get out of the house and get moving.
Local trails and parks are among the most popular places to hide rocks, but many people hide their painted rocks in flower beds at local businesses, on the beach, or in other public outdoor spaces. Be sure to check your local rock groups for ideas on where you can find and hide rocks near you.

One of our painted rocks hiding in bushes along a trail in our community.
Spreading kindness really can be as simple as a rock with some paint on it. Not only can this be a family activity, but gathering a group of friends to have a painting party or heading to a park to scope out other people's rock creations can be a great way to help kids connect with each other. Finding ways to get kids creating and out in nature can be tough, but getting involved in the painted rock movement can accomplish this while helping foster a connection with our kids as well as our community.
Want more posts like this delivered to your inbox? Sign up for our free newsletters.
All photos by the author.