Taste and See Texas Tradition at Blue Bell Creamery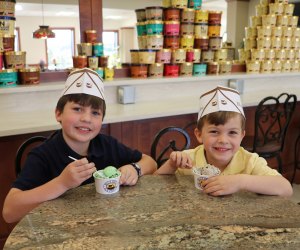 Nestled in the heart of nearby Brenham, Texas is Blue Bell Creamery, a small town factory that is home to one of the best-selling ice creams in the country. Like many native Houstonians, I grew up eating Blue Bell ice cream, and to this day you never have to look hard to find it on the freezer shelves in grocery stores. So, on a recent trip out to Brenham, we decided we could finally introduce our kids to the birthplace of one of our favorite Texas treats. Brenham is full of small-town charm, and "The Little Creamery," as it is affectionately known, offers a fantastic tour and delicious ice cream samples to boot. In short, this is a must-do for all Houston (and Texan!) kids.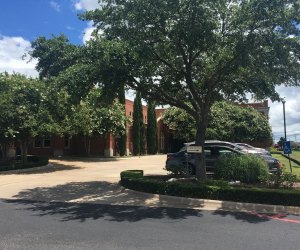 Oozing small town charm, packed with big-time flavor.
Despite the ice cream company's obvious success, the factory still manages to retain the old-fashioned, "mom and pop" feel associated with many small-town businesses. The creamery tour begins at the Visitor's Center, which is chock full of information about the history of Blue Bell. Here you'll find all of the slogans and taglines that were originally associated with Blue Bell, photos detailing the Creamery's humble beginnings in 1907 (fun fact: what started as a creamery making butter from excess cream brought in from nearby farmers eventually evolved into churning ice cream), and lots of fun photo ops for the kids.

Happily taking over the job of "Official Taste Tester."
From there, we moved on to the actual factory, which houses a small Baseball Memorabilia Museum on the first floor. Since my son is baseball-obsessed, he immediately gravitated there (not even the pull of ice cream could stop him) to look at all the pictures of baseball players on the wall, and, naturally, we had to make a quick pitstop on our way out, too. America's favorite pastime plus delicious ice cream? It's practically a match made in heaven.

There's just not much better than baseball and Blue Bell.
Once we made it up the stairs we beelined for the Observation Deck, where you can watch the factory workers perform the magic necessary to create Blue Bell ice cream. Seeing the assembly line gives a whole new level of appreciation to the work that goes into crafting mass quantities of ice cream, and - from what we observed - it seemed pretty flawless in its execution. It was incredible watching as half gallons, pints, and mini cups made their way down the line, first empty, then full, then sealed.
Hand-crafted, all-American goodness in an ice cream container.
And then it was time for what we had all been waiting for: a cup of cold and creamy ice cream! Ice cream is only $1 per cup, and there are tons of flavors to choose from, ranging from classic Homemade Vanilla to fun favorites like Milk and Cookies or Moo-llenium Crunch. Not sure what you want? Not to worry, they let you taste test them before you choose. It's safe to say, there wasn't a bite left behind once we finished.
There's just not much better than cold ice cream on a hot summer day.
While the guided tours are no more, a trip out to Blue Bell Creamery is still well worth it. We loved being able to do a mini, self-guided tour, and we got to check an item off our Houston bucket list to boot! It was definitely an activity that screamed summer, and one we'll happily repeat again.
Helpful tips for your trip:
The drive is on the longer side, so plan accordingly. I (laughingly) thought my kids would nap on the way home, but they definitely did not. I highly suggest bringing grandparents like I did to keep them entertained (insert winking face here).
It's completely free to visit! All you pay for is the ice cream, and it's only $1.
There are no photos allowed on the Observation Deck.
Make a day trip out of it! Brenham has a lot of cute sandwich shops and restaurants to dine at, so we stopped at one beforehand for lunch (we went to Must Be Heaven, highly recommend!).
The Country Store, Ice Cream Parlor, and Visitor's Center hours are from 8am-5pm Monday through Friday and from 10am-4pm on Saturdays in June, July and August.
The Observation Deck is open from 8am-2pm Monday through Friday.
Top photo courtesy Blue Bell Creamery. All other photos by the author.