Ninja Warrior Gyms, Obstacle Courses, and Parkour in Houston for Kids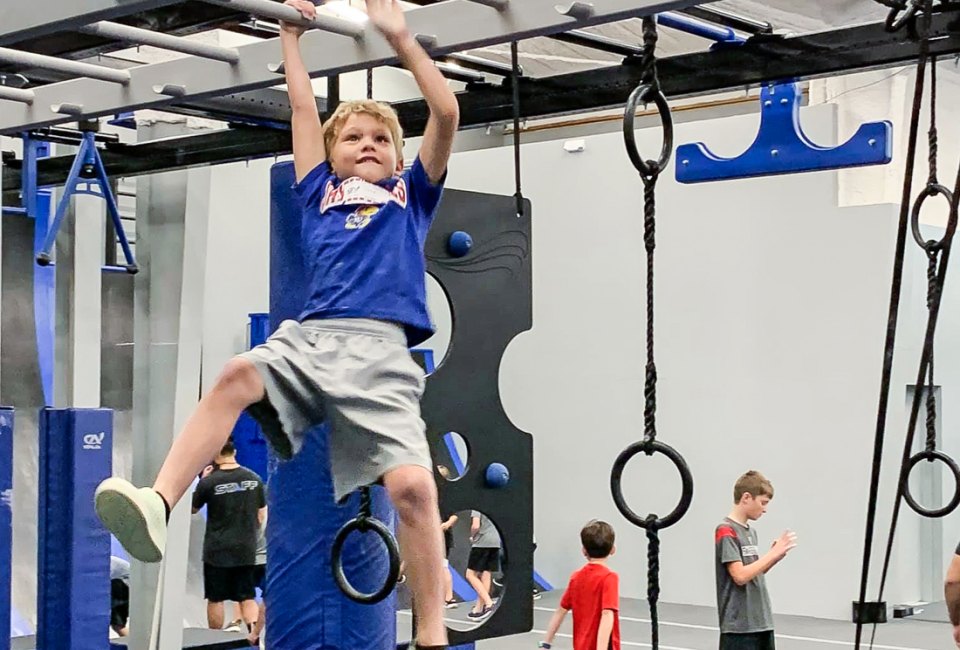 2/10/23
- By
Rachael Cherry
Are you looking for ninja warrior classes in Houston? We have a list of Ninja Warrior gyms and obstacle courses in Houston.
Does your kid constantly attempt to do backflips off the couch and use your body as their personal climbing rope? There are a surprising number of locations to try out Ninja Warrior classes in Houston. Then you may be raising a little American Ninja Warrior. The show of the same name pits competitors against each other as they attempt to complete an obstacle course in the fastest time - from leaping on small platforms to climbing incredibly steep and daunting rock walls.
That show has sparked a movement that encourages kids to spend their free time perfecting their parkour moves and gaining grip strength. This active hobby is a welcome change from the big kid and preteen video game obsession. Ninja Warrior is for all ages of kids, from toddlers to teenagers. Several dedicated Ninja Warrior gyms in the greater Houston area offer Ninja Warrior classes for kids, and you can usually find a class on any day of the week. In addition, some gyms offer a range of gymnastics programs alongside Ninja Warrior facilities and classes, so your kids can try other gym activities as well. Finally, your kids can simply drop into indoor adventure playgrounds and try out their ninja obstacle courses.
Many of these Houston Ninja Warrior locations are also great birthday party venues, and offer holiday camps and Parent's Nights Out. Want to try out some other fun physical activities? Be sure to check out our round-up of gymnastics classes for preschoolers, toddler dance classes, and swim classes for kids, or browse our classes directory.
Dedicated Ninja Warrior Gyms in Houston

Photo courtesy of Iron Sports Ninja Warriors
Young athletes from Iron Sports Ninja Warriors in Houston have appeared on American Ninja Warrior Junior. Their classes are designed to teach fundamental movements such as swinging from ropes and rings, rope climbing, jumping from trampolines, and balancing. You can start at an early age, from walking to 3 years old, in the Tiny Ninjas class - where parents are on the floor with their toddlers, helping to guide them through obstacles and stations. You can also rent their mobile ninja warrior course for your party or event!
2. USA Ninja Challenge - Various
Locations in Sugar Land, Katy, The Woodlands, and Webster.
USA Ninja Challenge has 22 locations throughout the USA, and 4 are in the Houston area! USA Ninja Challenge offers classes and programs for many age groups, including 4 to 5-year-olds, 6 to 12-year-olds, and teens. Their training is designed to meet the requirements of a complete physical fitness program for today's young people. Their equipment includes specialized ninja training equipment, such as cargo nets, traverse walls, slack lines, ropes, ladders, and warp walls. This gym allows your child to gain strength, flexibility, and all-around athleticism.
This dedicated Ninja Warrior gym's students participate in the World Ninja League, so if you have a competitive ninja in your family, this could be a good choice for them. The features of the gym include:
Tiny ninjas section for 6-year-olds and under. Includes a mini–Warped Wall with a slide, firehouse pole, ropes to swing like a monkey, and obstacles designed to keep tiny ninjas engaged and safe.
Kid's section for 7-10-year-olds. Includes a 10.5-foot Warped Wall, conditioning area, and many obstacles.
Pre-teen Section that is packed with obstacles to challenge every level, plus a 14.5-foot Warped Wall.
Teens and adults section includes racing lanes with one-of-a-kind obstacles and home to one of the tallest Warped Walls in the country at a huge 23 feet!
Gyms with Ninja Warrior Facilities and Classes in Houston

Photo courtesy of the Houston Gymnastics Academy
The Houston Gymnastics Academy Ninja Warrior program aims to help students aged 6 and over gain strength and agility in the most fun way possible. Students spend about a third of their time learning flips and tricks, a third of their time working on the trampoline, and a third of their time on training obstacles and improving their course times.
Maximum Athletics has gyms in Conroe and The Woodlands and aims to see every Ninja that comes through their doors leave confident, strong, and capable of handling themselves in the real world. The Ninja Warrior program includes shoulder rolls, basic vaulting technique, strength building, balance control, and wall running. The classes offered are levels 1-2 and tailored to the student's individual needs.


Photo courtesy of Cypress Academy
Cypress Academy Ninja (CA Ninja) in Cypress provides a 7,000 square-foot Ninja training facility featuring two incredible Ninja structures, with tons of floor space leading to five warped walls ranging from 6 feet all the way to the official 14' 6" competition height. Ninjas focus on upper body and grip strength, coordination and body control, and overall confidence while conquering various obstacles.
Drop-in Ninja Warrior Action in Houston
7. Urban Air Adventure Park - Various
Urban Air has ten locations in the Houston area for when your kids want to drop in for some ninja activity. Urban Air is an indoor playground rather than a gym with classes. The Urban Air experience includes a variety of ninja-style activities, such as obstacle courses, ropes courses, tubes playground areas, and trampolines. Let your little ninjas tire themselves out, and you can also grab refreshments together in the cafe.
Click Here to Sign Up!
i