Cherry Blossom Events, Festivals, and More Top Things To Do in DC this Weekend with Kids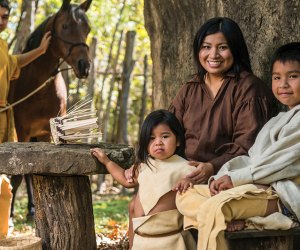 3/29/23
- By
Jennifer Swope
Looking for the best things to do in DC this weekend? Here are some family-friendly events and activities to add to your list for this weekend.
April arrives this weekend, and spring is in full swing. Cherry blossom activities continue with festivals at the Library of Congress, the National Museum of Asian Art, National Harbor, the Wharf, and several more. If you're near the National Mall, don't miss the Cherokee Days Festival at the National Museum of the American Indian. It runs all weekend.
If your family needs a break from cherry blossoms, the Kennedy Center is hosting two productions this weekend—Cenicienta: A Bilingual Cinderella Story and This is the Rope: A Story from the Great Migration.
Don't miss our lists of 32 local Easter Egg Hunts, places to meet the Easter Bunny, and 36 spring festivals and fairs, as well as our DC Summer Camp Guide. Plus, bookmark our DC Family Event Calendar for more things to do every day.
More Things To Do in Washington, DC this Week with Kids: